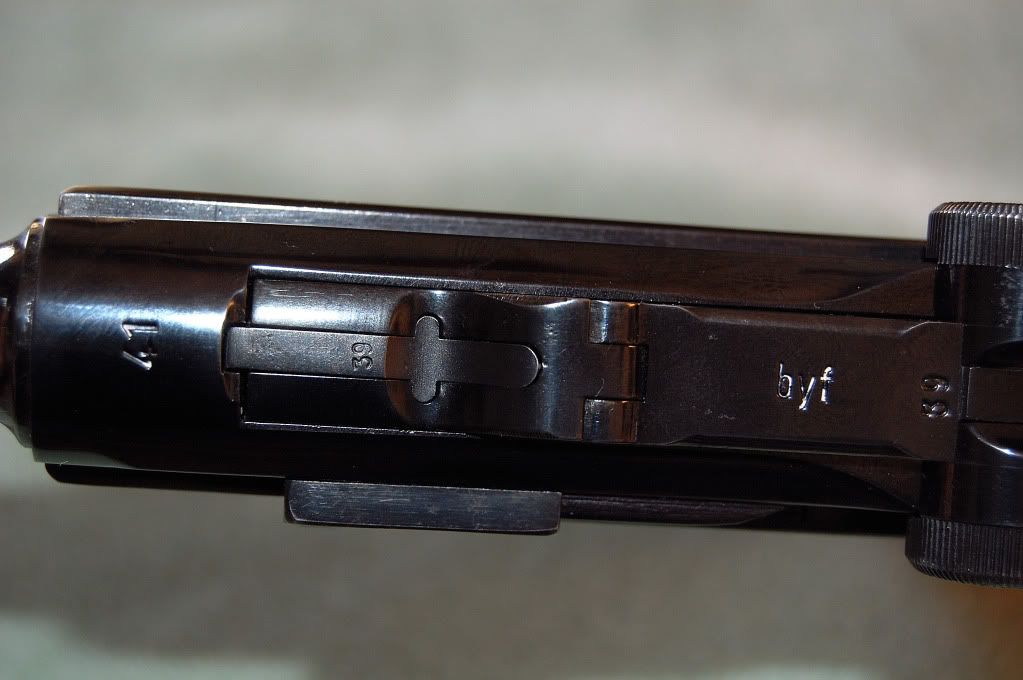 Picked this up at a local show today. All numbers match. Mag I'm sure is not orignal, don't know that much about them. Gun is in Very good shape. Some very minor pitting. Looks to be re blued. Nice sharp edges. Eagle proofs are a little light, I'm thinking from polish and re blue? Internal parts show very little wear. Still have tooling marks on wear surfaces. Appears to be mostly handling wear. Bluing quite worn on front and back of grip frame. It has black plastic grips.
Bore is somewhat dark and some very light pitting. Lands and grooves are sharp. Looks like not oiled very well.
There are some styleized initals on the rear grip frame. The last two letters are S.S. But I cant make out the first letter, maybe a Y?
Guy that had it said it is a "Black Widow" gun. From what I've read that is a U.S. made up term and is not correct on anything
SN is 1839. It really looks in great shape. I paid $650. for it. I think I did well. I'm guessing that the re blue puts it in the "Shooter" category. Which is fine cause I plan to shoot it. Should I try to find more correct grips and mag? Or not worry about that?
Thanks for any info. Vince
For $650 I wouldn't worry that was cheap! The gun looks like it was dipped, any import marks or X's stamped? Those grips are bogus black widow copies, the mag is a decent reproduction mag. If you reload you can fire lap the barrel to remove the light pitting and darkness.

ETA: If you want better looking grips, the only ones to buy are from Nill. They made them for the Luger originally and the fit and finish are superb. A correct magazine will run you about $100-150 for a decent one and you should never use an original mag as they could break.

No import marks that I can see anywhere. No Xmarks. I do notice that there are no marks on the right side of the upper " Barrel" frame. What would that indicate?
It means that someone de nazified it. I must admit that in all my years of collecting I have never seen it done like that. Most of the time they would simply use a punch to obliterate the swastika.