Can someone tell me something about my 1918 Luger?
I picked up this Luger a couple weeks ago and I was wondering if anyone can tell me anything about it. It's a 1918 dated DWM military 9x19mm Luger with all matching numbers, "r" code, I believe. Bore isn't too bad, just very dirty. I need to get some of that foaming bore cleaner and shoot it down there a few times. But good rifling. Anyways, the peculiar thing is that there are no Waffenampts on the side (there's an imperial eagle on the barrel and I think Weimar's and imperal crown stamps on the side, but they're a little worn), but there is a quite clear Nazi eagle and Swastika on the rear of the pistol. There's a small "4" stamped next to it, as well. What do you guys think this means? Was this common practice? Also, I don't think the magazine is original. The floor plate actually may be, but I don't think the body is. It's got a number stamped on the bottom and what looks like a German letter code, but no markings on the body. It is also very poorly roll pinned to the body. I think I may try to find an original wood-bottom magazine. Also may need an original holster if I can get my hands on it.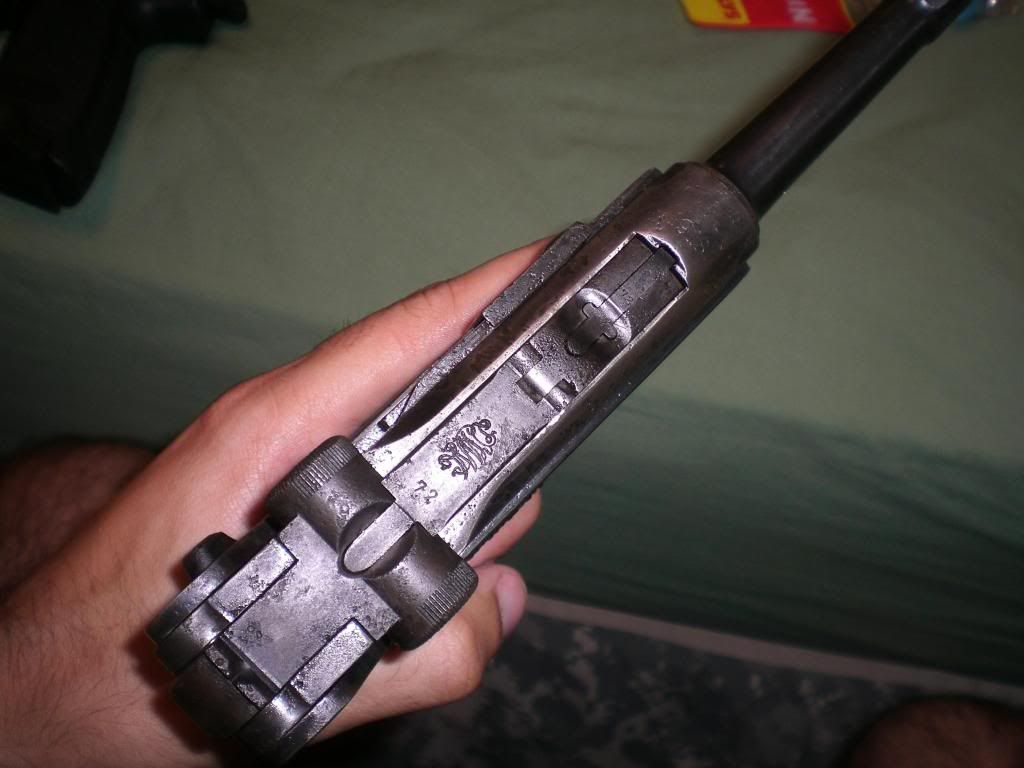 What do you guys think? Is she a keeper? I'll get a chance to shoot her in a couple weeks.
WWII arsenal rebuilt. Looks like significant pitting. Good as a shooter.
Grips are probably replacements, if they were original they'd be as worn as the rest of the pistol.
Anyway, try these guys, pretty much THE source for good inputs on Lugers.
http://www.lugerforum.com/
It may be just a shooter grade pistol, but you can't deny the darn cool historical aspect of it.
Sorry, forgot to say that. The grips are indeed repro. I have the original grips but didn't get a chance to take a pic of them before I left back to Ft. Eustis. The pistol is at home in Florida, I'm at Army AIT. But anyways, they are very worn and beat up. Cracked in a place or two, IIRC and aren't super tight on the pistol, they have some play. I'll be home for a weekend in a couple weeks and will get some better pics. I don't think the pitting is as bad as it looks in the pics.

Would it be worth it to have this Luger restored by LugerMan or should I leave it as is?
Well that's the tough question. I don't have any idea how much a restoration would cost, but I can say with some certainty it wouldn't be cheap. It also depends on what you want out of the pistol. There are some who cringe at people who restore old hardware regardless of the condition, and would rather leave it original as it can be regardless of how ragged it it is. Other people view it as a way to 'rescue' an old warhorse and whip it back into shape. I have some old C&R stuff I've left alone, and others I've refinished. It just depends on what you as the individual want.

Now my inclination for this weapon being its pretty much a shooter grade, I might have it restored/reblued. I think its a noble cause to rescue of weapons like this, and bring them back to their old glory. Its would probably take many years before you could recoup the $$ of the restoration, but sometimes $$ doesn't matter. Its really what you feel you want.



I like the way it looks.

I gotta ask and you can decline to answer, but how much did you pay for it?

I have always wanted one, but they are usually outta my price range.
Originally Posted By WHITE_WOLFE:
I have always wanted one, but they are usually outta my price range.
Shooter-level Lugers these days are in the $700+ range.
I got lucky & got mine as an East German release back in the 1990s. I think I paid only $500 or so for it. It is all matching but looks as if it had been re-parked in the past.
Bought a 1915 shooter (original except toggle and bolt) with 2 mags for $350 about 20 yrs ago. Shoots nice. Only pain
is shells eject straight up and back. Occasionally hit you in the forehead.

Found out it is in fact a legit Swastika marking. Was told that, according to the Weimar and Early Lugers book by Jan Still, mine is an early Nazi training Luger. Going to have the appropriate parts straw blued and fire blued, and the grips worn a little and refinished, maybe make it look better. By the way, I paid $600 for this one. That was only because it was from my recruiter. I can't find ANY that cheap anymore
For $600 you did very well. In fact you got a steal I'd say.
To make you feel better about your purchase look at these examples for inspiration:
www.simpsonltd.com
Originally Posted By abtex1:
For $600 you did very well. In fact you got a steal I'd say.
To make you feel better about your purchase look at these examples for inspiration:
www.simpsonltd.com
Damn I forgot about that site! A lot of nice (as well as a lot of overpriced) Lugers on there. This one will definitely not be my last. I think next year I'll probably pick up an Erfurt if I can find one. Might get it from there. Thanks for the link! I'll post better pics of the Luger next weekend if you guys want to see more. It doesn't look as bad in sunlight.
Simpson does have some very nice Lugers, and the prices to match.

Don't agree a mis-matched shooter with an import stamp on the frame is worth $900.

Had a family member take some pics of the Luger. Got back from a guy that wanted to help me out and restore it a bit. He straw blued and fire blued the appropriate parts, dulled the checkering on the grips a bit and refinshed them, and put some bluing on the rest of the gun. Also replaced the non-working aluminum bottom mag with a more correct wood bottom mag. All for free! Looks pretty damn good, if you ask me! I'll take some better pictures when I get home from Army AIT in a week and a half.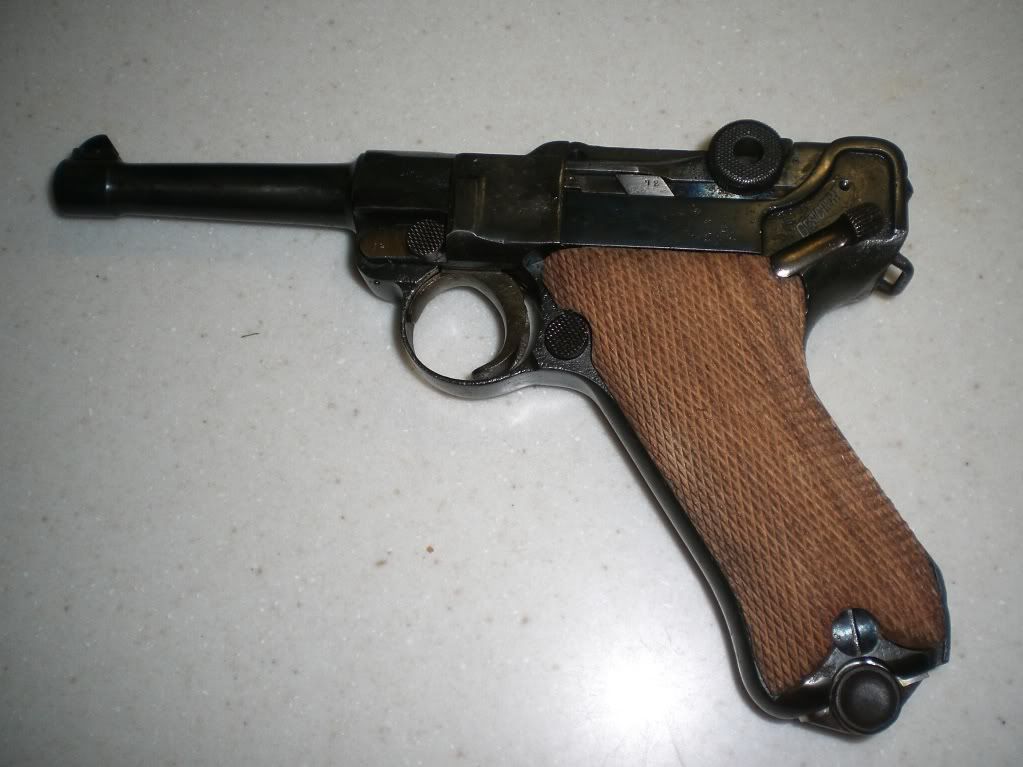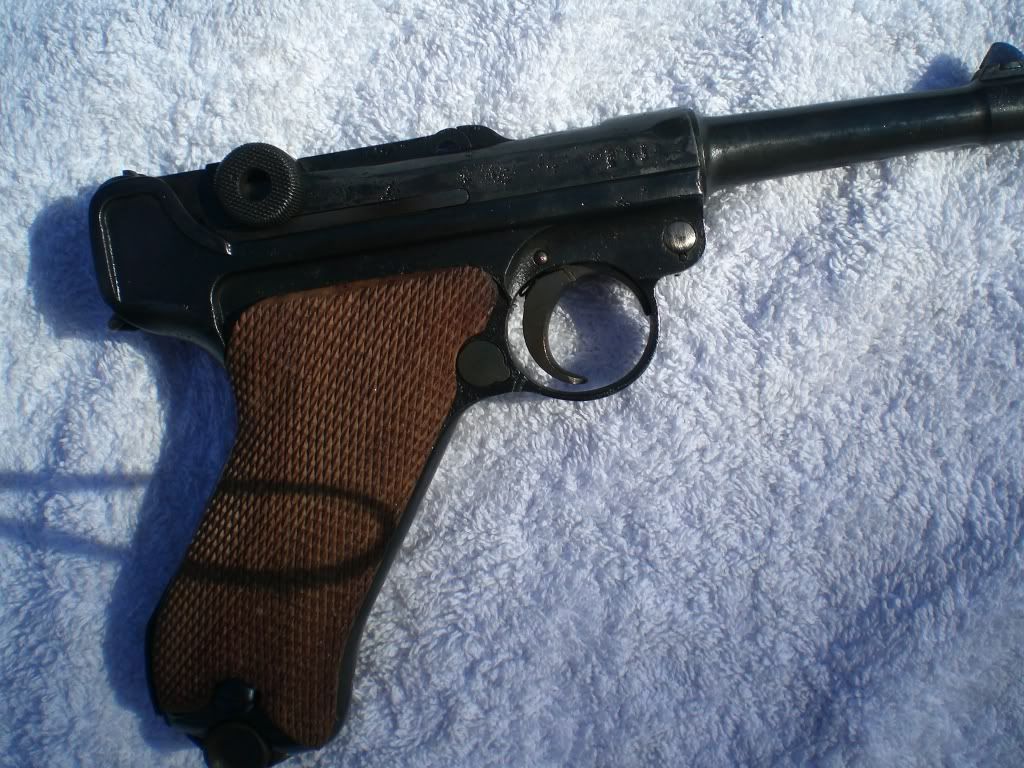 It looks better and the price was right.