Wife and I both have them on our KT's. Here's a pic of mine, its about a year old and have yet to change battery, still as bright as the day I purchased. After sighting it in it has remained in place, or ours does, and makes the little gun quite accurate out to 25 yards. Its a relief for old tired eyes trying to see the sight on these little guys. Pocket carry every day and no problems whatsoever. The only con I can see is it doesn't have a dedicated on and off switch. You can't see the pressure switch for the whopper package but it works great so I guess the dedicated switch is just a personal thing with me.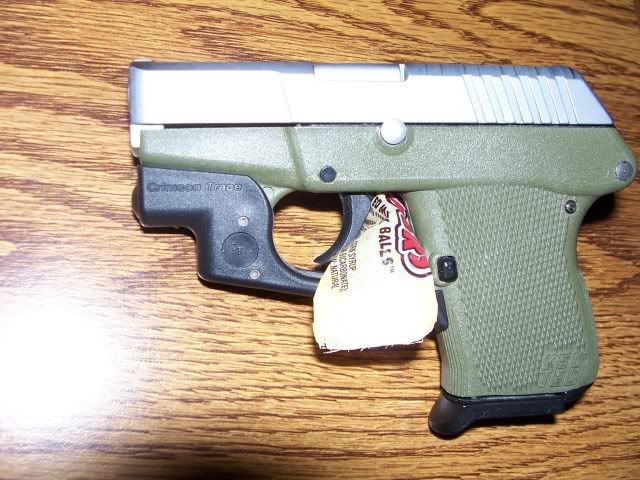 Mysmiley I have to tell you that I am a real fan of Crimson Trace Grips. Put the first ones on a Sig 229 40 S&W when I was a working LEO. I am now retired and have put them on two Smith J frames, a Glock 27, a 45 Gold Cup and finally on my Kel Tec P3at. Considering the small sights on the Kel Tec the Crimsons area great improvement. They go on very easy and do not affect the concealability at all. MY wife shot it and loved it, confiscated it for her carry gun so I had to go out and buy another. Shop Ebay and you sould be able to pick up one for $150 or so. griffy
Originally Posted By justsayin:
I have never used a laser sight system.
How visible is the system in daylight?
Is it?
I've got CT grips on my S&W M&P9 - absolutely no problems seeing the dot at 7 yards in bright sunlight, which is where I've got mine sighted in. I'm planning to pick up a PF-9 here shortly, and I'll be putting CT on this as soon as I get it.