I have a Beautiful Kahr K9 Professionaly DuraCoated by Defensive Impact.
This IS a Compact Weapon
She has approx. 150 rounds thru her and has one SWEET Trigger.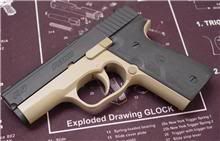 Package contains: Gun, 3 mags (with pinky ext.) Box, Paperwork

I have to pay off some medical bills so some of my collection has to go.

FTF in DFW, Denton, Corinth, Keller areas

I will ship to your FFL as long as they will accept from a private collector.

Be Prepared to show TX DL or CHL

NO TRADES AT THIS TIME ~ (so don't tempt me....
)
$775 OBO
Call or text " 940.390.5704
Thanks for looking,

Bull
Wrong forum. The Equipment Exchange(EE) is right here:
http://www.ar15.com/forums/forum.html?b=7&f=88
. Make sure to read the EE rules posted.
Nice looking piece!