Would you send this back to Colt for repair?
I have had this pistol for about a month but I just noticed this today. It is a grind mark that does not affect the function but it is a little unsightly. Would you send it back or am I being overly picky?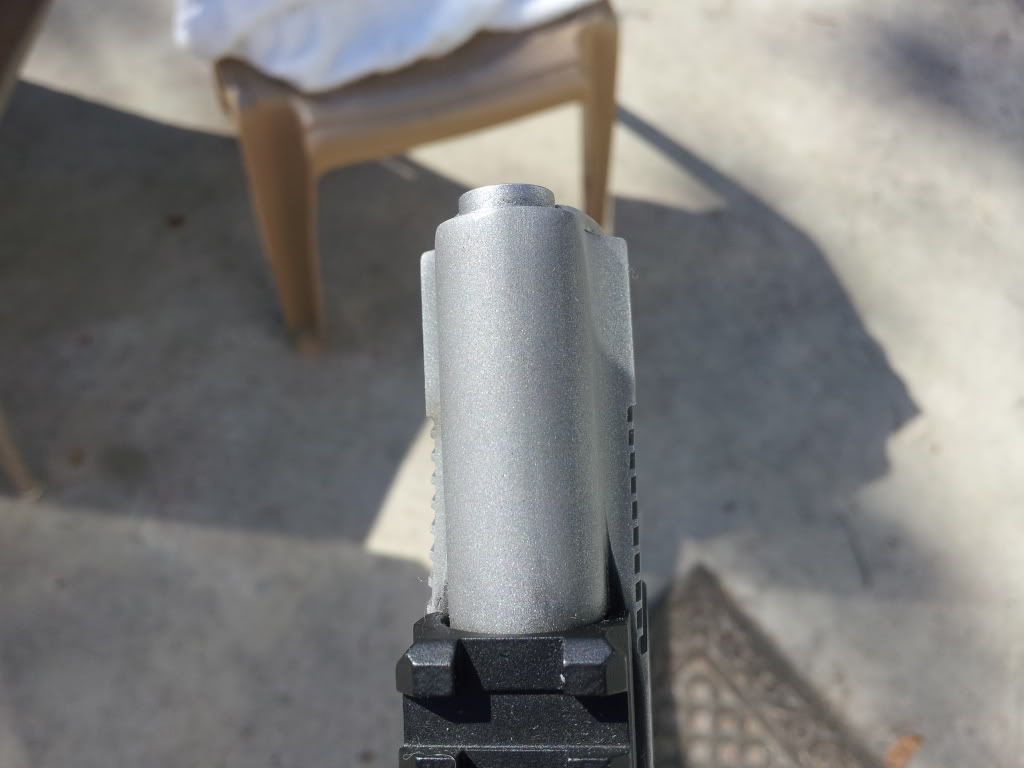 It depends. I wouldn't mind it myself, but you did pay for it(and they aren't cheap) so the decision is yours. It might bug me a bit until I dinged or scratched it somewhere else. I know it is going to happen sooner or later just like a new car.
Shoot and enjoy it.
Originally Posted By sandblaster:
Shoot and enjoy it.
It just bugs me that I spent over a thousand dollars on this gun and they let it leave the factory that way.
If you had a chance to inspect the pistol, or did you buy it through an internet auction? If you bought it at a shop, I would say, you should know what you paid for. The pistol is not defective. Wavy machine marks are not unusual (but not the usual). Give the Colt folks a chance to make a profit. I agree the slide should have not made it that far through the production process and should have been scrapped early in the machining process (perhaps it took a knock when the forging was still red hot?). The lesson is to inspect what you buy. After you get some holster wear going, you most likely wont care that much anyhow.

No one else will ever know unless you point it out to them, but it is your pistol and you should do what you feel is right for you.

Non-issue IMO.
If you bought it at a shop and they are friendly and helpful, I would bring it back and see if they would send it back for you. I do a lot of buisness at my LGS and they would have that back to Colt in a flash. If bought online and it really bothers you, you could always give Colt a call but I wouldn't send it in if they want you to pay for shipping since it's a blemish that THEY caused.
how would frame-replacment affect value?

Something to think about too. SN# may not match if that occurs.


I'd keep it and be happy. If you are not, prepare to sell it and move on to one that meets your standards. I'm not questioning your expectations here, you deserve to make yourself happy. I'm just saying that I don't think it is a "problem" with the function of the gun, but 1911's are not all about function. Cosmetics do come into play at some point.
Here is what will happen if you send it back.


(crickets chirp)




Nothing or worse they actually do something and make it worse. Shot it till you can save up for someone that is good to work on it. By then you'll probably figure out other things that bother you.
It's your gun but if you have have been fondling it for a month and just now noticed it chances are most people will never see it.....I am not sure I would get in a twist over it but that's just my opinion....
What mark?
I'd send it back.
Nope.
Another no.
I hate crap like that. It doesn't affect anything, but it's always sitting there in the back of your mind. I wouldn't send it back though.
When you buy a Colt, you really do need to give it a GOOD once over. They are great guns, but fit and finish on them is hit or miss. Now, when I shop for a Colt, I look at all the ones they have in that model (
big
gun store in my city), and take the pick of the litter.
Originally Posted By Ameshawki:
Another no.
If it was something I was going to keep forever, no. If it was something I may think about trading or selling down the road, yes.
Overly picky.

Modern Colt 1911s are nothing special, and they haven't been for a long time.

If you want a swiss watch, you are going to have to go with a higher end custom builder.
OP,
It might bother me somewhat at first, but I probably wouldn't send it back.
I run my guns hard, and I would only wind up getting scratches and dings on it anyway.
You might find
This
interesting.
Be Safe.
Joe
I have a rail gun that looks just like that. Mine even had a flat on the receiver's topside. I don't sweat it.