This was my grandfather's pistol in WWII, and when he passed it was one of two guns of his that I got (other is a single shot Stevens 20ga). It has definitely seen better days, and I want to do something to make sure the condition doesn't worsen without adversely impacting it. If
this
serial number reference is accurate, it was produced in 1916 (SN is 410xxx) so the centennial of its' birth is coming up and I thought now would be a good time to start any project that will honor both my grandfather and the gun. I am looking both for things I can do or that I should look into having done professionally, as well as anything that I should steer clear of. To be honest, I don't really care about resale value as I will own it until the day I die (or pass it on to my son) - I just want to make sure it doesn't wind up looking like it was left somewhere on the field of battle.
And now the pictures...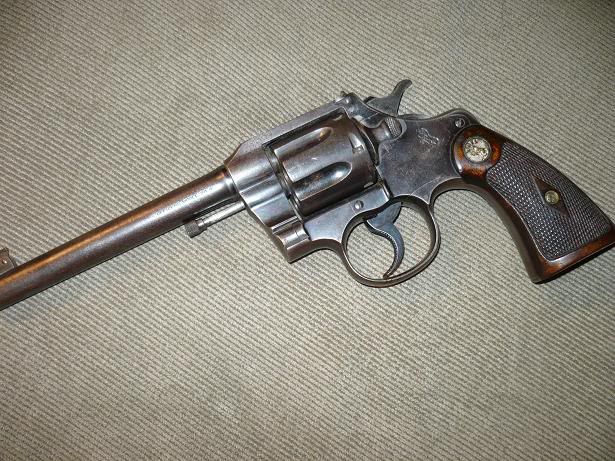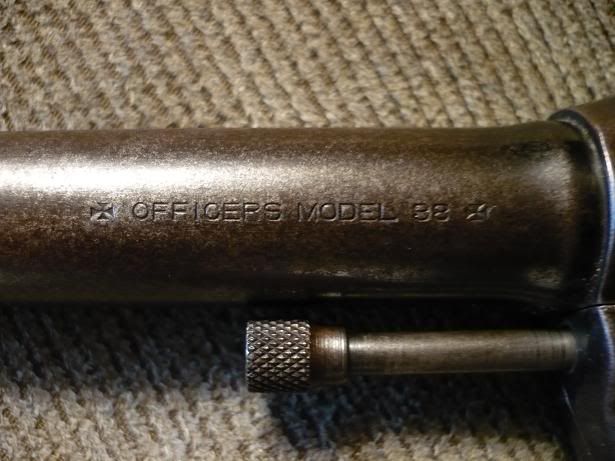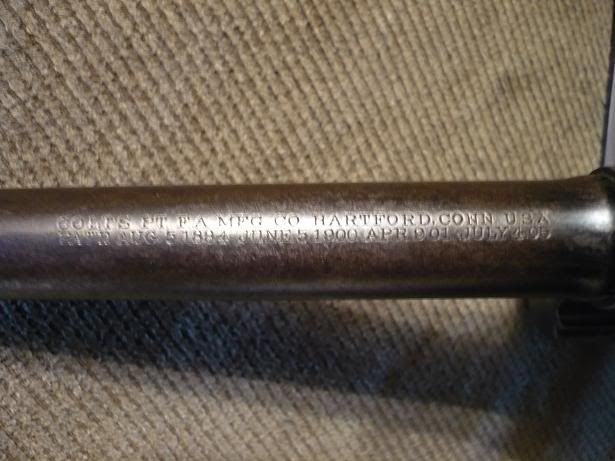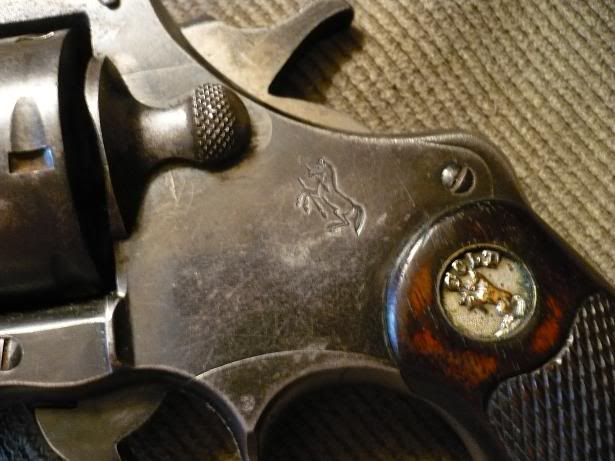 Buy a display case kind of like this - but larger - perhaps include a letter from Colt (reduced perhaps for best fit) - along with a note about your Grandfather and his WWII service - perhaps a picture of him too.
Don't try to clean it up too much - but if it were mine I would display that gun and honor your Grandfather.
I wouldn't have it refinished.
Refinishing would probably lower the value, and in the case of a family heirloom, the wear is part of the history.
In any case, few places are able to refinish these old Colt's with the original type of bluing. Modern hot salts bluing wouldn't look "right".
What you might do is talk to Colt about sending it in for a complete check up. Colt won't work on some of the older guns but they would probably go through this one to make sure it's in proper adjustment and timing and give the action a cleaning.
Other than that, the glass case is a good idea.
To maintain the history, I'd collect all the family documentation and stories you have on the gun and it's owner.
These things tend to get lost over the generations, and the history is as important as the gun.
Last, if you want to spend the money, you can buy an Archive letter from Colt. Colt will research you gun in the factory archives and issue you a letter that details everything Colt knows about the gun when it left the factory.
This would include who it was shipped to.
Cost is $75.00.
http://www.coltsmfg.com/CustomerServices/ArchiveServices.aspx
I would buy some ammo and shoot the hell out of it. Keep it clean and use it from time to time.
That gun was meant to be fired. Here is my Army Special in .32-20 made in early 1900's. It still shoots like a new one..
shoot it as much as you want, sticking to non plus p ammo- not that it wouldn't handle plus p but no reason what so ever to beat up an old gun.
any refinishing is AN ABSOLUTE INSULT to the gun and it's history. don't even think about it.
a historical letter from Colt detailing when the gun left the factory and to who or where it was shipped would be nice.
the old saying is buy the gun not the story- while it was relatively common in the WW2 era for military personnel(primarily officers) to carry personally owned sidearms, unless you have pics of your grandfather deployed in WW2 with the pistol clearly identified as in his posession, just be happy with the fact you have a cherished family heirlooom that can safely be appreciated by shooting from time to time.