I have a Taurus 44SS8 that I have no need for anymore. I need to find a decent selling price. It has less then 100 rounds through it and has a nice leather shoulder holster. I have been thinking around the $450 mark, maybe I'm lowballing myself.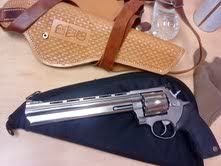 My buddy has a 8" Raging bull and can't sell it for $500, most he was offered on trade in was $375 adn it looks unfired. Just not much market for the big bores it seems ( I sold my Ruger Super Blackhawk with dies, ammo and a holster for $400 this past fall)
Well being in Alaska, bear protection is a biggie and 44's are the gun of choice.