So I picked up a Sig 228 from Widener's........
It's pretty nice. A little bit dirty so I decided to strip it and dunk in our ultrasonic tank. Put it in for 10 minutes and thought it could use a little more cleaning. So I turned on the tank for another 10 min, promptly got distracted and forgot about it. 2 hours later I remember it's still in the tank and I pull it out. My heart sinks.......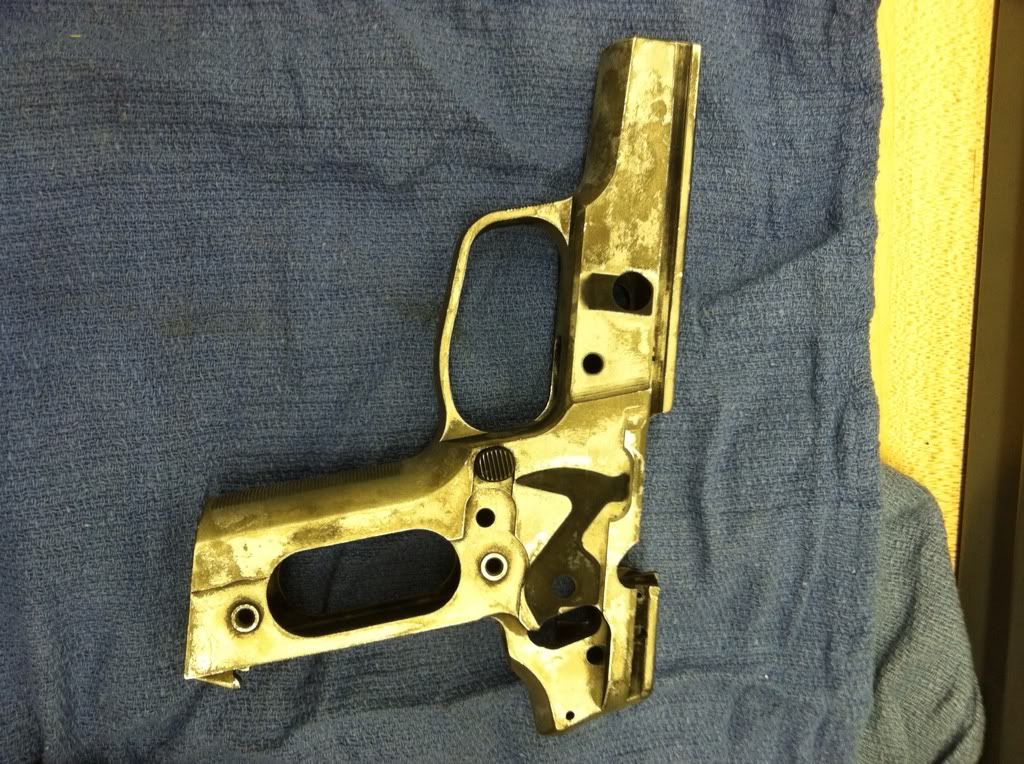 The ultrasonic bath is alkaline and it ate the anodizing off.
I decided to fully strip the receiver, glass bead it and send it out for hardcoat type 3 anodizing. I chose OD green. I'll have pics in a couple of days or so of the recoated receiver.
Interested in seeing the result here!
question

did you leave dome of the parts on the frame and this is why some areas are still black ? or why are there shadows just wondering


That should buff out, no worries.
Oops.
Might as well do the E2 grip conversion while you're at it.
I don't mean to dog on you but why do people love ultrasonic tanks for cleaning? Guns aren't that hard to clean and ultrasonic tanks can strip so much out of a gun. I'd just like to hear the reasons for using one. We've had one on our range for years and I've never once felt the need to use it on a gun. Please educate me.
Here is the redone frame.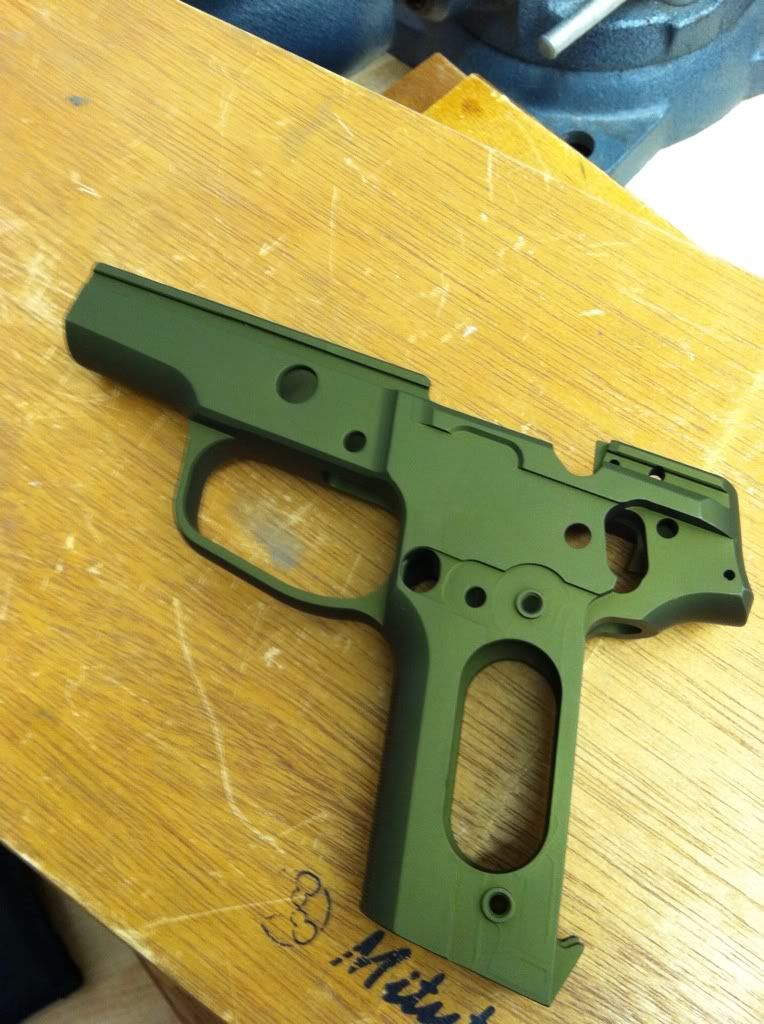 The frame looked funny after I took it out of the bath because the internal parts were still in it and where the steel parts covered the frame the anodizing was still there (somewhat).
Ultrasonic will get gunk out of difficult to reach places. I don't clean my guns in the tank but with this one I figured I would give it a shot.
Looks good! You should post final pictures when you have it built!
Who did the re-anodizing?
I'd also like to know who you used for the annodizing.
Awesome, I sent mine to US Anodizing yesterday, getting the frame anodized and the steel parts parked with their Xtremecoat over everything.

Posted Via AR15.Com Mobile
Any update on this Sagmill?
I'd like to see how she came out
Tag for outcome..who woulda thunk that it was made of solid gold underneath all the annodizing?
Great deceiving pics there OP!
did you color the slide also?
update?
WOW that looks great !! can't wait to see the end result.
I'm anxious to see how this turned out.