Minimalist holster for Kahr CM9
Just bought a CM9. I may pocket carry it some, but I'll probably carry IWB mostly. I want a holster that will add minimal bulk to this pistol, since I bought the gun to reduce the size of my carry. I did see a small "holster" that had a rod that goes up the bore, and a clip, and that's it. What is it called? Any others? Preferably very thin and light.
I've never used one, but I've heard good things about the remora holsters. I've seen a guy in a video do a back flip and the holster and gun stayed in place.
I don't know that this is the greatest or anything but I use a Tagua leather holster for my pm9. Mainly because it's thin and doesn't add much bulk and it's secure enough for everything I've used it for the last 3 years.
It has a metal clip so you can wear it inside the waistband or if I want it a little more secure I'll thread it through the belt like below. If carried IWB it's not tuckable if that's a concern, I removed the clip and will just put the whole thing in my pocket (to break up the printing) and it works well for that too.
Link is here....
http://www.taguagunleather.com/new/inside-the-waist-holsters-p27
Galco Tuck-N-Go or Stow-N-Go.
Hi, I have CCW a PM9 for a few years now and use a Comp-Tac C-Tac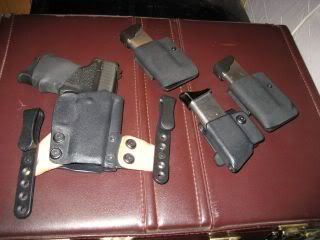 IWB holster and it's like it's not even there ....WVleo
I have a FIST IWB kydex belt clip holster for my CW9. Works great and not bulky at all. Belt clip is really solid and works great.
Here's how I carry mine.
The "holster" you're mentioning is the Versacarry. There's no way I would carry that way, because it forces you to either carry without one in the chamber (bad idea), or with a barrel obstruction and an exposed trigger (worse idea).
This is about as minimumal as I've seen. This is for a LCP with a laser. It is from
http://www.flashbangholster.com/Flashbang_Holster/Welcome.html
Look at the Desantis invisible agent holster. Very minimalist and adjustable for other weapons. Great holster to add to the holster continuum. Only drawback is reholstering requires you to completely remove the holster from the body.