Dissappointed with my m72 parts kit........ M72 Build thread....
Well, I just got home to find my parts kit waiting for me on the porch. I was very excited, as this was all I could think about for the last 10 days. I purchased the kit from centerfire systems for $329, ad stated: barrel included, no bipod.
I opened the box and started milling through the parts like a little kid in a candy shop. I was sad to find quite a few things that were not usable.
-the bore was downright nasty. full of rust chunks, completely unusable. dropped a bullet in the muzzle and the case fits in the bore
-no cleaning rod(which I half expected)
-the lower handguard is cracked and broken, all the way down the side.
-the rear sight is bent/twisted so much that you can see it with the naked eye, and the windage knob is broken.
-the bolt carrier/gas piston are severely pitted from rust, craters about 1/8" deep all throughout.
This is my first kit and I am wondering if I got rooked or if this what is to be expected for $329?
Of all these things, I at least expected the barrel to pass the bullet test so I could reuse it.
Any advice would be great, thanks
No good ,ive gotten a few bad ones.contact the vendor and let em know get a better kit or a refund.
Sounds pretty rough
Sorry to hear that.
I paid about $600 for a nice M72 kit on the EE, but It came with a new US made barrel. I don't know if that's any consolation or not...
Barrels are a roll of the dice with Yugo kits, you never know what you're going to get unless you have the option to pay more for a hand picked kit with a good bore.



contact Centerfire, they're great people
wow, you guys are quick tonight!
thanks so much for the help, I think I'll call them tomorrow and see what we can do.
It's not like they are bad people to deal with, they were very professional and quick about shipping. I really have no complaints with Centerfire, but more confused as to what I paid for v.s. what I got.
I already mocked it up on the floor, cuz that's obviously got to happen, bad bore or not
Here's the pics
*btw, I noticed all the numbers matched except for the bolt carrier.... .......The serial # is only 1 digit higher. is that possible? thought it was a bit weird.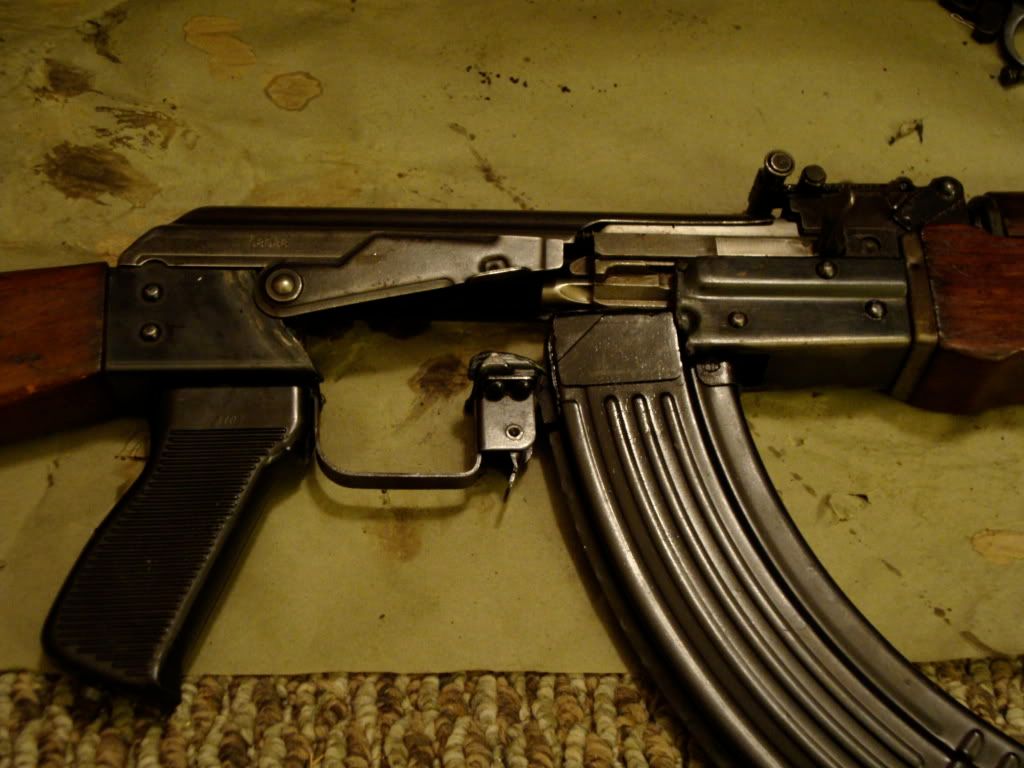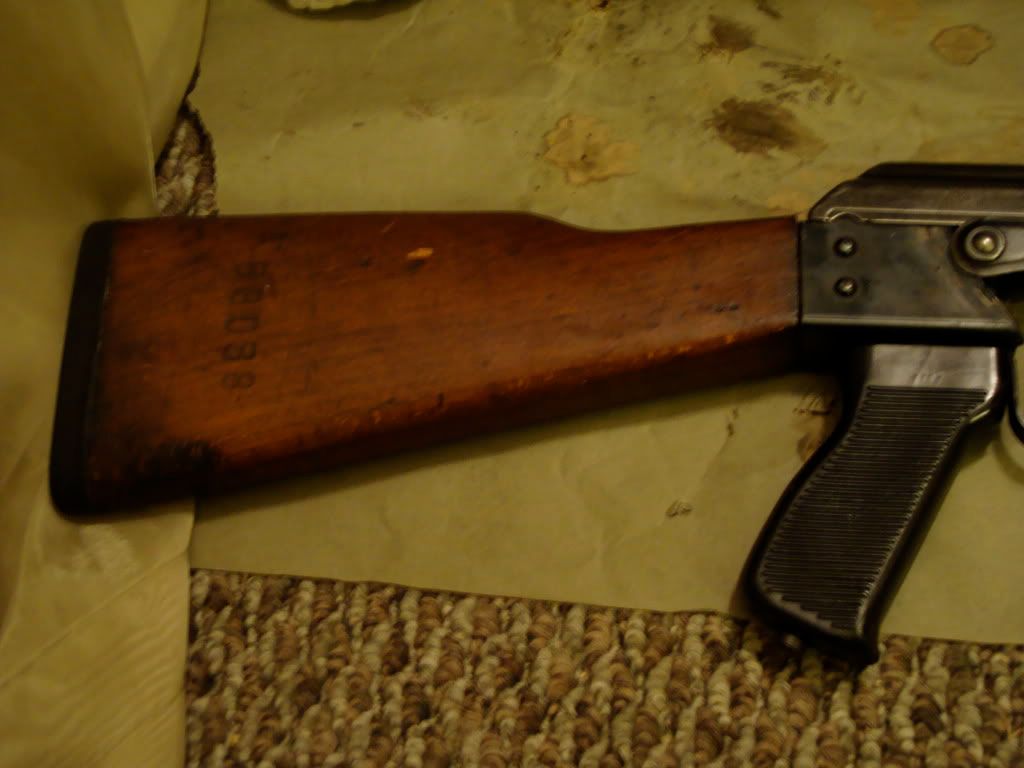 btw, the cleaning rod is from my yugo sks... its a bit short, but at least its from the same country
here's the bad stuff....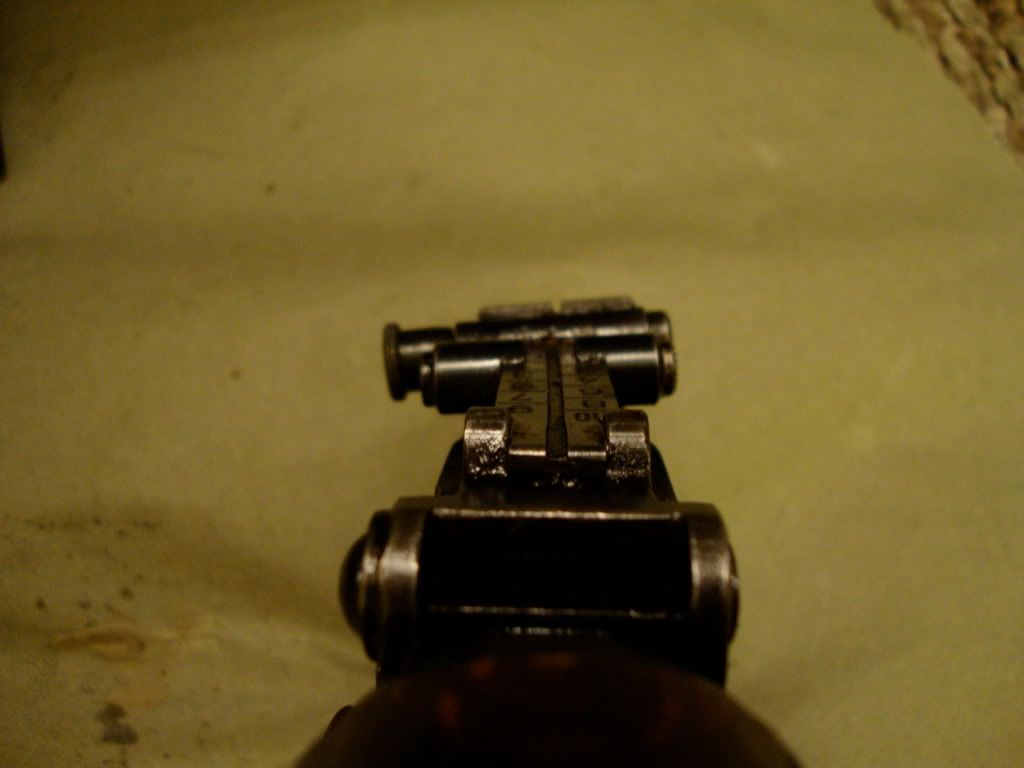 this was after I spent an hour scrubbing the bore..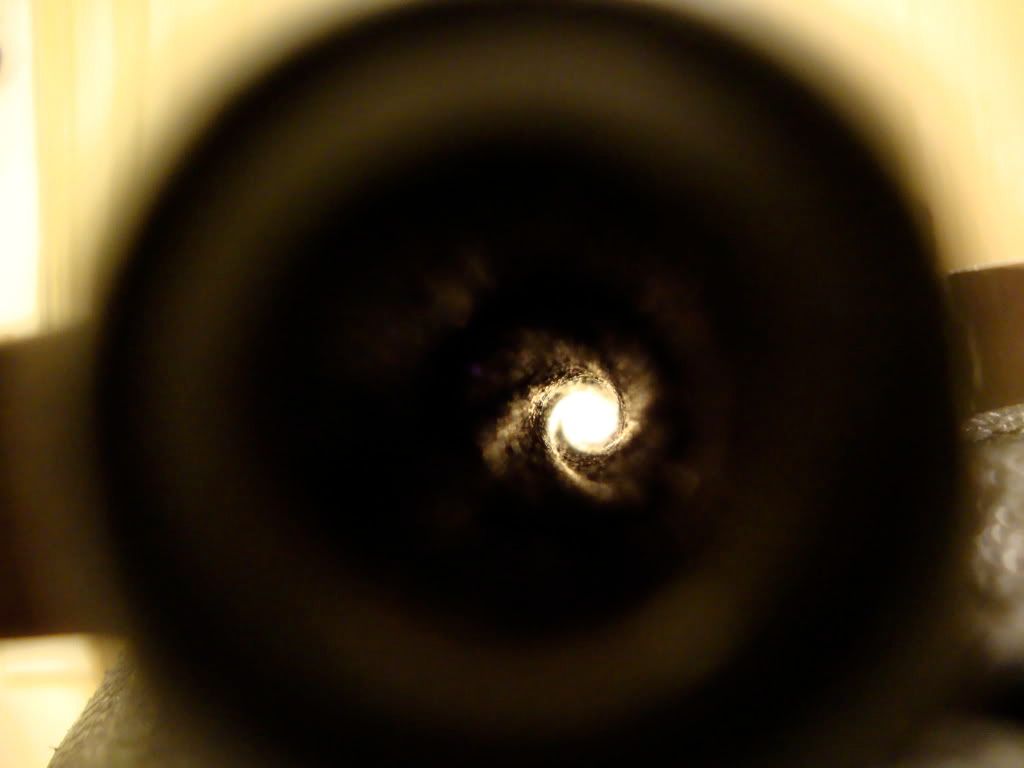 M72 cleaning rods are difficult to impossible to find. You can get one of
these
and shorten it to work. You could even re-thread the end if so inclined.
ETA: That bore looks nasty...
cool, thanks Liquid!
Sorry to hear about your kit.

You have to understand these were once rifles that were used pretty hard - some more than others. A great deal of them, along with a ton of other rifles/accessories, were imported and demilled for resale. A lot of them already had damage and parts swapped by those using them during the Yugoslavian conflict. So, many were quite damaged even before shipment. Also, damage/more damage could've been incurred during shipment as some may have been "at the bottom of the pile" in a sense.

Several vendors that are still selling kits have had them for a long while. All the upper and mid-level condition kits were sold quite a long time ago. I'm afraid that what you'll be seeing is the lower condition/"bottom of the barrel" type ones. The "runts" that were left over after the better ones were picked through and sold, and the even worst ones were taken apart for individual parts sales.

I'd definately contact the vendor and see if there's a chance of getting a better kit - but keep in mind you may get a slightly better one but with irrepairable problems or a worse one but with cosmetic, correctable issues. But you have to assume the bores of the barrels on any of them you get at this point will be quite shot out and/or very rough.
Might want to check Rguns as they sell quite a few replacement parts for the M-72. You could probably get all you need if you want to spend the bucks. The best deal is the bipod for 35.00 bucks. New US made barrel for 65.00. Damn, when I was buying parts for mine before Rguns, I paid 100 for the bipod and 130.00 for the barrel.

http://www.rguns.net/gunparts/rifle-parts-AK.shtml

I ended up putting a new barrel on my bad bore kit and it shoots quite well. It will be worth it in the end.
thanks again everyone. I talked to Centerfire, they will take it back, but they don't have anymore to exchange. I don't want to return it since I've been looking for one for such a long time, and since they don't have any more it looks like I am going to keep it.
I soaked the barrel all day and scrubbed it well. It actually isn't coming out that bad. I think I can counterbore it and it will be fine. I am going to try and heat up the rear sight and bend it back. If I break it, I have already found a new one.
All in all I am very excited to start building. I just need some compliance parts and my receiver.
Today I cleaned up the bolt carrier and bolt. I also polished the bolt carrier-only the area that shows of course, due to the amount of labor involved. It's starting to look pretty good. I also stripped the handguards. I'll get some pics up in the morning..
Originally Posted By mojo7:
Might want to check Rguns as they sell quite a few replacement parts for the M-72. You could probably get all you need if you want to spend the bucks. The best deal is the bipod for 35.00 bucks. New US made barrel for 65.00. Damn, when I was buying parts for mine before Rguns, I paid 100 for the bipod and 130.00 for the barrel.
http://www.rguns.net/gunparts/rifle-parts-AK.shtml
I ended up putting a new barrel on my bad bore kit and it shoots quite well. It will be worth it in the end.
Yup, if you're going to keep the kit, I would at least consider replacing the barrel. $65 well spent IMO.
APEX Gun Parts also has Yugo M72 barrels.
They are used, but it is possible they can locate one better than what you have now?
Yugo M72 RPK barrel at APEX
Regards,
Richard C. Hamer
Hey, this member is selling an original barrel if you want to keep it all original. Spendy though.

http://www.ar15.com/forums/topic.html?b=7&f=123&t=718302
my yugo rpk eats a bullet to the case.this rifle was welded up from a milled kit into a bent blank.it is fun to shoot.they are great blasters,not target rifles.if you want to clean your yugo barrel,shoot it alot.you would not want to be shot at with this shot out dark yugo barrel.aks were desinged for M.O.M=minute of man.do not worry about the cleaning rod,just get 1 that fills the hole and looks good.nobody cleans their rifle with them anyways.like was said here before,these are battle rifles that fought hard,and were destroyed and now is your chance to reserect them to shoot again.
Once again, thanks for the help guys. This forum is great.
Bouncer, that is great to hear. I was surprised to see the bullet go down that far, but mine looks just like yours, tight at the case mouth. So I guess mine could theoretically group as good as yours. It's also good to see another welded kit. I'm an experienced welder and wanted to do my first kit without too much hassle or time, but wanted to get my feet wet building. So welding seemed the answer.
I spent a few hours on the ole girl tonight. Heated up the sight with the torch(took it all apart of course) straightened out the leaf, then took the stud out for the windage and bent that back to nearly perfect. I'm pretty excited, it works good now and looks a hell of a lot better.
I then took the wood apart and proceeded to strip it and give it a few coats of cherry minwax, and light coat of poly. I didn't want it too pretty, just clean.. anyway, enough yapping, here's the goods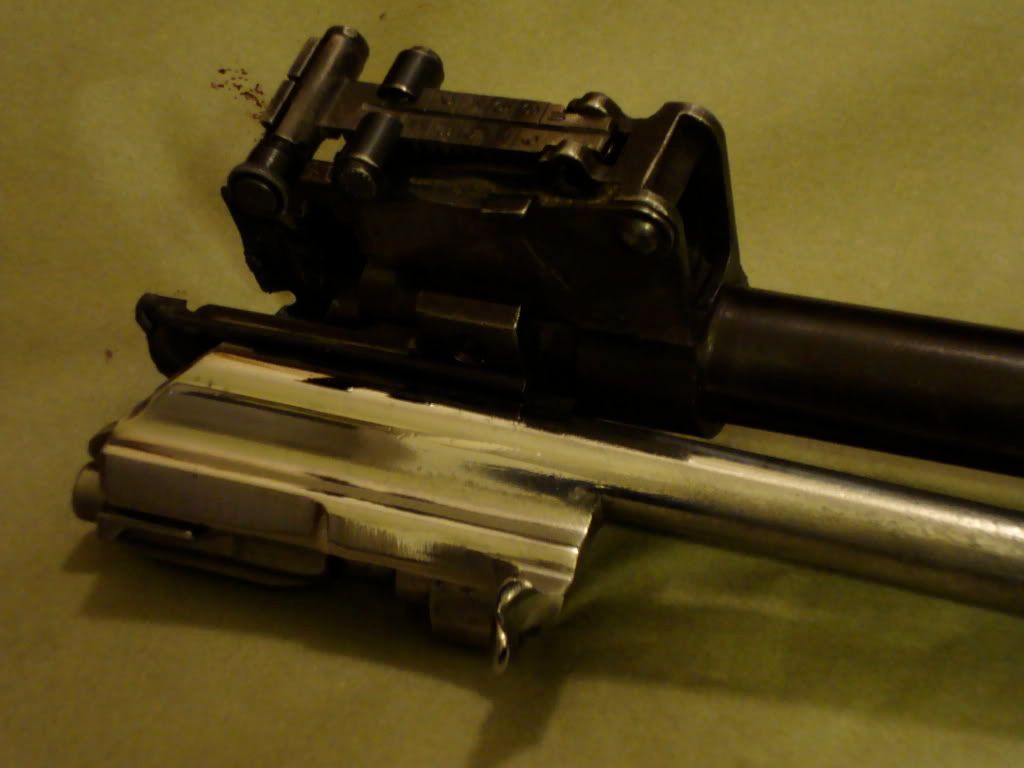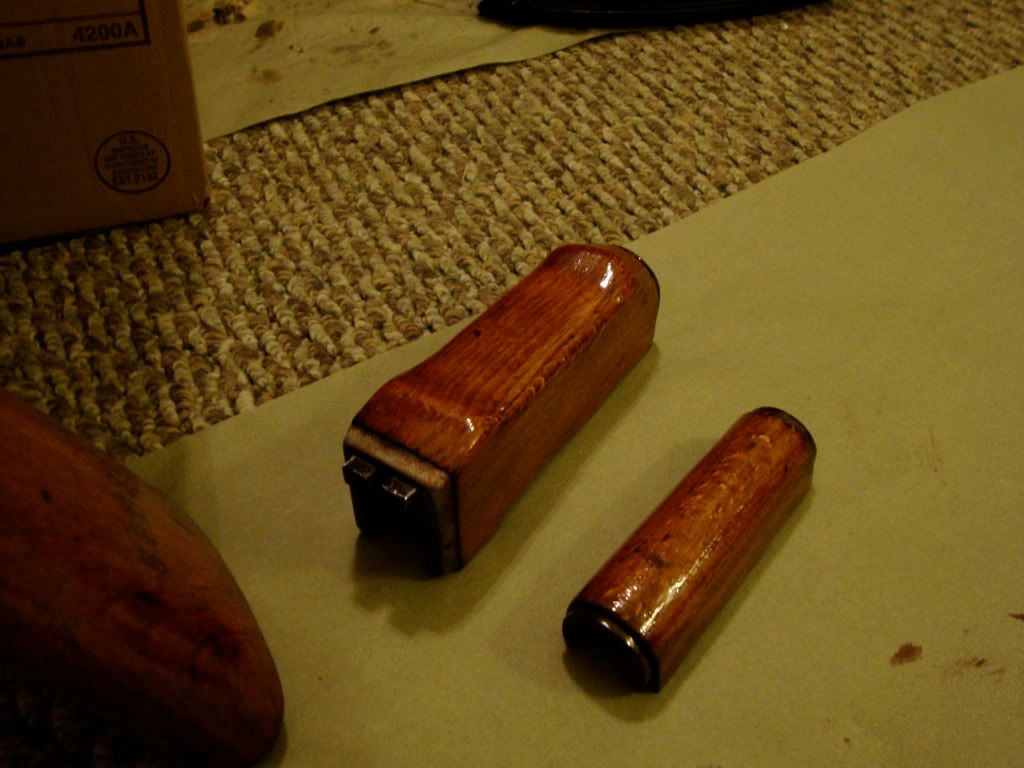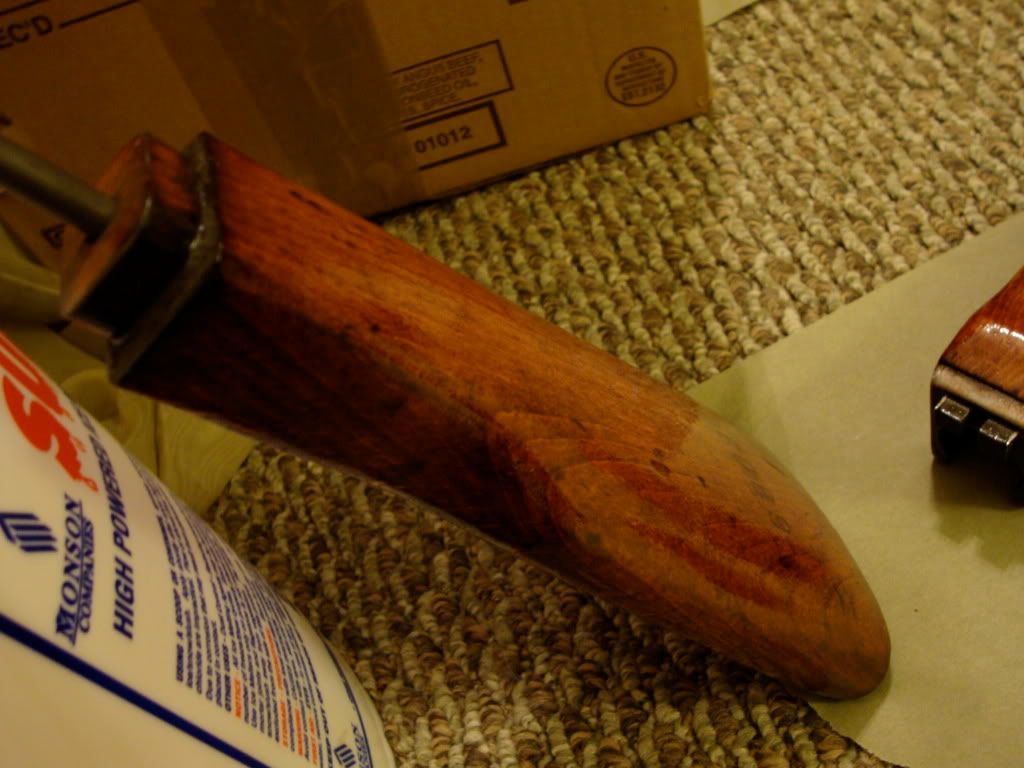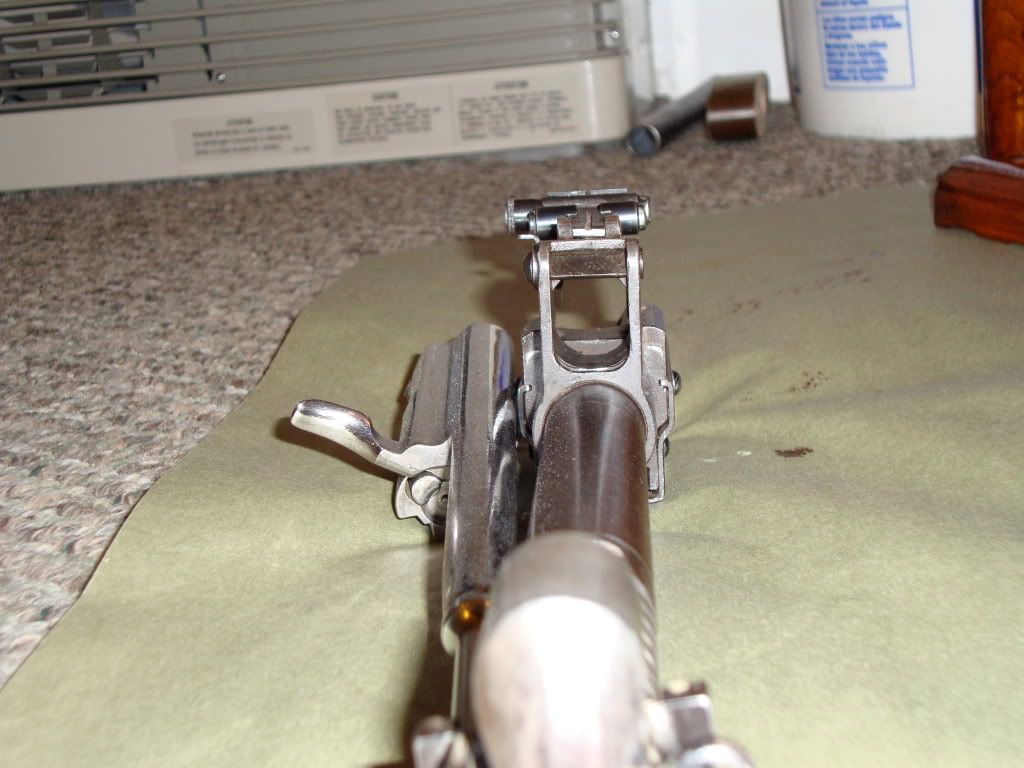 looking good.looks like you are getting into it.remember they build these things in caves with little or no tools,so i figure we can do the same thing here in our garage.i did a weld build because in 06 there was no other way to build a milled kit..yours being a stamped kit you can build on a bent blank or a reveiver.their in nothing more satisfing then when you pull the trigger of the rifle you brought back from the dead and it goes bang.then you will be hooked and you will have to do more builds.like i said afer it is built see how see runs and shoots.if it is really terrible,then buy a barrel for $65 and replace it.here is a pic of a 1965 romy rpk built on a cold steel blank.done before the days of finished receivers.wood is russian.finish cold superblue.
bouncer, again, thanks for the info and motivation.
I really like that romy build. How do you go about pressing a receiver with the bulge like the rpk's have? I still haven't got my receiver, and I really wanted to press my own...
I am almost done with the furniture, I'll post pics tomorrow night.
edit: nevermind, I just noticed you said 'blank' lol...
I was going to get a spud, so I guess I'll just stay the course and order one up. Talked to Harlan the other day on the phone, he seems like a real nice guy and very helpful.
yes get the nds.nds are easiest to build.make sure you read everything about demilling and building before you do anything.i read all the forums for 3 months before i did anything.there is a wealth of info out there.use it.everyone makes mistakes and it is cheaper and easier to learn fom others.here is a site that you should join also.this thread will tell you everything you will ever need to build aks.keep up the good work.and progress reports.
BUILD TUTORIAL
here are pics of the 3 AMEGIOES.1965 romy rpk,milled to bent blank weld build,yugo stamped rpk.
as promised, more pics....
got my bipod from rguns today! best $35 I've ever spent... fits like a glove.
almost done with the wood, of course I went WAY overboard with it, like always. Now I'm stuck with shiny furniture that is still dinged up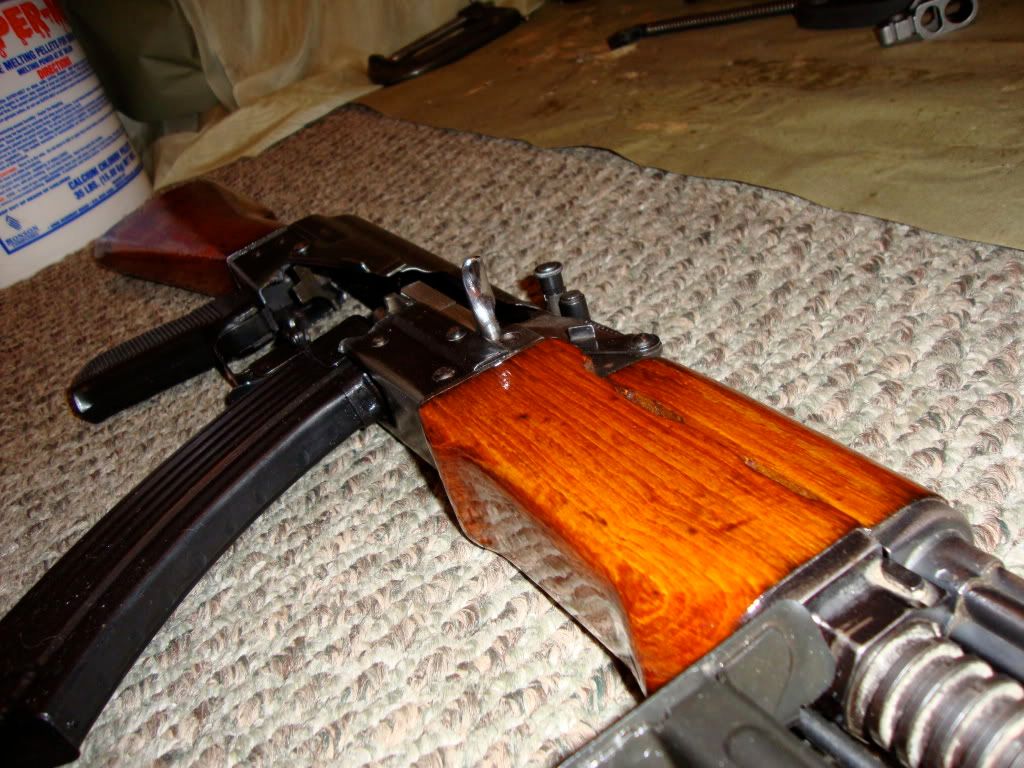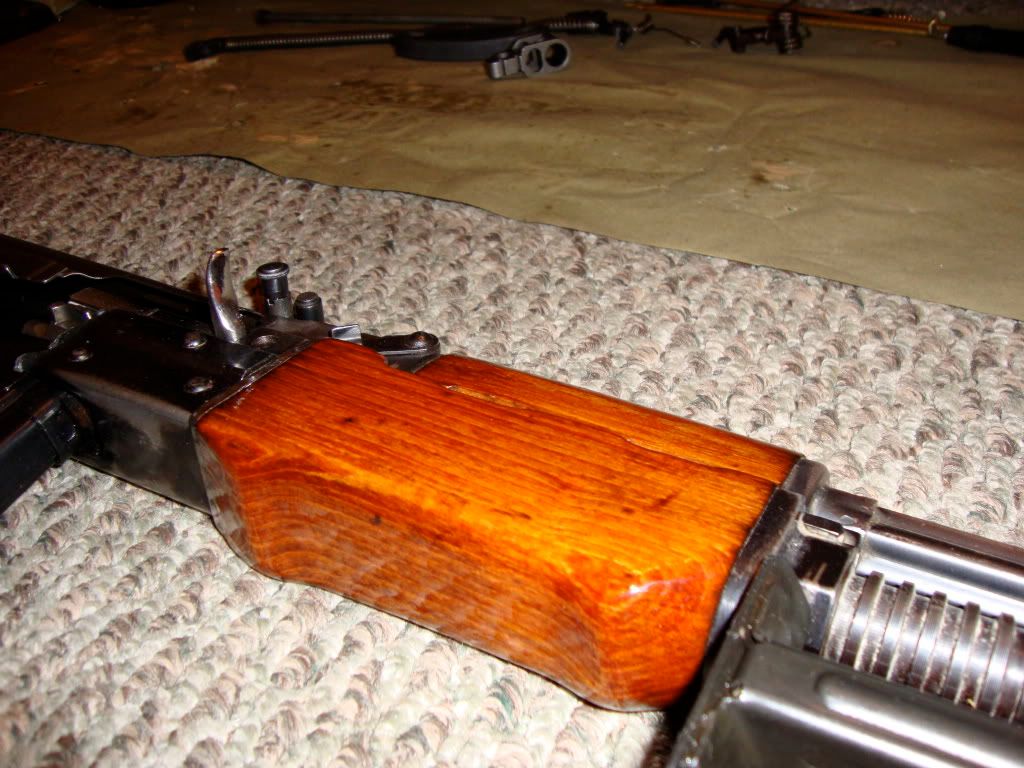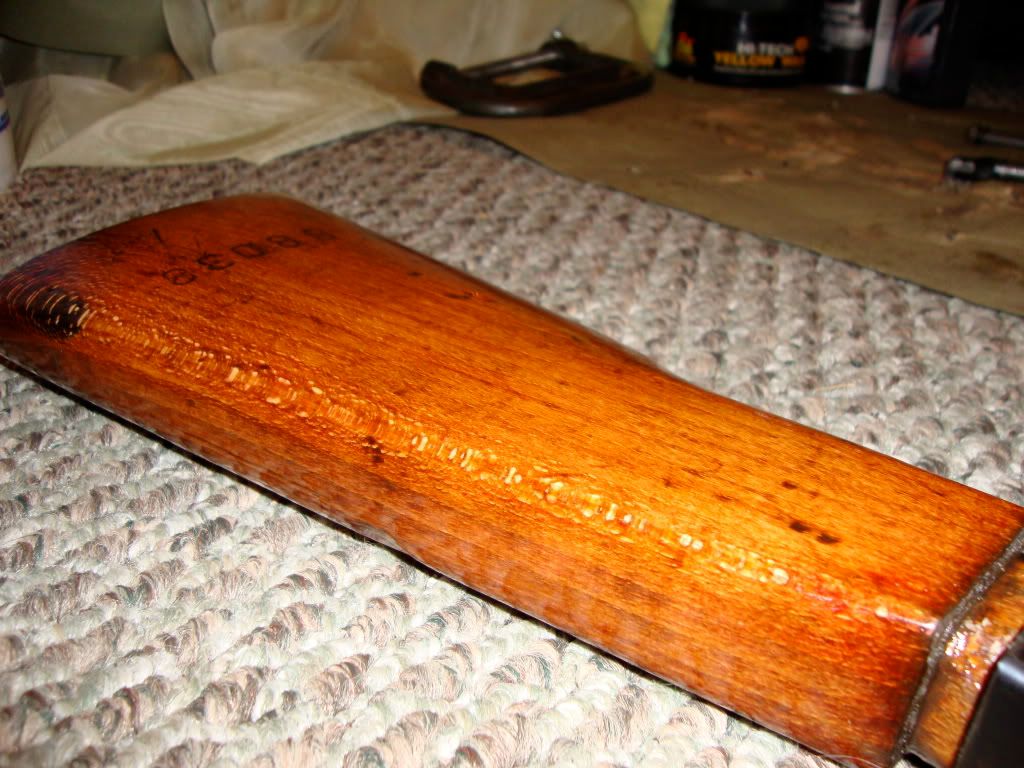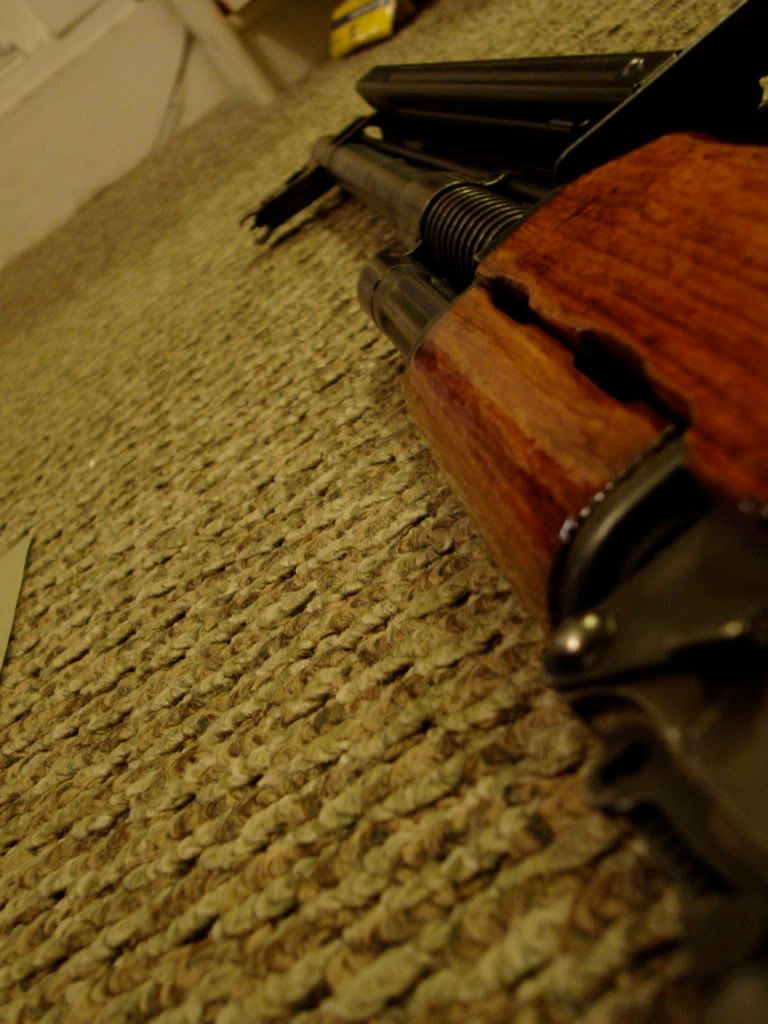 enjoying a little family time
little brother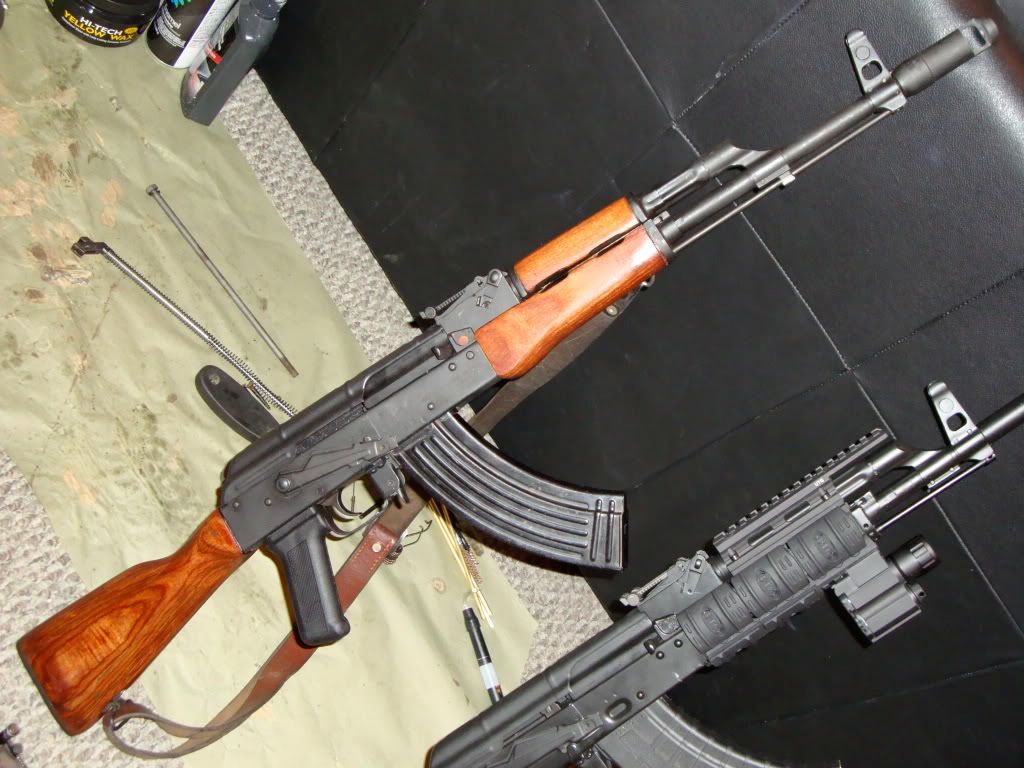 and the "breacher" aka the flamethrower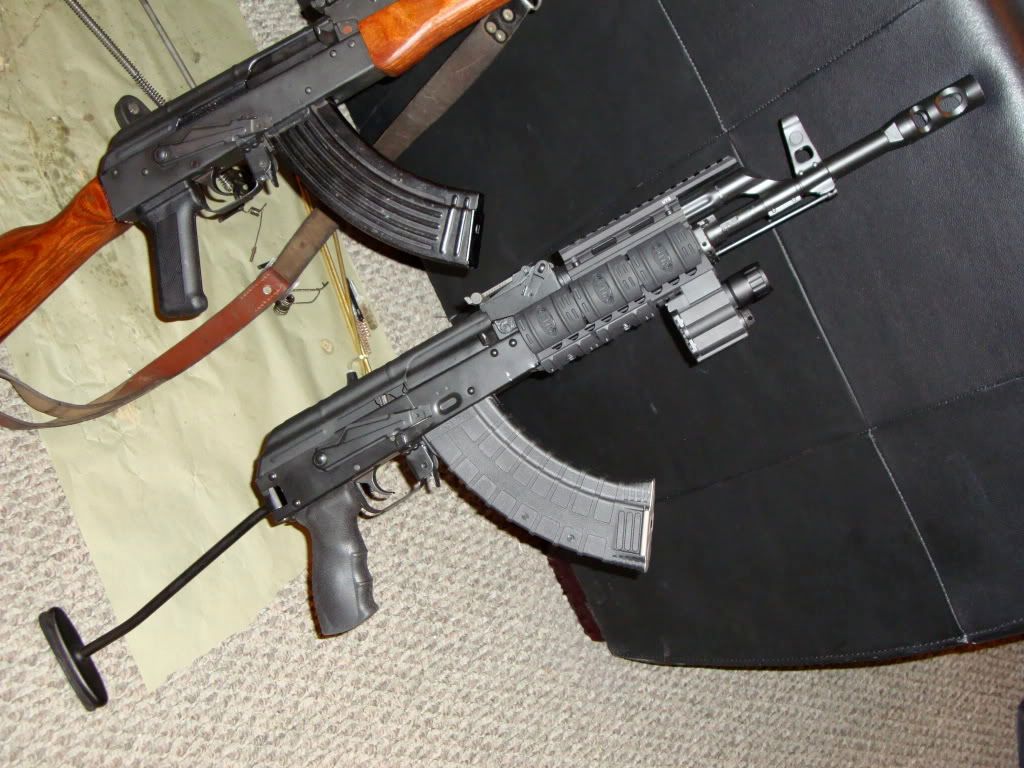 That M72 is coming along nicely, wood looks good. You still plan on using that barrel?
thanks liquid! yep, going to give it a go, if I get a ton of 'flyers' first time out, then I'll try and counterbore it.. if it still patterns like my 12ga trenchgun then I'll replace it with a new one.
I must say, I've got the bug pretty bad. I always thought I was somewhat of a builder, seeing as I have owned about a dozen ak's, most of which were century's that I broke down and rebuilt due to the crappy build quality. But building one from a kit is completely different.. so much fun!
I see NoDak has NDS-9s in stock. Got your order in yet?
not yet, I was going to talk to a friend of mine as he has his FFL. I was a bit confused about the order in which things happen when getting a receiver online.. Would I fill out my paperwork with my FFL then mail it to Nodak with payment and it would be delivered to him? Sorry for the dumb Q's, I usually buy in the store rather than online
and I just realized..............I put the bipod on upside down. I was wondering why the clip was hitting the cleaning rod when I was closing it
NoDak won't ship the receiver without the signed FFL, and they will only ship the receiver to the FFL holder (dealer).
that's what I figured. guess I just need to call my friend and get the ball rolling. thanks again
Just got done buffing the furniture, decided to reassemble it again for fun....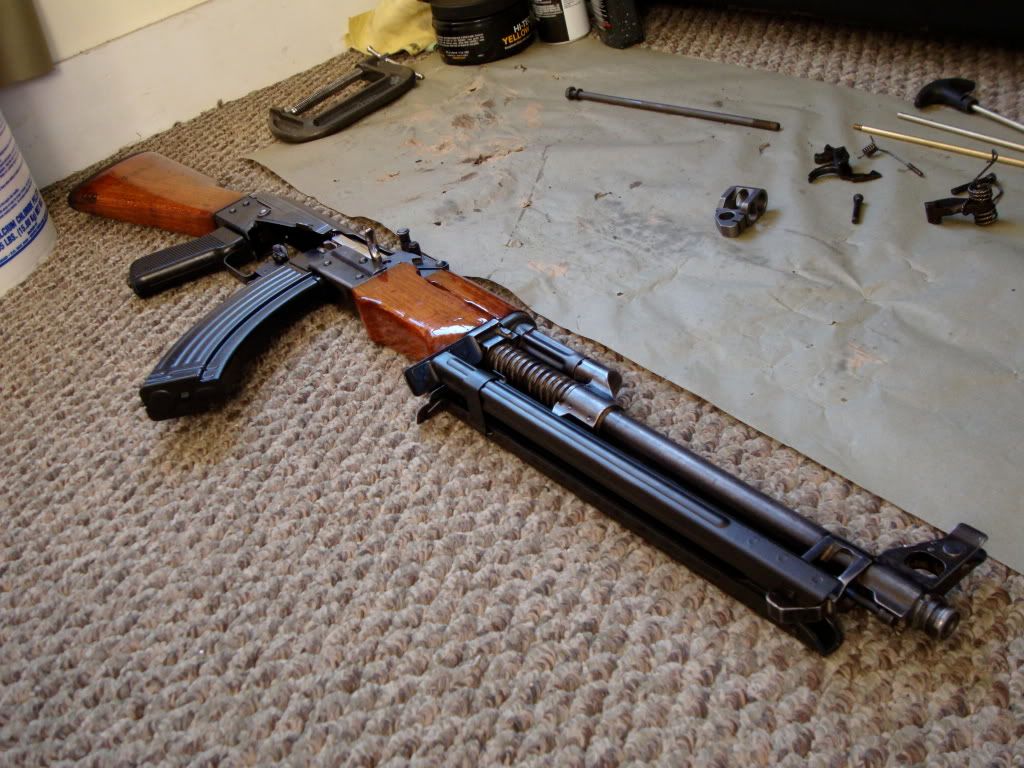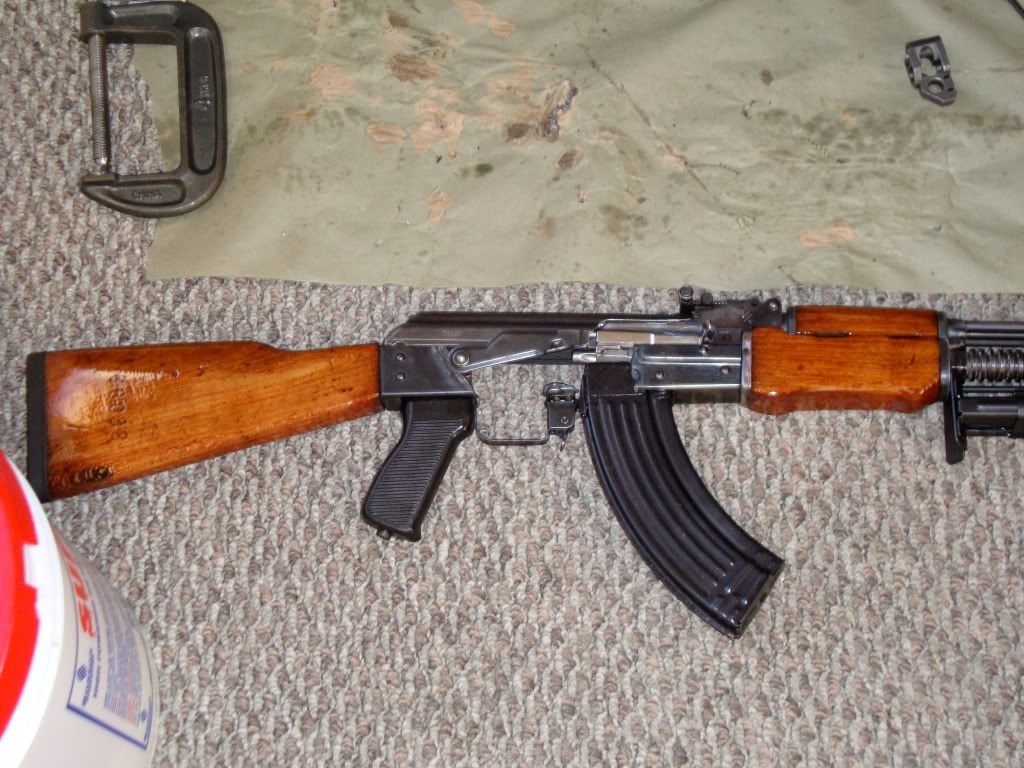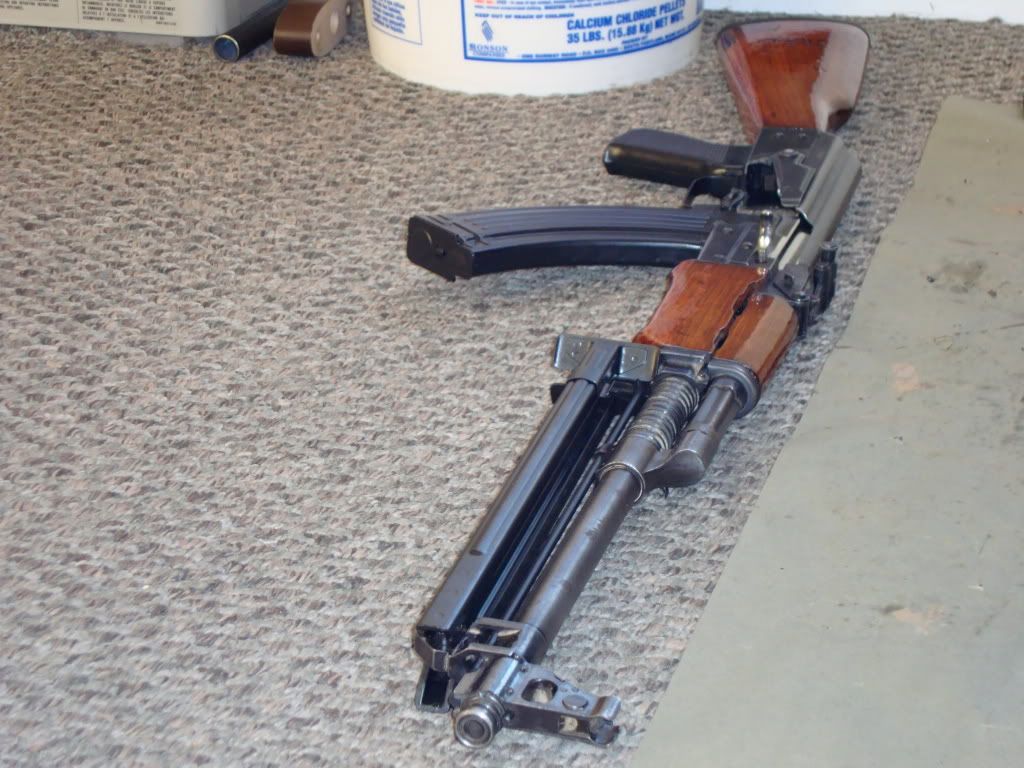 well, my receiver is on the way.... update with pics when I get some more done
get my receiver tonight, my FFL had it last night, but he wasn't home for me to pick it up.... damn I hate waiting for stuff!

Going to start building tomorrow.
Good for you, I think I might try to get mine built this weekend as well.
But you'll have a head start on me, cause I still have to weld in my lower rails and heat treat my receiver (80% blank)
I decided to build mine without the bipod to hopefully make it more accurate, so I machined up a press on spacer to take up the slack.
That's some excellent work on that spacer. It looks clean. I happen to really like the bipod on my M72, but for those wishing to eliminate it your solution is perfect.
wow, that spacer is badass!
I called my FFL, he's not home, so I can't get it till tomorrow!!!
Originally Posted By silley:
wow, that spacer is badass!
I called my FFL, he's not home, so I can't get it till tomorrow!!!
So, you busy building?
lol... I just finished putting everything in the receiver. IT WORKS!!! well, it cycles, and the headspace is ok. all my mags fit like a glove. can't wait to shoot it!!!!
It's still pretty raw, I need to get out the gun and spray on some duracoat.
I'll take pics later on, I need to eat.
Let the blasphemy begin!!!!
I countersunk the rivet shanks and plug welded them, I also opened up the receiver holes slightly to allow better penetration before the plug was filled. I know everybody thinks welding is the wrong way.... but I am a fabricator and certified welder and I'm not afraid to try something once. If this blows up in my face, then I guess I won't do it again.
My theory is, I penetrated the shank of the rivet and also the receiver, not the trunion so much. so essentially, almost re-heading the rivet by welding it. I did do a small stitch weld at the rear of the the front trunion near the magwell. You can see the heat mark near the rear most plug weld.
Anyway, I'm done defending my work. I know the people that think it's not built right will still feel that way no matter how good of a job I did- doing it wrong.
Hope yall like it, and I still gotta dura coat it!!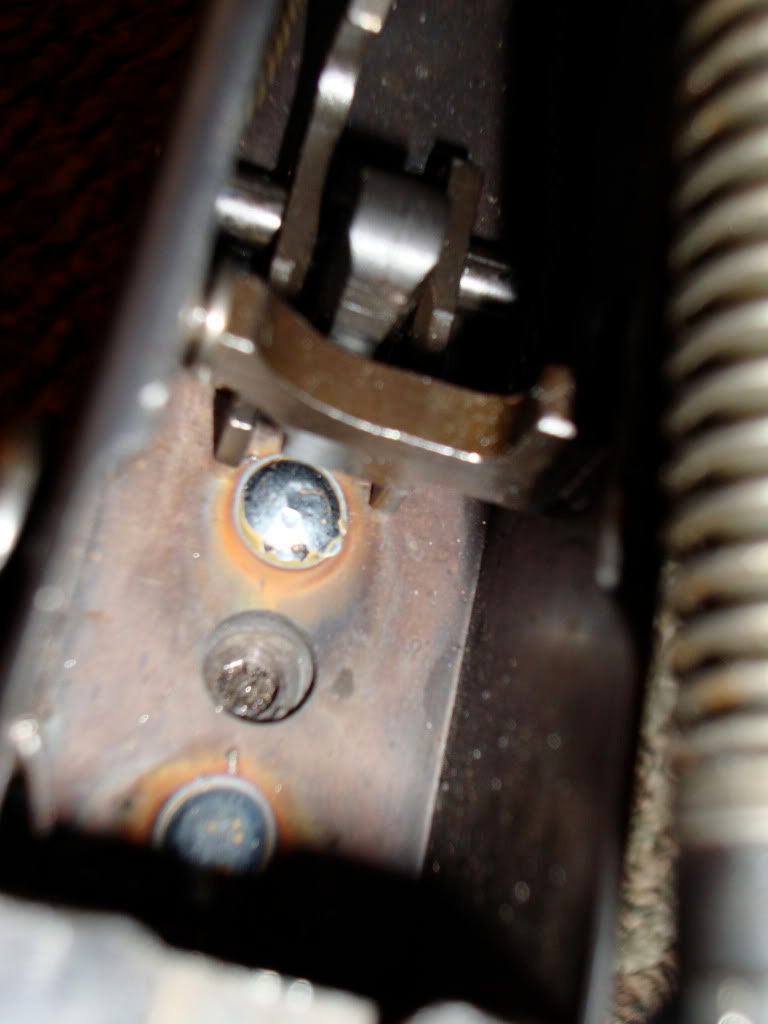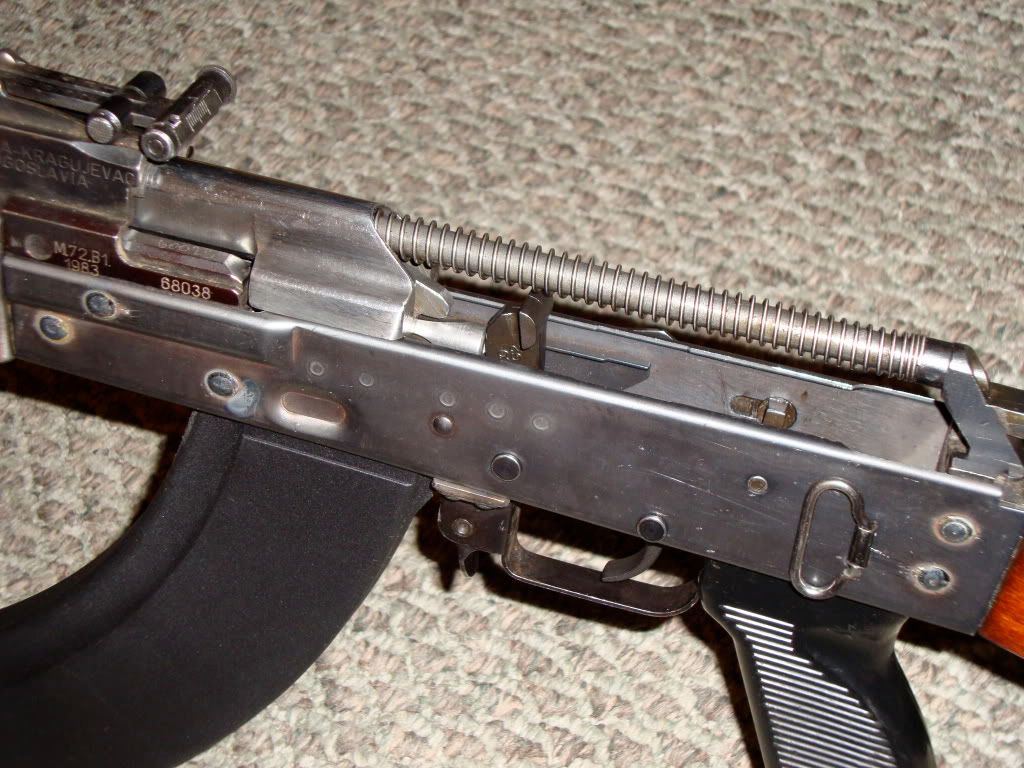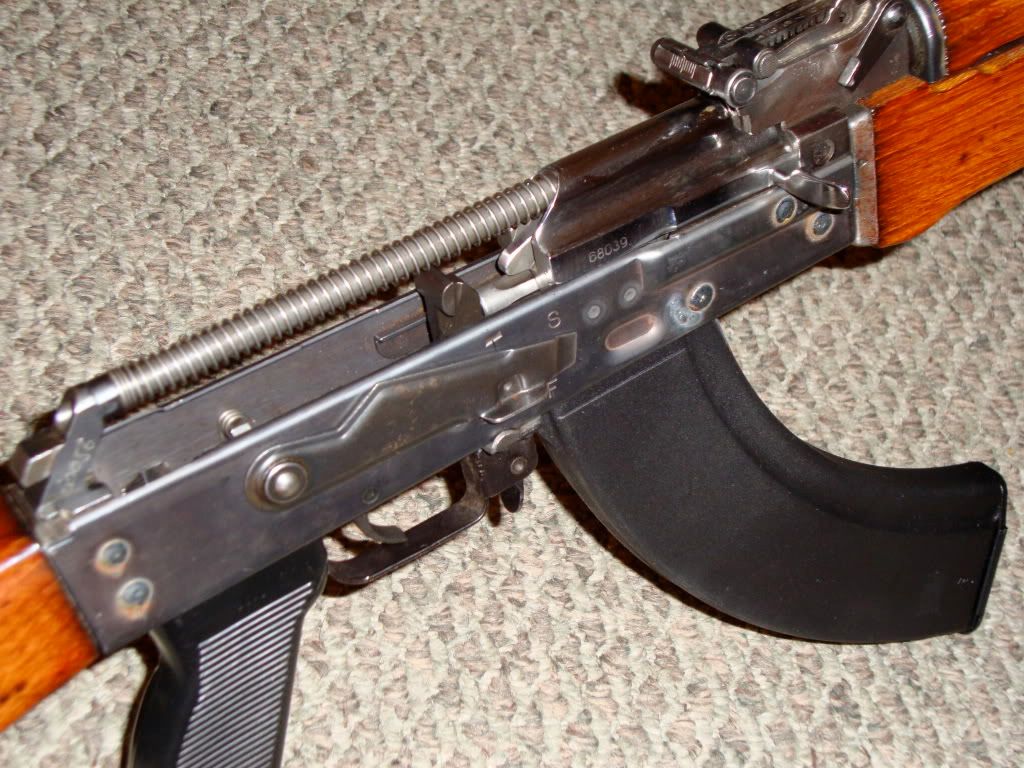 That rifle sure has come a long way. Congrats on getting it done.

We'll need more pics once the Duracoat is done.
well, it's cooking right now. I'll put it together in a few and snap some pics.
teardown and pre-clean-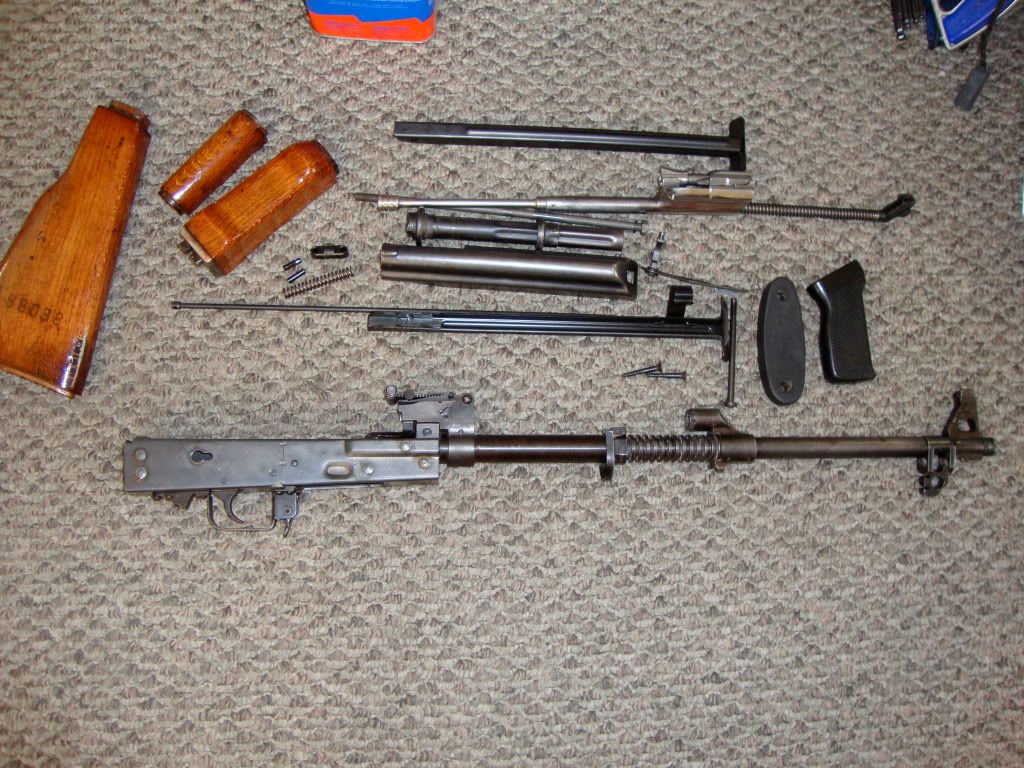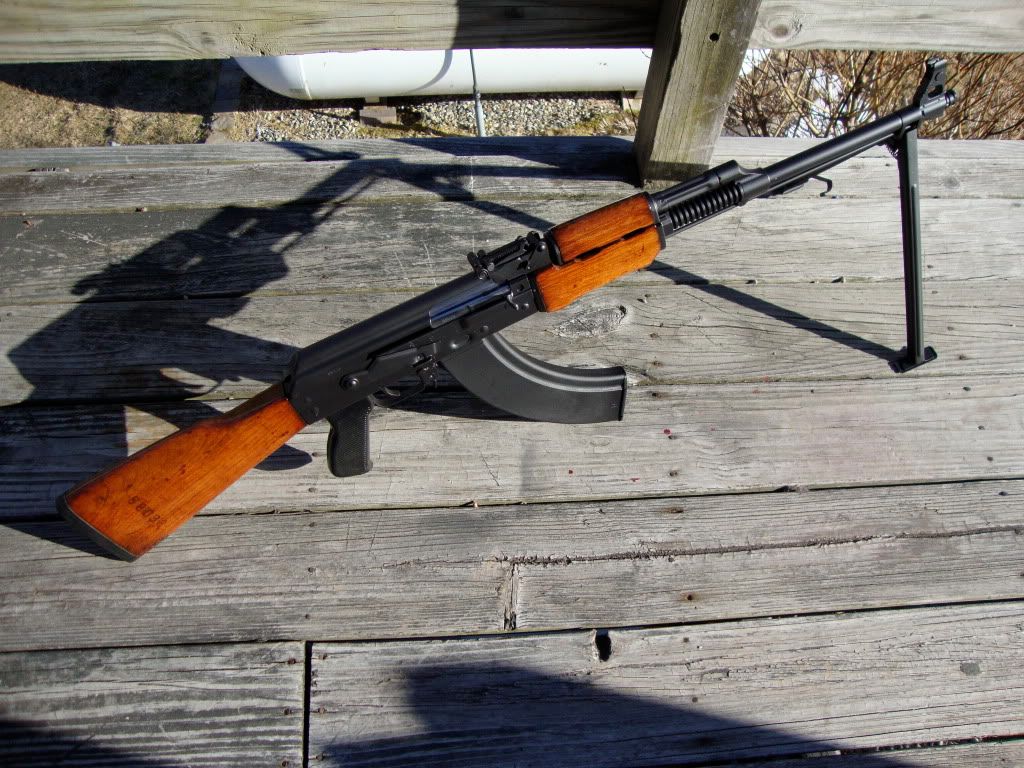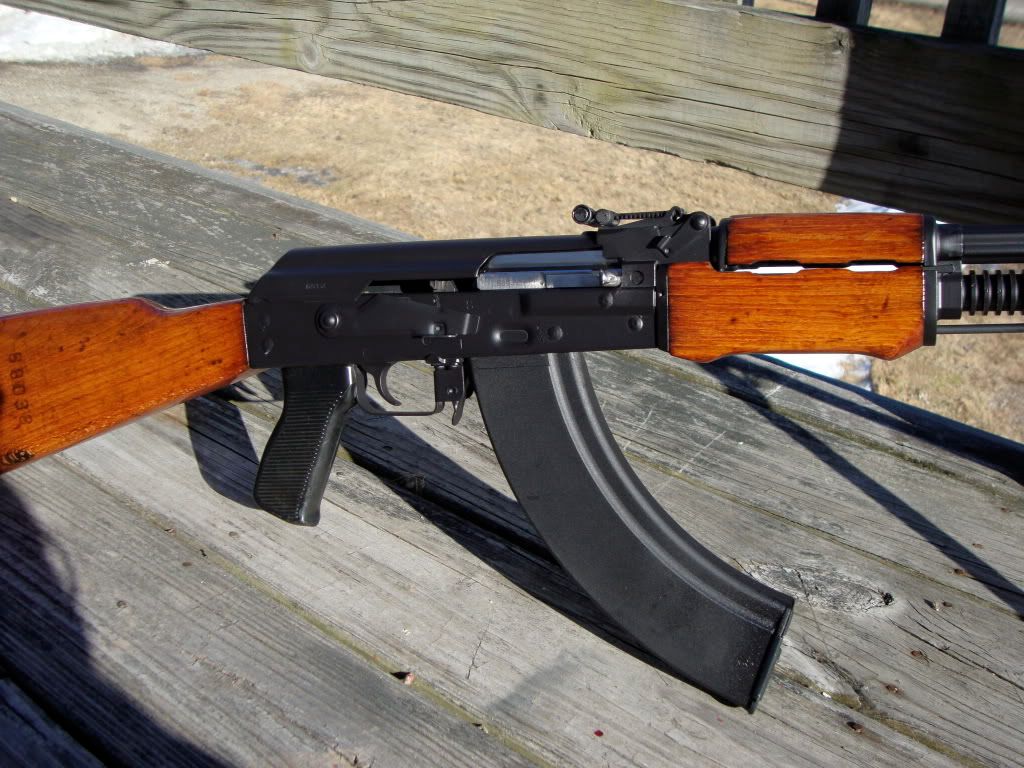 Looks great, good job.

Have you shot it yet to see how that barrel performs?
thanks! no range time yet, I will be going in the morning as long as its not too cold. The sub-0 weather in my area has put a damper on my shooting time
I've got saiga .308/amd65 and the yugo that have not been fired thanks to the weather... Guess I need to take off my skirt and go shoot em. cold or not!
I know what you mean. I live in the great white north as well and my shooting drops off in the winter somewhat. I still go, just not as frequently.

Nice weld job - I never thought I'd say that about a welded stamped AK.
thanks! I'm a better welder than a gunsmith