So I have a CAI Galil that is brand new never been fired, it was one of the recalled ones...I sent it back and then had it returned to me but have yet to fire any rounds through it. I'm seriously considering trading it in because I just don't feel it will be worth the hassle in the long run. Hearing about the various problems some have had...What do you all think are they worth the risk?
Well since you already have it, at least take it out and shoot it! I lover mine, an early Golani on an ORF reciever.
Heck yeah try it out. If it shoots well you'll love it. I got mine on recommendation from someone here on the forum and bought it from Henderson Defense Industries dot com. They go over the rifle to make sure it's good and I didn't find them to be any more expensive than most of the other online sites.

If you want one built by Jeff (TennGalil) it will cost you much more but you're guaranteed a great rifle made right the first time. I'm doing that as well, btw.
I have a Golani and it is one of my favorites. It is much more accurate than an AK. The sights are well done and as long as the cover fits well the rifle is reasonably accurate for a combat rifle (I get about 3 MOA with iron sights). Other than some issues with a bad aftermarket magazine (a South African R4 mag) it has been 100% reliable.

It's heavy but well balanced and carries quite well. You'll note the Israelies use a wide sling and if you follow their lead you'll find carrying it for extended periods is not a big deal.
Just try it.
Originally Posted By gewamser:
Well
I lover mine
That must hurt!
I like the weight of it. I wouldn't trade or want a lighter rifle for anything because it tames the recoil and is so much better than my AR with a piston kit.
Thanks for the input fellas, i will plan on taking it to the range once it dries up outside. So even though the receiver is marked .223 can I shoot 5.56 out of it? Sorry kind of new to the Galil world...
Yes, 5.56mm is fine - knock yourself out.

––––-

5.56mm does not have significantly recoil anyway but there is a noticeable difference in follow up shots between my 9.0 pound Galani and my 5.7 pound slick side AR-15 16" light weight carbine.

The numbers are also interesting. In a 5.7 pound rilfe M193 produces a recoil velocity of 6.89 fps and a recoil energy of 4.2 ft pounds. In a 9.0 pound rilfe M193 produces a recoil velocity of 4.36 fps and a recoil energy of only 2.66 ft pounds.
I have a CAI Galil/Golani Sporter with the GLN Serial # prefix, with cast receiver. The only real problem was that the bullet guide needed shimming up, I tended to that by another method I found on a forum, and as owner of an AK47, an AR15, and a Chinese SKS all of which are great shooters, my Galil will shoot circles around all the rest as to accuracy. I did replace the bolt carrier with an AK one as the operating handle knob are mr
y fingers when I had a rail on top. Only thing that could be better is an IMI genuine Galil,,,,Oh, and I have a mag adapter and can and do use AR mags when I choose...
I got one from Classic Arms when they first came out. Has the bayo lug and shoots like a dream. No complaints.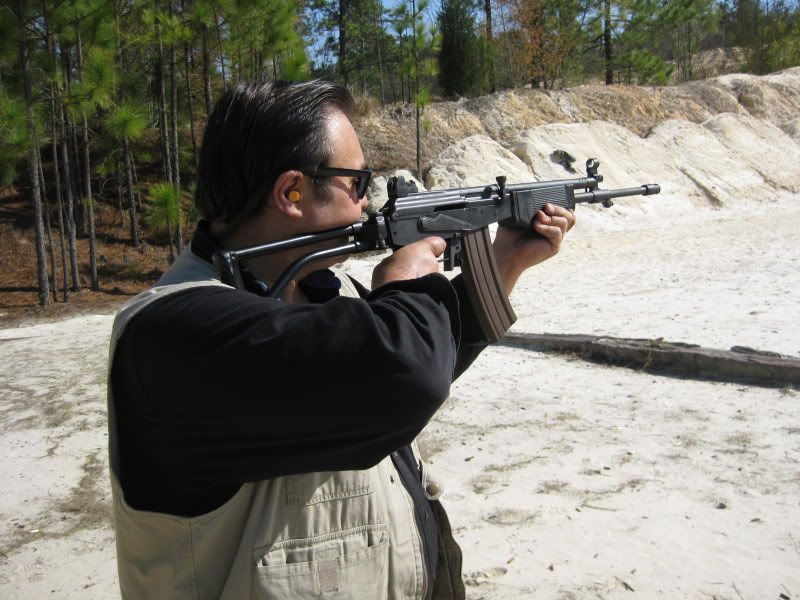 My GLN ## shoots 5 inches high at 50 yards but I don't have a front sight tool to try to make the adjustment. Accuracy around 2" at 50 yards with Hornady 52 gr. reloaded ammo. This is my only piston rifle.
You can thin an AK front sight tool an it will work fine on the Galil. You just need to make it a bit narrower to fit the hole in the front sight hood on the Galil.
I ordered a homemade front sight tool off Gunbroker. I hope to get to the range in a couple weekends to make the elevation adjustment.
Originally Posted By DakotaFAL:
You can thin an AK front sight tool an it will work fine on the Galil. You just need to make it a bit narrower to fit the hole in the front sight hood on the Galil.
I made one out of an old flat head screw driver and a dremel with a cut off wheel. Works like a charm. Basically trim the sides so it'll fit in the hole above the post, then cut out material to make a fork like object which will grip and turn the post.