New CAI Yugo M70... How's your bore? Pitted and rusty>
Gents,
I need some expectation management.
I just picked up two very nice CAI Yugo M70 AB2s.
I've wanted these for a while, these are actually replacements... The first pair had a bent sight and a knarled up underfolding stock.
So the inspection on these was pretty rigorous before signing over the cash.
Everything checked out, but I did note the barrel was pretty nasty.
So I get it home and begin the cleaning... and I clean, and I clean, and I clean. I find the barrel is rusty and nasty, and I've got quite a pile of filthy rust colored patches.
After hours of work...
It finally dawns on me the barrel is pitted, and what I'm scrubbing on is never coming out.
I will admit, I haven't tried to shoot out some of the crud either... I figured a proper cleaning should get most of it.
Now these CAI kits state they come with NEW US barrels.
If this barrel is new, you could have fool me. That, or the lack of chrome, or any treatment on the barrel, has allowed rust t set up and corrode the bore.
I wish I could snap a pic, but it looks worse than this (found on the internets)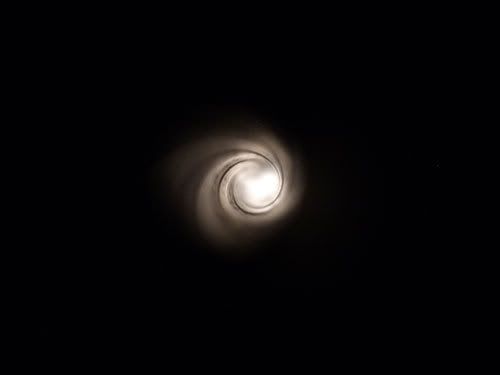 This said, I'm considering a return...
How's your CAI Yugo barrel?
Would you return it, or just shoot it?
Thoughts?
I think that's pretty much how all of them are...
I'm building one right now, and the original kit claimed to have an excellent barrel, but it was pitted with a bad crown
So I bought another one on one of these boards, and again the claim was that it was the best the seller had seen. It had a better crown, but still had mild pitting from front to back.
I'm a bit of a perfectionist, so that just wasn't gonna do it for me, so I shelved the project until later.
Then Kvar started selling the "classic" ak47 bulgy barrels.
I bought one, and with a little machining, I'll have an M70 with a brand new chrome lined barrel
My first M70AB2 had a damaged bore. Whomever drilled the gas port hole went through the barrel to the other side and chewed up the rifling. I returned it and got a new rifle. The new one had no damage, rust, or pits.
I'd call Century. They have become pretty good at making their customers happy lately.
Mike
If its a Century rifle it should have a new barrel on there. it will be engraved somewhere on the rifle (mine says cai on the bottom near the front sight).
I have an older Century/D C Industries built M70AB2 (bought it back in '06 or '07, can't remember exactly). It doesn't have any stampings on the barrel & the bore is very dark, but it is not pitted.
Back then I think they may have been using some original Yugo barrels & I think mine
may
be one, but I have no real way of knowing.
I wonder if it's possible that Century, or whoever built the OP's rifle for them, bought up some of the Yugo barrels that are available on the market? Or of they're using some of the kits with origional barrels that places like APEX carry?
Should be a new Green Mtn. barrel. Perhaps these barrels are sitting in storage for an extended amount of time prior to being used without some kind of preservative to guard against corrosion.
I've got a year old CAI M70 AB2 with Green Mountain barrel. The non chrome barrel is shiny just like you'd expect from a new barrel. Sounds like whoever built that one used the original barrel that came with the kit. The kits with original barrel;s have pretty much dried up. I'd assume anything made by Century would have the new Green Mountain barrels. FWIW, mine also had the DC Industries receiver. The darn gun is so nice it looks like a custom build.
I bought a CAI Yugo M70 AB2 about two months ago and my bore looked like crap too. Century must test fire these things with corrosive ammo and not clean them up before shipment out. Mine looked as bad and I scrubbed the bore with MP7 and then let it soak with CLP, it still looked iffy to me for a new barrel until I shot some ammo, looks like it should now with no pitting.
i have a CAI M70B1 that will not shoot124gr boat-tail bullets . it key-holes with them ! but if i shoot 123gr or 122gr flat base bullets it shoots them very accurately. the bore is shiney and the lands and grooves look good .
I just got a new M70 AB2 and the bore looks like crap too. It looks way worse than the picture shown in the first post and underneath the barrel near the front site is marked C.A.I Georgia, VT.. From reading here I guess I'll run MP7, CLP, then shoot it and see how it cleans up. The (4) AB2T's, AB1, and WASR 10/63 that I also got recently have beautiful barrels.

EDIT: I soaked it with CLP overnight, bore brushed it, then Brake-kleen to inspect. It still didn't look good so I repeated the process with unspectacular results. It looked better but not what it should be. I bought some Blue Wonder Gun Cleaner gel which came in a 4oz. tube. I followed the instructions on the tube and did two complete rounds of cleaning. Alot of rust came out and the barrel looks MUCH better. I would give the Blue Wonder two thumbs up!! I'm going to shoot it with some FMJ, clean it, and see how it looks.










I built a Yugo UF from a kit 3 years ago with what was described as a "Dark and Dirty bore". Sure enough when I got it they described it correctly. I cleaned the snot out of it with a bore brush, some hoppes and then some patches.Built it on a blank,refinished the grips, blued the receiver to match the kit and 3 years later its still 100% reliable and the most accurate rifle I own, even more than my AR. Its so accurate I think I have an anomaly since the internet tells me AKs are not suppose to shoot that way.
I have a dark bored (strong rifling and good crown however) milled M70 that shoots far better than some people think it should as well.