Different ways to get Krink built
I've wanted a Krink for 10 years (to think $299 kits were expensive) and may be getting close to being able to afford one with a fake can.
I know Arsenal had some 545s and there are still some 545 kits for sale, but it seems someone had posted on building one by cutting down a regular AK.
Could someone comment on this and what the difference is in cost to have this done vs. have a kit built. I also recall something about it not being a "real" krinkov,
is that just because it's been bastardized? Many Thanks TP
I may have lied about getting kits. Don't see any kits in 545, how about putting a 545 barrel and bolt in a M-92? TP
if you can find the combo FS/GB, you can build a 105 clone. There are few around here on the forums. Personally, next to my krink, it's the one gun I am obsessive about.
Here's a pic from the web, a 104 and 105:
The boosters are not krink boosters. They are shorter, and as far as I know, Chris Butler is the only guy making a copy of them. These are 12" barreled AK rifles that require only the barrel to be chopped, and the combo FS/GB. Takes original furniture and all. Another option would be to buy a Draco pistol, Form 1 it, and then add an ACE stock. Just drill and tap the rear of the receiver and you have an SBR, cheap one too. Other than that, you are if you want to take a standard AK and make it into a krink, you will still have to replace the barrel, the rear site block and everything else barrel related. They use the same receiver. Hope that helps.
My krink made from an Arsenal SLR 105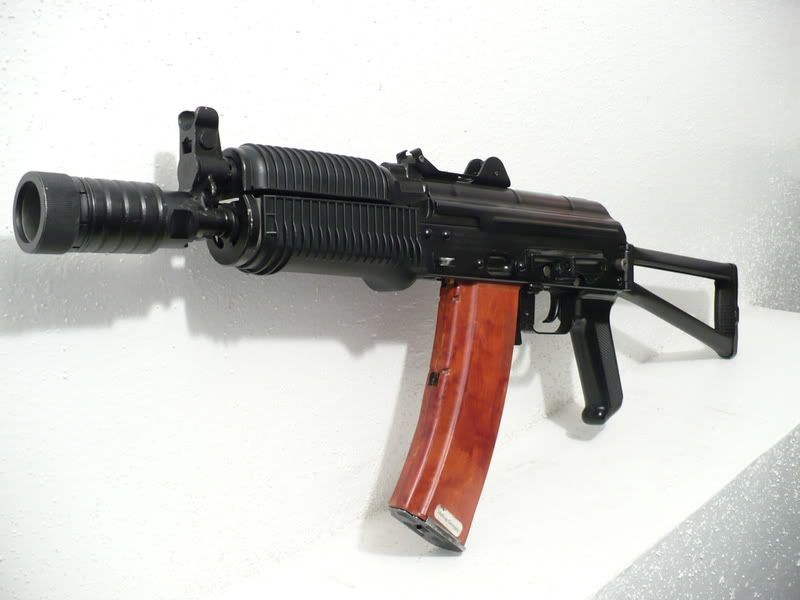 It's hard to beat a krink made from an SLR105, probably the best that money can buy
Z
Many Thanks for the replies. They help, but not knowing the AK from the build side of things it gets confusing. Hopefully I'll get my cash together and find one.
Again many thanks. TP
if you have any other questions, feel free to ask. The only stupid question is one not asked....well almost.
Not sure if this helps but here are some front ends of Yugo M92s.
Nitris
Where'd you run across those cuties ?
I built one up as a pistol a few years back and it really turns heads when I take it to the range.
Roger
What could be rebarreled for 5.45 cal. Or what would be the least expensive way to get a 5.45 Krink if you can't get a "kit".
Not knowing the build process I guess the options are endless if you got the cash. TP
all said and done, what did that end up costing you?
I had nothing to do with the build. I got it from my class 3 here. He had it built. I spent a total of 1600 with the stamp. A bit steep, but it's worth it to me to have one made on a factory receiver.
Hell nictra, I didn't pay too much less than that for mine and it was built on an American receiver.