I have been kicking around the idea of a saiga 308 for a while now. Before I jump in I have some questions.
Here's what I would like: Wood stock with cheek weld pad thing.
Wood fore end (ak or sporter type).
Railed top cover for aimpoint mount.
Some type of flash hider.
If I bought an imported bare bones saiga I would have to: replace the wood.
Do pistol grip conversion.
Buy 21inch bbl version and have bbl cut and threaded to like 16.3 inches. I don't care about fsp.
New trigger?
Top rail for optics.
That's seems like a lot of work and money. I can't seem to find anything for sale that's even close. I like the veprs but can't stand the thumbhole stock and don't want to spend 1500 on a super vepr. This would be first ak variant and I'm fairly handy with tools.
BTW all of this began because I got a great deal on an aimpoint comp 4 and need to put it on something.
Dearest arfcom how should I proceed?
you know what I would do? I'd get that Saiaga 308 and make it into one of these: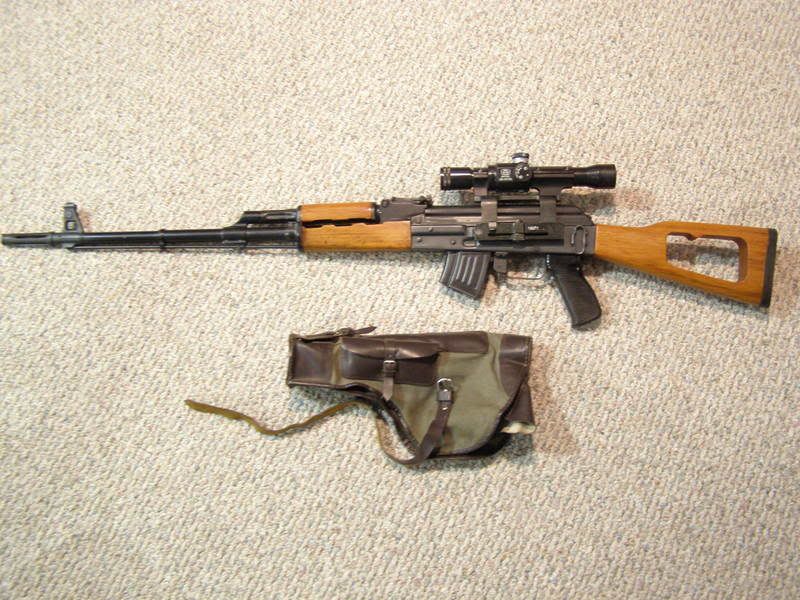 but in 308 of course, and call it you Saibuk, or Tabua...it's a project I had in mind of doing myself actually. Ironwood doesn't make one for a stamped yet...but you may be able to talk them into one. FYI, the Draganov check pad fits on these
I'd just buy this rifle from Atlantic:
Saiga 308 converted rifle
. You can put any standard AK buttstock and grip on it.
Maybe this
Saiga wood handguard
.
Then sent the front sight to
DinzagArms
. You'll still need to find someone to thread your barrel.
Originally Posted By AlmightyB:
So if I read dinzigs sight correctly I Think I can remove the fsb so that a 16 inch inch bbl could be threaded.
Yes. This was his overview, if you didn't see:
FSB removal
They also sell the
threading tools
if you can do it yourself.
If you haven't, check out/register on the Saiga-12 forums. It's dedicated to Saiga rifle and shotgun conversions.