Muzzle Brake Wobble
I currently have a TAPCO AK Slot Muzzle Brake installed on my WASR 10/63. It's an improvement over the generic slant muzzle brake, using the 14x1 threads.
However I have an issue with the brake not lining up properly. I've tried different, which doesnt really change anything. If I tighten the brake all the way, the brake is upside down. When I back it off to the line up with the detent pin, the brake is loose and wobbles. This doesnt cause any problems for shooting, but is annoying.
I'm curious if a 14x1 crush washer would solve the problem.
Tapco AK Slot Muzzle Brake
Crush Washer
Lined up with Detent Pin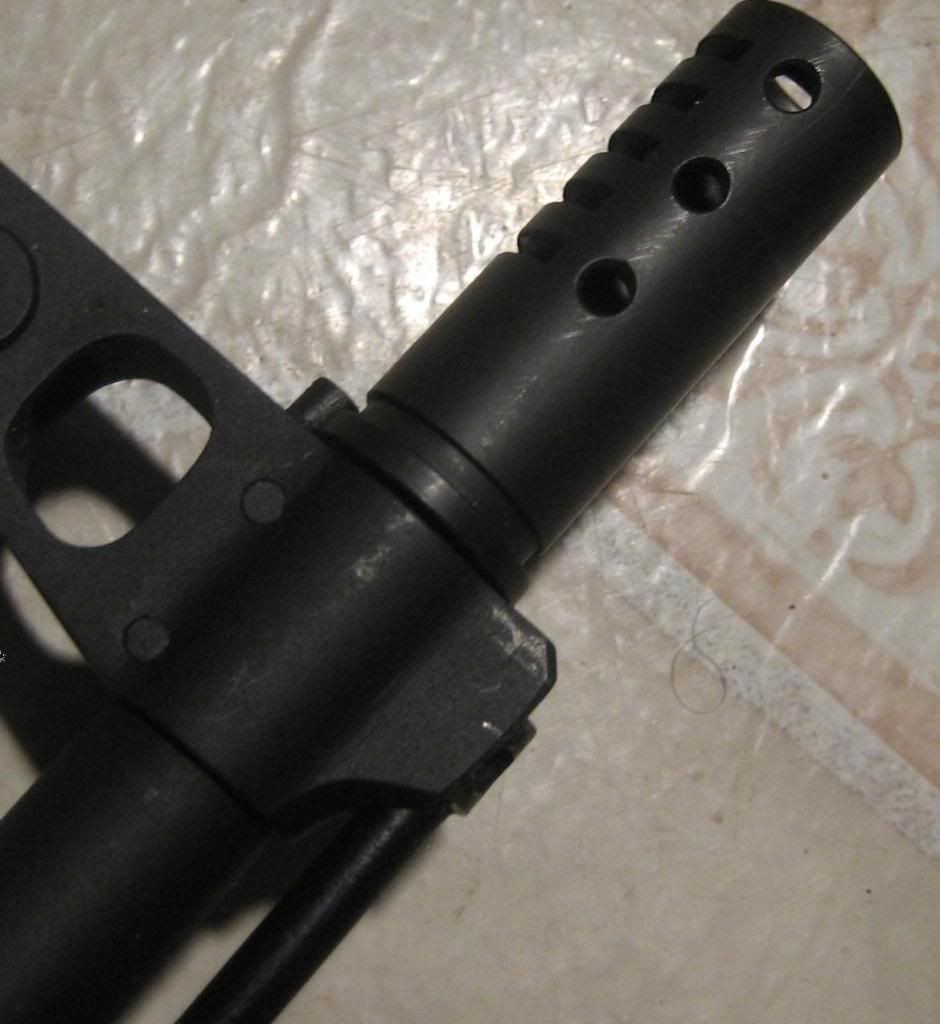 Tightened all the Way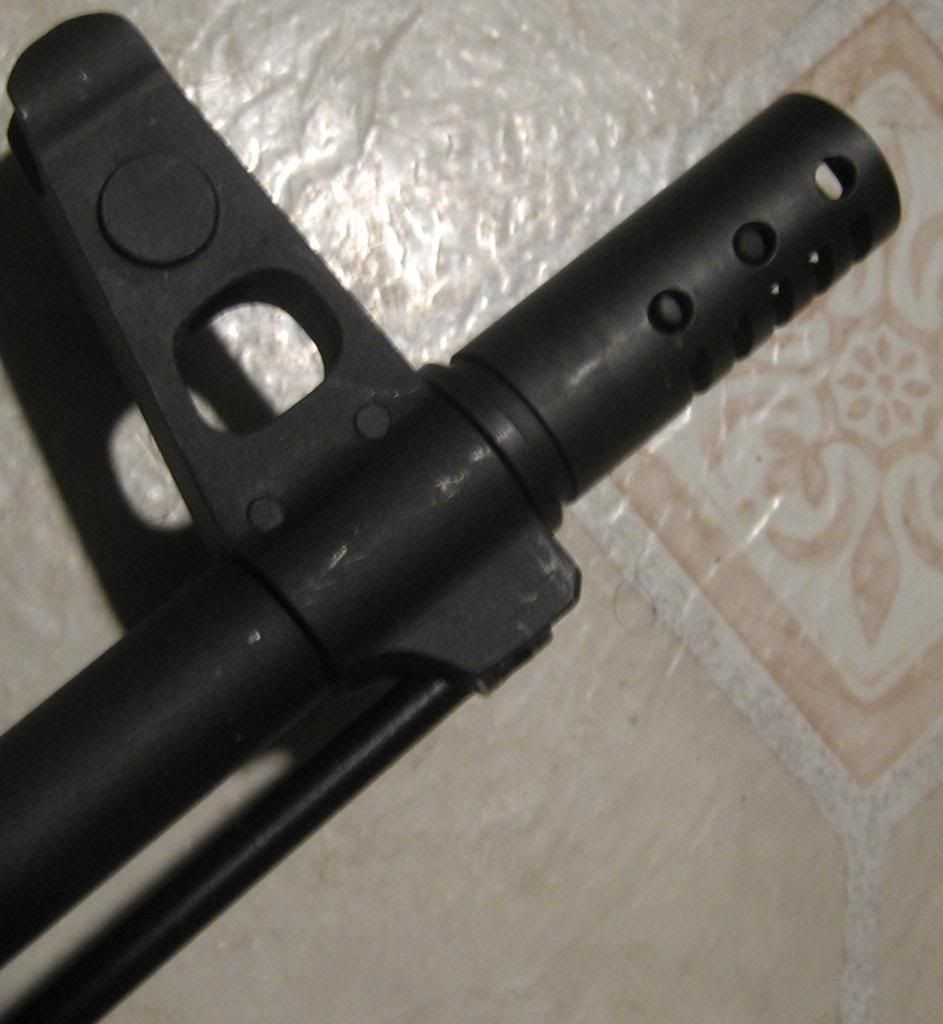 In before the Tapco bashing.
I've used pipe tape.
It doesn't take the heat well but it works.
probably want a peel washer
Originally Posted By pjomalley:
probably want a peel washer
Where would I get one at? Would Lowes/Home Depot carry them? If so, what would I be looking for?
What's the difference/benefits between a crush and peel washer?
or you could try this http://www.nokick.com/PWS_AK_RW_p/pws%20ak-rw.htm
Screw-on AK muzzle attachments are almost always loose. This has no adverse effects on anything and may be by design.

Actually, you may not want the brake to fit tightly. After a few shots the fouling will tighten the brake and eliminate any looseness.
If the brake is a tight fit and you don't remove if fairly often for cleaning, the carbon fouling will actually "solder" the brake in place and you may have difficulty getting it off at all.

To prevent the brake from becoming frozen on, remove it often for cleaning, use a carbon remover like Slip 2000 Carbon Cutter to clean the brake, and a brass toothbrush to clean the threads on the barrel.
Good point. I dont have an issue with the carbon fouling getting in there. Maybe I don't shoot enough rounds to get to that point, but I do take the brake off and clean like any other part on my rifle with care.

I'm slightly concerned about the wobble causing damage to the threads long term.
I don't know if the crush washer is too thick - it might not leave enough room for the plunger to reach.

Someone needs to make some tantal cup washers.

You can remove material from the back until it hand-times about 22.5 degrees short of top dead center, then tighten with a tool.

I've experimented with nylock type inserts stuck into the thread on the 24mm and it works fine, but is a little more work - they also make a high-temp one, but I haven't gotten any yet.
I took care of mine buy removing very lillte material from the back of the break till it almost tightens and before the pin locks in place then use a rod or tool tighten it up till the pin locks... also you can use locktite but you will have to heat it up to get it off....I have even used Teflon plummbers tape on the thread to get it to stop before the pin kicks in then use a 1/4 steel rod to tighten it till the pin locks in place......This is really common with AR,S and I file off the back till it locks on the crush washer in the correct place, I find this much easier than putting shims or sanding the washer till it phases correctly....
I use a file and index all of mine. It doesn't really make a difference, but they are nice and snug.
Finally fixed my muzzle brake wobble. I ordered a 14x1mm crush washer, however it didn't solve my problem. So I took my dremel and filed in a detent-pin slot. Next I filed it down till the brake indexed correctly. No wobble now. All I have to do now is refinish the washer with some bluing agent. While the gap/wobble wasn't much to worry about, I wanted it to be more snug. Note, crush washer was more figurative. It doesnt seem to give much.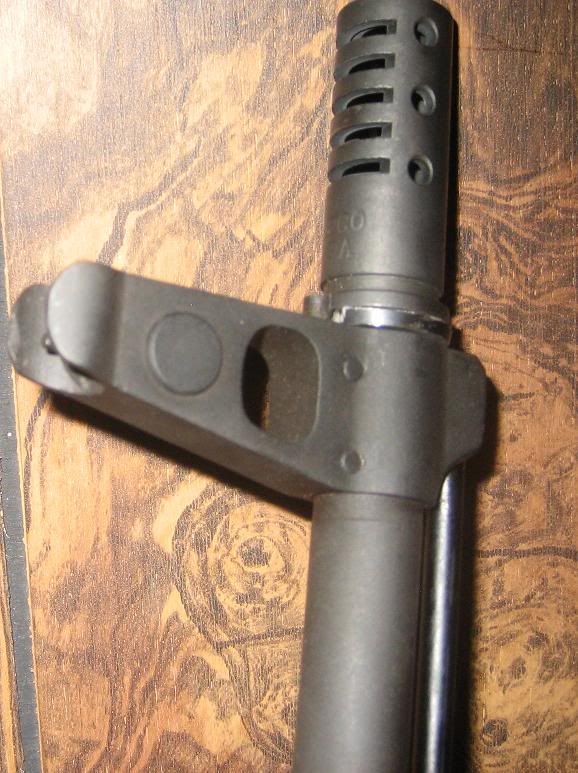 With washer unmodified
Brake gap
14x1mm Crush Washer - Carolina Shooters Supply