What's going on here? Cartrige damage
Hello All,
I noticed this going on at my last range visit with my 47 while cleaning up. No jamming or stovepipes or anything but bang. Out of 60rnds about 8 came out this way. No damage or marks on the oppisite side. Ammo is Wolf black box, soft point. AK is a romy build.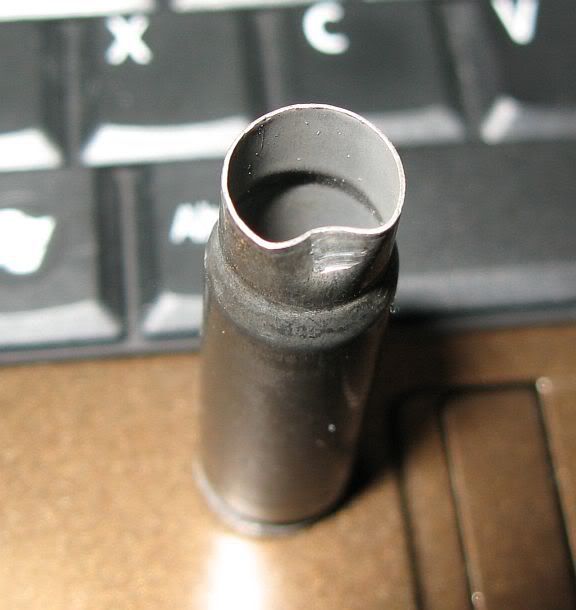 See pic I cannot.
Originally Posted By RaiderX:
See pic I cannot.
Weird. I can. WTF?
This is what I see.
Fixed (I think). Thanks
how far is it ejecting brass and at what angle?
4-8ft @ 45-90 degrees behind the ejection port. These seemed to be about 4-5ft away along with undamaged carts.
Could be smacking the top cover right behind the ejection port, is there any visible wear or a shiny spot on the corner of the cover there?
I've seen it happen on overgassed guns. Do you have a vented or non vented piston/gas tube?
It's striking the top cover at the case mouth. Most strike about half way down the body of the case.
If the rifle works, I wouldn't spend any time worrying about it.
The AK is a battle rifle.
The fact that the disposable steel cased ammo might get beat up during ejection was and is of absolutely no concern, as long as it does cleanly eject.
The only time there's a concern about damaged fired cases is if they aren't ejecting cleanly or you're shooting brass ammo and want to reload them.

If it just bugs you, you can check the extractor for damage, wear, weak spring, or a fouled assembly. Often an extractor that's weak for some reason will fail to eject more cleanly.
Check the ejector for wear, bend, or mis-shaped working surfaces.
There are some marks on the bolt carrier, underneath and about 2 inches before the gas piston and also on top cover. Had to look for the marks on the top cover with a magnifying glass.

The gas block has gas ports but the gas tube is not vented.

The rifle as well as the bolt were disassembled and cleaned before this.

I wasn't too worried as the rifle fired fine. Just wondered. I didn 't notice anything while firing, just noticed when cleaning up the cartriges.

Thanks for the replies everyone.
Can't tell what caliber it is but this might help you see what is going on. Slow mo firing of an AK.- dustcover
http://www.youtube.com/watch?v=wQPSJhvz8ec
getting junk in the extractor groove.no problem.clean it with some solvent,make sure the pin is free and rattles.Sometimes the groove picks up some debris and crimps the extractors style and is thrown out,like a piece of powder,brass/steel/polymer/dirt etc.you getting a good healthy extraction if it bangs it that much.