What's this?
So ammo pros what do I have? I got 700 of them like 8 years ago. I was told they where AP. But i don't remember any thing else. I forgot I even had them.
Crappy cell phone pics.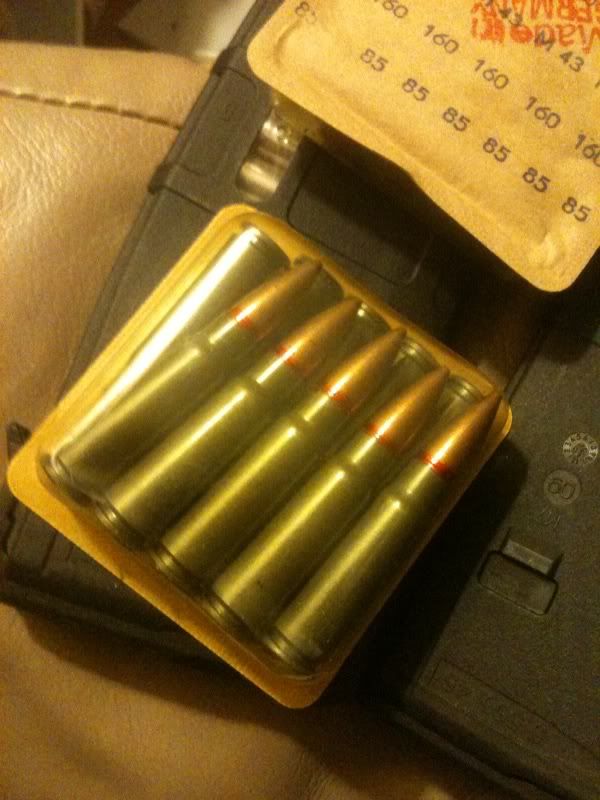 http://en.wikipedia.org/wiki/7.62x39mm
scroll down to M43
1 Weapons using the M43 round
* SKS
* AK-47
* Vz 52/57
* Vz 58
* Rk 62
2 Specifications
* Round length: 55.80 mm
* Case length: 38.65 mm
* Rim diameter: 11.30 mm
* Bullet diameter: 7.90 mm
* Bullet weight: 7.97 g
* Nominal charge: 1.60 g; SSNF 50 powder
* Muzzle velocity: 710 m/s
* Muzzle energy: 2,010 J
Originally Posted By Jabtsi:
I was told they where AP.
Not AP, steel core.
While steel core bullets will penetrate hard targets better than lead core ones, the core isn't hardened so it won't penetrate armor.
Thanks guys. So not SHTF ammo?
German steel core, corrosive primers. You could put a couple hundred rounds on gunbroker and claim "AP" like so many liars do with Chinese surplus. If you get lucky, some dumb ass will pay a premium dollar for them. I was told by a friend who shot lots of this stuff and lots of Chinese ammo, that this stuff penetrates better than the Chinese (so assume the core is harder than Chinese steel) and it also causes rust to appear on your gun faster than with the Chinese.
Originally Posted By Jabtsi:
So not SHTF ammo?
If you think you might have to penetrate hard targets that are softer than armor plate if SHTF, those cartridges could be SHTF ammunition.
M43 is (was) the comblock designator for 7.62x39.( To add some confusion, M43 was also the Nazi designation for 7.92x33mm Kurz.)

Sportman's Guide sold lots of the East German M43 in the early to mid 1990s. Pretty good stuff, but corrosive.

I still miss the days when you could get copper washed surplus Chinese 7.62x39 for $79 a case.

DakotaFAL you are mistaken about the designation for the 7,9 Kurz cartridge. At no time was it ever referred to as a "M-43". The following is a list of the official German designations as they evolved over the life of this cartridge:

1941: 7,9 Infanterie Kurzpatrone
1942: Mkb. Patrone S.
1943: Pistolenpatrone 43 m.E.
1944/45: Kurzpatrone 43 m.E.

The East Germans called it the "Kz 43"
Repacked German ammunition used in Czechoslovakia post-ww2 is marked as "Kratky Naboj 43" or "Kratkych Naboju 43".

The typical German box label identifies this ammunition as "Pistolen Patr, 43 m.E." or "PP 43"

As for the OPs question, this is good quality ammunition. It is corrosive primed and has a mild steel core. It IS classified by the BATFE as "Armor Piercing" pistol ammunition due to it's construction and ability to be used in pistols, not because of how it performs against armor. It does provide increased penetration against cover, such as wood and masonry, compared with lead core. I have several thousand rounds of steel core ball in my SHTF stash along with lead core ball.

1DD
I know it's corrosive. But last time I shot it I didn't clean the gun for a week. And I didn't see any rust or any thing. It was even cold and snowing. Shoot great!!
Any ammo is SHTF ammo
actually your right, its worthless, i will take it off your hands
Yeah I'll get right on that!
upgrade to pro today
lol you guys sucked up all my bandwidth!!!
I have got to tell this tale on myself. Back in '93, I bought a Mini-30. Soon I bought a 1360-rd case of EG for $100, only to find out that the Mini-30 had a .308 bore and shouldn't shoot surplus .311 ammo. Eventually I tired of the Mini-30 and sold it, followed by selling the still-unopened case, still in the green wooden crate. Then, (naturally) in '96 I bought my FEG SA85M. I have been soundly kicking my butt ever since for selling that ammo. It definitely does make me feel a little better to find out it was corrosive - somebody had told me years ago that it was not corrosive.
Early mini-14s had a tapered bore that started at .311 and tapered down to .308 so that you
could
shoot military surplus through them. Later guns came with a factory bore for .311". Poor accuracy was not bore size related, but ammo or just the mini itself...
* This is from memory, so if anyone can elaborate or refute this info, please do.
1DD
This is East German M43 Steel Core. All East German Ammo was packed in this 10 Round Packs. They Pack it in an Redesigned Cheese Packing Machine
(no joke!)
Not all EG ammunition was packed in the "mini-packs" as they called it. Cartridges were first packed in traditional cardboard boxes during the 1960's and 1970's, with the plastic "mini-packs" being introduced in 1975...

Never heard the Cheese story, and no mention of it in my reference material. But, you never know...

1DD