Fixing canted sights?
Howdy all. So I just bought a used AK off of a friend for dirt cheap, and I'm working on fixing it up a bit, trying to make a decent rifle out of it.
One of the problems with it that I don't know exactly how to fix is the front sight is canted to the left: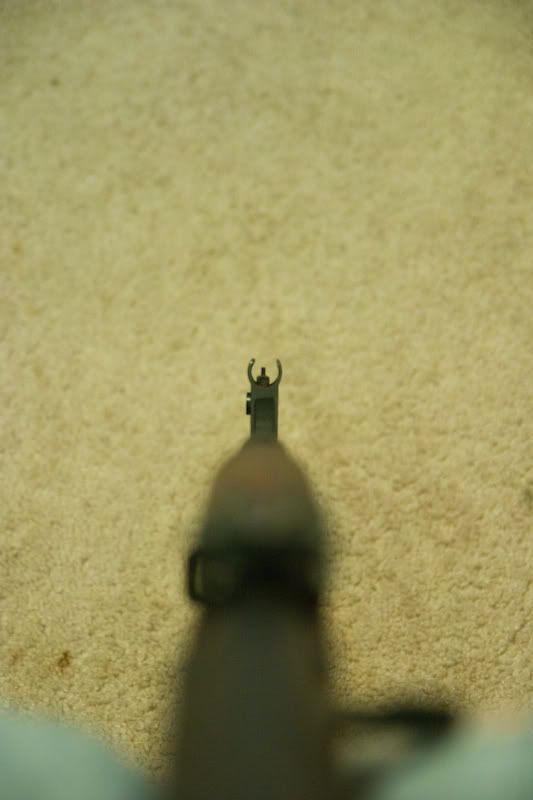 Does anyone have any experience with fixing this that could shed some light on how to fix it?
Have you fired this rifle?
Pehaps there's good reason for the sight to be where it is........
mike
Yup, fired it enough to know that the sights are off. Not by a lot, but enough to annoy the crap out of me.
So, if the sight base is improperly "canted" to the left, why is the front sight pin ADJUSTED so far to the left?

If the location of the sight base is incorrect, it would make a lot more sense if the front sight pin were ADJUSTED in the opposite direction.
I had a similar situation with my SAR-1; paid the 25 bucks to have a 'smith fix the front sight cant.

But, the rifle still shoots to the same angle (to the left)! I've pretty much decided that both my AK will be getting adjustable rear sights of some sort (haven't decided which brand yet) to help split the difference.

This bothered me at first when I started shooting AKs, but, to be honest, I can't recall any AR that didn't need a noticeable windage adjustment to the rear sight. Bottom line is; you're lucky if both your sights line up close enough that, taking into account the degree of angle your bore may throw a bullet, you don't have to adjust your sights.

With a stock AK system that adjustment comes solely from the coarse adjustments to the front sight post.....and these adjustments are quite noticeable to the eye as you make a good sight picture before firing.

Personally, I feel that spending the dough on an adjustable rear sight is worth the money to help speed up my sight acquisition and, after that, proper sight picture before firing.

YMMV