New build FTEx with prvi 556
I started this in the ammo section but would also like some feedback here as I still kind of think it's my upper.

Anyone have trouble with PRVI ammo?
Purchased PRVI 5.56 55grn brass in white boxes clear battle pack. Don't have any of them with me at work head stamped something close to PPU 2011
I am reliably having FTEx (only 2 out of 50 rounds extracted) from what i can tell is due to over pressure. The shells get stuck in the chamber and require a rod to tap out with a good deal of force required and there is some signs of gas blowing back around the neck. If I load more than 1 in the mag it will feed the next round into the back of the empty case.

The extractor seems to be getting a good grip and deforming the rim of the case in some cases stripping the rim right off where the extractor contacts it.
I just got my first ar this weekend at the rocky mountain gun show in las vegas. Got a New Frontier all polymer complete lower and a custom upper from Zero tolerance. I have to contact the guy that did the upper to get some more details from him but it's a 16" 5.56 wylde 1:9. The guy that did the upper was kind enough to purchase some pmc .223 55 gr ammo and took me out to the range to test it with that. ran a couple mags of that through it and had just 1 FTEx which was less severe and i was able to clear with just the bolt no mortaring required.



I will do some testing with some other name brand 5.56 ammo before i complain to Zero Tolerance again.
I picked up some federal 5.56 55 grain today as well as some ae 223 55 grain a chamber brush some clp and an o ring that i hope will help. Won't get to find out till the weekend. I have a warranty on the upper and lower so if i can show some fairly consistent failure with other brands of ammo I know they will take care of it for me but if it's just one type of ammo i don't think they will do anything for me.
edited images removed better below
I think i may have figured out whats going on my chamber is kinda wonky looking can see tool marks and uneveness to it.
sorry hard to get a good pic thats not glare or fowling in the chamber shows some rather large in gunsmith terms hills and valleys... suppose i still need to be able to show some more failures but would anyone say that the culprit from my bad pics?
That chamber looks bad.What condition is the fired brass in coming out of that gun?
well outside of the ones that were getting stuck which would show the rim getting shredded and some signs of gas blowing back around the neck I didn't notice anything in particular on other brass. As soon as i can get back out and try some other 556 ammo I'll have to take a closer look for bright spots or scratches. I'm hoping it will just choke horribly on all 556 ammo so i can just get them to replace the barrel.
Looks to me like the company you bought the gun from is either having it done by a company using a worn out chamber reamer or is using one that is on it's last legs.
some better pics
I was in your post in the Ammo section.

That chamber does look rough.

Call the maker, see what they say. I would also call ADCO, see what they charge.

May be a case of $50 to ADCO vs dealing with shit CS.
Forget the chamber ridges and grooves,

What the hell is going on with the step at the shoulder area???

Not sure where you got the barrel, but it needs to go back for a free replacement (Including the supplier sending a call tag to pick it up).
Thanks guys I really appreciate all the feedback i can get on this issue.
So far the customer service has been good from them . I wish they would have taken a moment to look over their parts a little better when i said i had a problem instead of jumping right to the ammo or maybe being a little more diligent with the original QC but, they have been more than friendly and accommodating and wanting to ensure i am satisfied.
I contacted them again and will be meeting with them in person tomorrow I plan on insisting on replacing the barrel.
Thanks for pointing out the additional defect the more issues i can point out the more accommodating they will be.
Would love to see a pic of what a proper ar chamber should look like. Hopefully i can just post one myself tomorrow... would be a nice side by side comparison and could be useful to other newbs.
I will make sure i take a flashlight anytime i plan on buying any other firearm in the future this will be one of the first areas i check on anything else i get.
I will post again after i speak with them as well so others can have an understanding of the customer service. I do really believe they are a good company, everyone i have dealt with has been helpful so far. Was the best deal i could find on a new upper with quad rail. I need to get more details on what actual components are used i don't see any manufacturers stamps to know who made what parts I'm brand new to ar ownership and really didn't know what to ask, was originally looking for an ak or a saiga but for the price and the mods i woulda had to make this was a better deal as long as they set me up with a good barrel.

Would you post some pics of the empty cases (back where it rests on the bolt face, full side of the case, and a side shot of the neck area)? Have you tried any other ammunition in .223 (not 5.56), and specifically any domestic made? What gas tube length, and what type of buffer and action spring? Could be ammunition related, chamber is possibly too tight (the Prvi is 5.56) along with some ugly grooves in it from what I see in the pics, possibly timing related, or a stacking issue. Also have you tried a different bolt?
CY6
Greg Sullivan "Sully"
SLR15 Rifles
TheDefensiveEdge.com
(763) 712-0123
I haven't got any spent brass to take pics of. If for some reason i don't just get the barrel replaced today I will produce some. I haven't been back to the range to try any other ammo since original post I did purchase some federal 5.56 and some american eagle .223 the barrel is stamped 5.56 so i don't want to be limited to .223.
I have a carbine length gas tube and the stock carbine buffer and spring that come in this
http://newfrontierarmory.com/catalog/index.php?main_page=product_info&cPath=245_285&products_id=34089
This is my first ar so i don't have any other bolt to test i noticed there is no insert in the extractor spring and i am sure that is adding to the problem but i don't want to beef it up just to have a broken extractor due to this barrel.
Also not sure what exactly you mean by stacking issue gas rings on bolt?
A spent case federal xm 193 556 corresponding markings on brass consistent with the ruff chamber also a pic of the dent made by extractor to show how hard it pulls.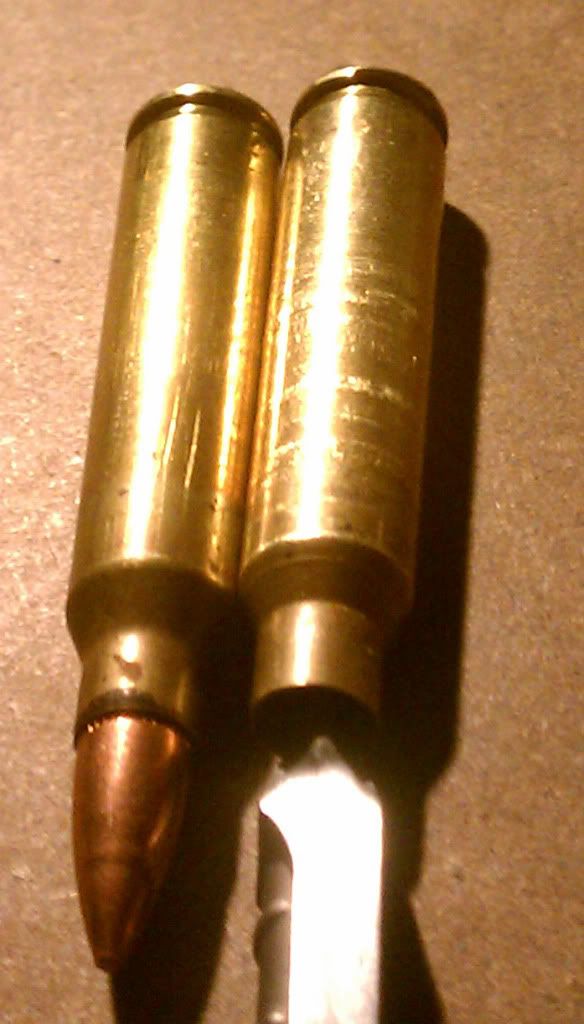 This one did extract.
Took pics of the end of the brass too but kind of useless from the camera i was using the primer looked right solid strike from the firing pin doesn't look blown back or anything was not really flat anymore from a little deformation from the extractor. The prvi primers kind of did look a little ballooned but not really bad
Ok so Zero tolerance has agreed to replace the barrel :) he also thought there may be some small issue with the gas tube so is replacing that as well. Of course with my luck they had 0 failure to extract test firing the upper with federal 556 . Took a little convincing that i hadn't caused any of the damage to the chamber and I'm sure once they pull it it will be a little more easy to see that it was mill marks. They have offered very prompt in person customer service. They said this is the first issue they've had in two years and were a little surprised. After researching what the most likely cause was and thoroughly examining the rifle I called them friday saying i still had an issue even with the different ammo I was able to drop the upper off monday and got the report back today. Still got a box of the privi should make for a good test to confirm this diagnosis of the ruff chamber. I'll post turn around times and a range report hopefully after Saturday.
Is the live round in the pic one of the suspect PRVI?
CY6
Greg Sullivan "Sully"
SLR15 Rifles
TheDefensiveEdge.com
(763) 712-0123
nope those are federal and i don't really consider the privi suspect anymore just exhibited the problem the best. maybe it has a little softer brass maybe the pressures are a little higher with it but im fairly certain they will eject fine with a fresh smooth chamber.
well a$$hole gave it back after 3 weeks all he did was shoot it some and put an o ring under the extractor and left it dirty as heck. never buy an upper at the gunshows in las vegas for $289. That being said it still seems to shoot and extract usually I don't think the little groove in the shoulder is affecting function a whole lot it shows up in the pic pretty bright but does little to the brass. The most deformation on the brass occurs at that ridge in the middle of the body. The chamber does seem on the tight side compared to my new wilson combat stainless. So, I plan to get some emery cloth and a dowel and see what i can do by hand to smooth the body out a bit and maybe a little on the feedramps. My friend that saw the pics saw it in person today and said the pics make it looks a lot worse. It's amazing to me that I can build my first upper and do such a better job of it than someone doing it for a living.