I have two black ones, so I figured I'd go with coyote brown for my SBR build which has some FDE on it. I bought an extra strap to keep attached to my other rifle so I can just quick disconnect from one to the other. These are by far the nicest, most durable slings I've had. I don't even know where my MS2 is anymore. If you're in the market, I'd give them a serious look. They even made a little bigger for me at no charge. They're good folks at that company. I like doing business with people like that.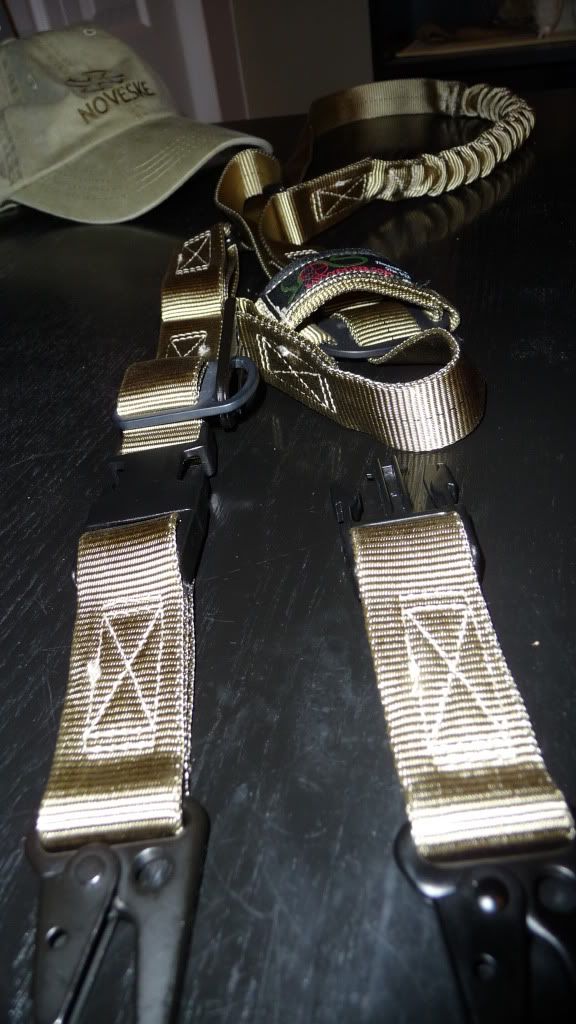 The adjustment loop makes switching from single to 2 point so damn easy. They have every connect option available. I didn't realize before I ordered this one, but they make a version that both a HK hook and a QD attachment. Whichever one you're not using is tucked and secured by an elastic strap. I probably would have gotten that one, but I'm perfectly happy with the HK hooks.
I paid extra for the Foliage Cobra hardware and I always get numerous inquiries at the range. It is by far the best sling I have ever owned.
One of the guys does work with us sometimes spent a few years in the middle east. Now, he's a die hard 3 gunner, does some contract work on the side, and attends a lot of the tactical classes. He runs his stuff real hard and you can tell by his rifle. Lots of "bruising" on that thing. He told me about the Savvy Sniper slings a couple of years ago. He's still running one of the first ones he got and it's still flawless. Dirty, but zero issues. the Cobra hardware just makes an awesome sling that much more awesome.

This is kinda funny... but when I first got my MS2, he told me he had one too. I asked him if he liked and said, "yeah, I use it for tie-down in my truck." I know Magpul makes nice stuff (bought an MS2 myself) and I'm not knocking them, I just thought that was kind of funny.