I noticed these on the Brownells site a few weeks ago.
http://www.brownells.com/.aspx/pid=41025/Product/AR-15-M16-ULTRA-COMPACT-DISCREET-RIFLE-CASE
I figured for $30 I'd give them a try. I ordered one in each color.
Some good, some bad.
Good: cheap, relatively benign in appearance, decent enough for general transport
Bad: cheap, Chinese, zippers and stitching are marginal. There are no straps for backpack-type carry.
The "green" is the khaki colored one.
Zippers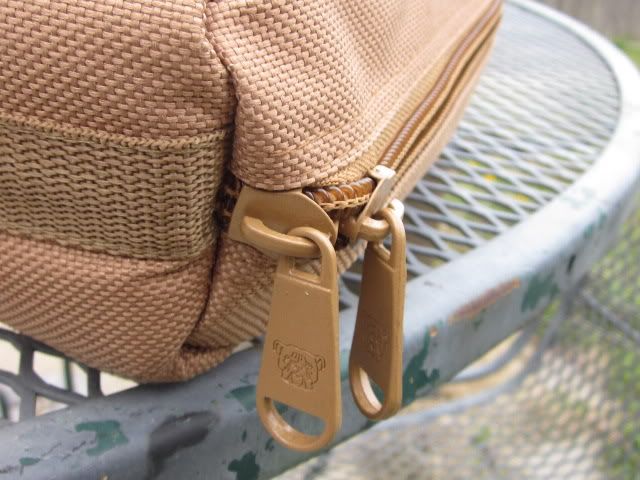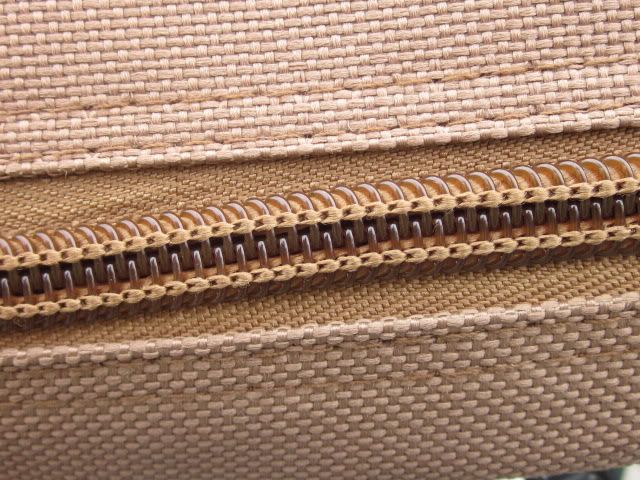 Stitching
Inside
Lift that cover and you have the carbine storage area
Various 16" guns
LW w/Eotech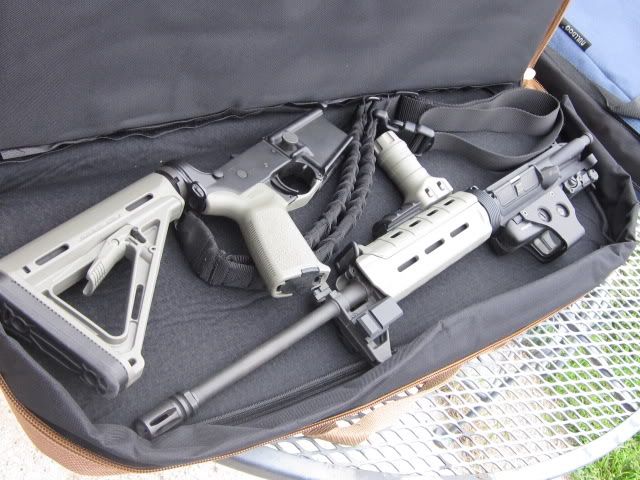 Dissipator w/CMore
BCM with Millettt DMS1 in an ADM Recon mount
Packed and stacked as they would be in the back of the SUV, trunk, minivan, whatever.
Final notes:
I would buy these again. They aren't tacticool by any means. They would serve no purpose for a first responder case or bugout discreet case or meant to bounce around in the back of a trail jeep. What they are good for are discreet vehicle transport. They don't really look like gun cases, especially the blue. If my guns were a bit higher end I'd be better off with something like a Larue. But for $30, it's a great case for an inexpensive setup, dedicated .22 or there's even enough room for a Ciener kit and several boxes of .22 in the case.
Look sturdy. how are the zippers?
Originally Posted By TwoDogKnight:
Look sturdy. how are the zippers?
Too soon to tell. When I first put the Dissipator in the halves somehow ended up on top of one another. Instead of fixing it I decided to yank the hell out of the zipper. May as well break it now and return it. But it didn't break. Like I said, for light transportation in a vehicle it's pretty good to go.
I carry my RFB in a blue one, looks like a tool bag or something. It's snug, but it fits...
I've had it for about a year and a half now with no problems...

Very nice case.
However still seems pretty obvious what it is imo.
When I thnk "Discreet" I think going chicago, like this.
http://www.ar15.com/forums/t_3_4/467568_Just_finished__custom_gun_case_and_7_5andamp_quot__AR_w__pics___Please_critique_.html
I suppose it would seem obvious if you have cans of ammo and other shooting equipment in the trunk too. But mixed in with other luggage, I don't think so.
Originally Posted By MtBiker:
There is no retention of any type?
Nope. I don't think ti would take much to do it yourself or put enough stuff in there with it to keep them from moving around. Again, it's not for backpacking or bouncing around in the back of a trail jeep.
I didn't even realize the ar15.com store sold these:
http://store.ar15.com/store/product.html?cat=10&prod=287
Kinda gives three options for price points: low and cheap (Brownells @ $30), arfcom store medium (@ $60), and relatively expensive (Larue @ $140 but it's really nice).
http://www.laruetactical.com/covert-rifle-case
They are made by Bulldog Cases for Brownells, I have been using one for about a year for my MSAR and have been pretty happy with it.

Posted Via AR15.Com Mobile
What are the interior dimensions of the case? This might work well for my planned SBR build.
Not sure if this is such a good idea.
With some guitars going $10,000+ this is one of the first things a thief will grab
Originally Posted By frankinwr:
What are the interior dimensions of the case? This might work well for my planned SBR build.
About 29x9x2.5