A1 stock on my A2
Being a short guy at 5'3" I have a real hard time shouldering my A-2. Other than the obvious stock and screw, what other parts would I need to put the shorter A1 stock on this?
Also, does anyone make a new A1 stock or am i stuck with the suck ass beat to hell shiny mil surp A1 stocks?
On my A4 build I had to cheat and go with the magpul UBR stock since I couldn't get proper eye relief on the ACOG. i don't want to spend a fortune on a basic A2, i just want to be able to shoulder it better.
I know, I am no longer cool mixing A1 and A2 parts on the rifle.
I used Alumahyde II on my USGI A1. Looks fine and has held up well. I believe Cav Arms has new buttstocks in A1 length.
Mixing A1 in with A2 is not uncool.
Not all A1 stocks are shiny or even beat up. Keep an eye out. No extra parts just use the old buffer tube but you need an A1 screw.
You just need the stock and shorter screw. No one make a new A1 stock. Cavarms makes an a1 length stock but it looks different. There seem to be a few places that have decent A1 stocks for sale, check the regular AR retro forum
The Cavarms stock is a pretty good stock. It looks like and A2 stock but it is A1 length....<><....:)
Don't forget to leave the spacer out when converting to the A1 stock.
I know it should be self explanatory, but you never know.
I probably would have figured it out pretty quick at worst.

Thanks for the help. I already have the screw around here for some unknown reason so I will get one of the Cav Arms stocks.

Even if it isn't 100% dead on for looks I am not worried. I dump more than enough cash into the other rifles. This one is to stay simple but shorter than spec.

Thanks.
Originally Posted By MSPRet:
The Cavarms stock is a pretty good stock. It looks like and A2 stock but it is A1 length....<><....:)
+1 for the Cavarms. I really like this stock.
Dont feel bad once guys (less than 6ft tall and long arms) try the A1 length they usually prefer it. Have the Cav Arms on my A3 build and like it.
Definately not uncool. Putting an A-2 stock on an A-1 would definately be uncool unless over 6ft tall or the missing link. Sounds like you want brand new. What does Fulton Armory sell? Cav Arms I presume! Think Apexgunparts has like new Colt type E's for $35 and Charleyssurplus has Govt re-pack type E's for $29.95 and none I've seen were shiny and the one's I bought from Charleyssurplus came with NOS hardware including the screws. These are USGI trapdoor style if you didn't know what a type E was.
The Cav Arms has a little different profile and a slot the allows the rear sling attachment to pivot 180deg around the stock. They also are usually sporting a rubber door trap door (although I have heard that they will accept a regular A2 butt plate/trap door assemblies). Pardon the non-A2 picture.
The CavArms C1s are nice. But its hit or miss whether A2 butt plates will fit nicely. I don't like the one that comes with the stick.
Forgot to mention, KAC uses modified versions of them for the M110 sniper rifle. At least that's what it looks like.

http://www.knightarmco.com/m110.html
I had the opposite problem, I like the A2 stock, but hate the A2 hand guard. So I purchased A1 triangle hand guards and put them
on my A2. Not only does it look better, it feels more natural in my hand when firing. I don't worry about whats cool or not,
I am 60 years old and havent been cool since 75.
I bought a Cav arms (Or at least I was told it was) A1 and have it on my A2 clone. I like the shorter stock.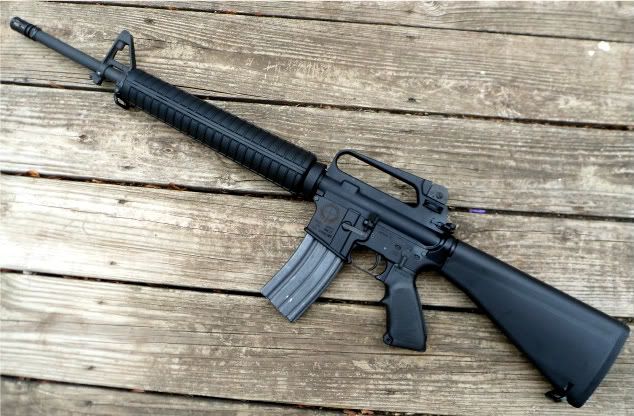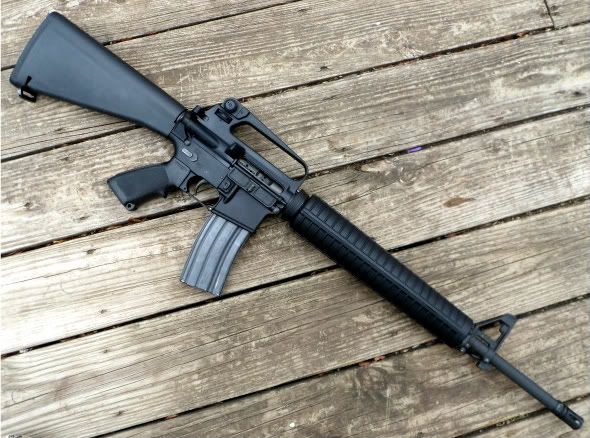 My preference is an A1 stock with an A2 buttplate.
I did a review of the Cavalry Manufacturing A1 stock a little while ago. Click the link for it... Lots of photos. -Steve
http://www.ar15.com/forums/t_3_12/553602_Cavalry_Manufacturing_M16A1_Size_Fixed_Stock_Review.html