Impact Weapons Components, LLC
announces our new
RADIAL Millennium SCOUT Light MOUNT-N-SLOT
designed to directly attach the weaponlight to the forend, eliminating the bulky SureFire factory mount and bolt-on 1913 rail sections.
Price: $39.95 + $3.95 S+H.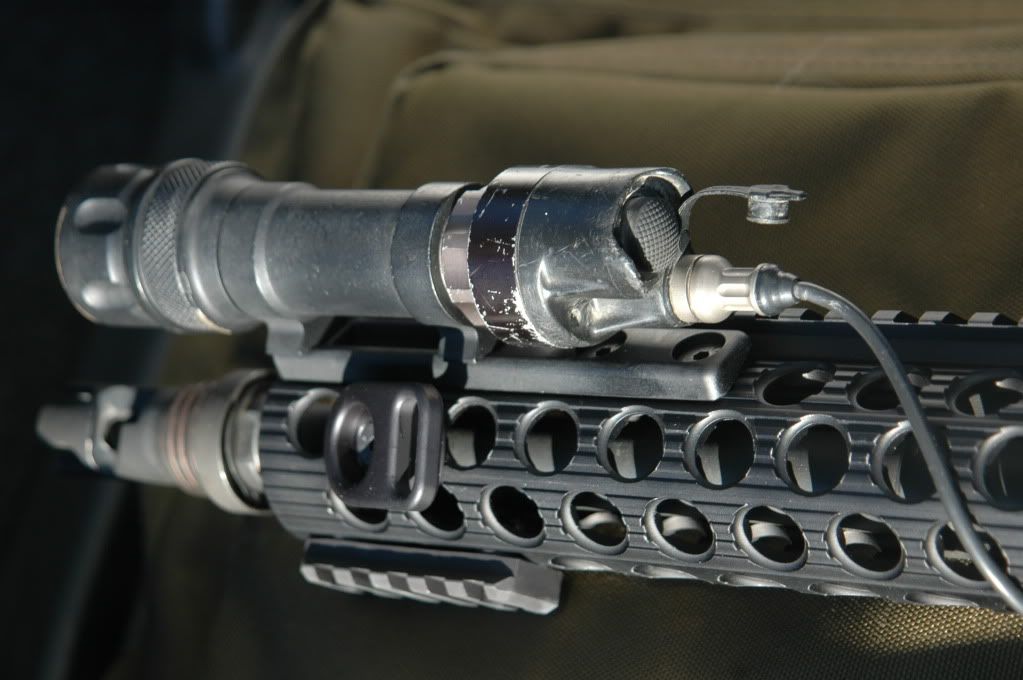 PHOTO: Troy TRX Extreme
Product Details:
RADIAL Millennium SCOUT Cantilevered Light MOUNT-N-SLOT is designed to mount:
[SureFire's M620C, M620V, M600B SCOUT Lights
SureFire M952, M951, M961, M962 MILLENNIUM Lights
SureFire's M720V RAID Weaponlights
IWC designed our new RADIAL Millennium SCOUT Cantilevered Light MOUNT-N-SLOT with AMBI mounting capability, so you can place the tail cap of the weaponlight light in any position between 1:00 or 11:00 position on your weapon for activation by your support hand thumb. RADIAL places the bezel of the light above the barrel and in front of the front sight base to eliminate all shadows, improving your ability to confirm the threat in no-light situations.
RADIAL Scout Light MOUNT-N-SLOT attaches to any hole slot on the hand guard.
Product Specifications:
Weighs only 1.37 Ounces.
CNC Machined from Billet 6061-T6 Aluminum and Black Type III Mil-Spec Anodized finish.
Includes all mounting hardware, tools and instructions for an easy install.
Recognition:
The idea for our RADIAL Millennium Scout Cantilevered Light MOUNT-N-SLOT came from an
LEO, A. Barksdale.
Officer Barksdale called IWC and suggested the idea to expand our line of SCOUT light mounts to accept the larger SureFire lights. IWC would like to express our sincere thanks and gratitude to Officer Barksdale for his help and assistance during the design, testing and prototype phases of this project. THANK YOU Officer Barksdale!
PATENT PENDING
Thanks,
MOUNT-N-SLOT
would it mount on a daniel defense omega rail? just asking because it says to be used in the 11 and 1 oclock positions.
Earl, could this be used on something like the Mega monolithic upper forends?
Mega upper