I think the main differences are cosmetic, the mag fence style varies, from slab side,
Partial fence, and the full fence that is still used today.
But the dead give away that you have a a2 lower is the heavy reinforcement
Around the receiver extension area.
Some body will come along and post pics
Originally Posted By DSO190:
So what are the real differences between the two?
read the stickies at the top of the page
http://www.ar15.com/forums/t_3_123/294264_AR15_M16A1_Lower_Receiver__Model_Guide_Clone_Building_Guide_FAQ__redux.html
they offer lots of info.... like these pics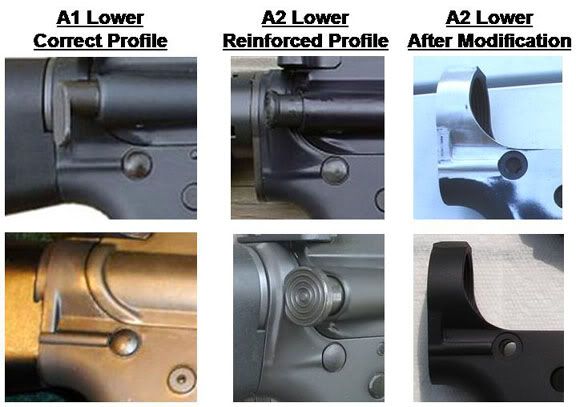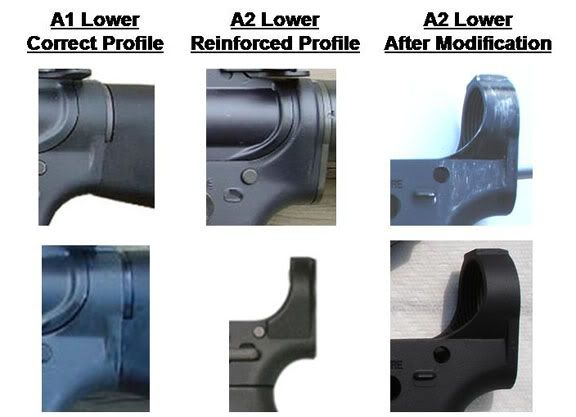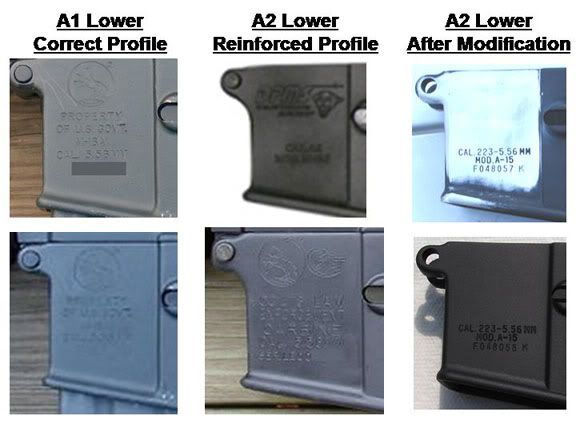 the balimoy receivers were reinforced differently I cant find any pics but there are a few in my units arms room
Originally Posted By Grocerystore_ninja:
the balimoy receivers were reinforced differently I cant find any pics but there are a few in my units arms room
not sure what the differences are but here's some pics of a balimoy from rbr
As usual Cracked comes up with the pics and as stated basically the changes were just reinforcement in areas prone to breakage in combat situations or the surrounding of the mag release area to keep the port door from becoming damaged while cleaning or seperating the two rifle halves and eventually upgrading the mag area to keep the magazine from getting knocked off it's seat resulting in GI's possibly getting killed when their weapon is rendered useless in a possible life threatening situation. The buffer was also upgraded but mainly because of economics and the stock screw got a drain hole to hrlp with operation after being submerged in H2O..

Keep in mind these rifles were pushed right into combat without extensive field testing in variously different geographic/climate situations. Appears that they have done a decent job as virtually no changes have been made to the lower's mechanical components in basically 40 yrs. There have been changes made to accomodate improvements and technological advances in optics, shell deflectors for left handers, fighting in confined spaces and for night time use but not to the lower receiver except for the burst feature. Still the costs of counting bodies of our dead enemies from rifle fire is pretty astronomical. What's the ammo count something like 25K rds for one dead enemy soldier. If the garand had required that much ammo to kill someone we'd still be fighting WWII.

Hopefully by the next conflict we won't even be using gun powder. Stuff is still pretty cheap and easy to manufacture. Rich man's war, poor man's fight as a general rule.