Here are some pics of LRRPs in West Germany - I'm guessing the camo isn't US, but obviously was issued for them. Note that one guy has a newer set - also have to love the M14 and M1952 pack goodness! THought you guys would dig these - I really like the camo, thinking it might be French Lizard? The buttons on the pockets look French to me.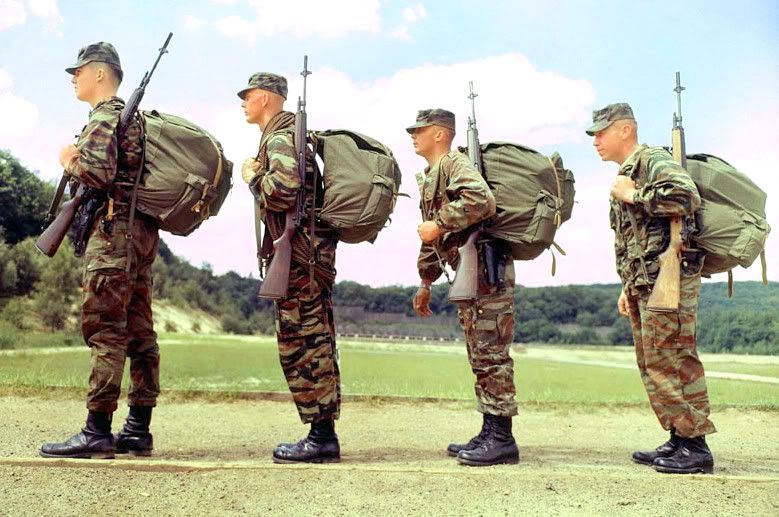 On patrol: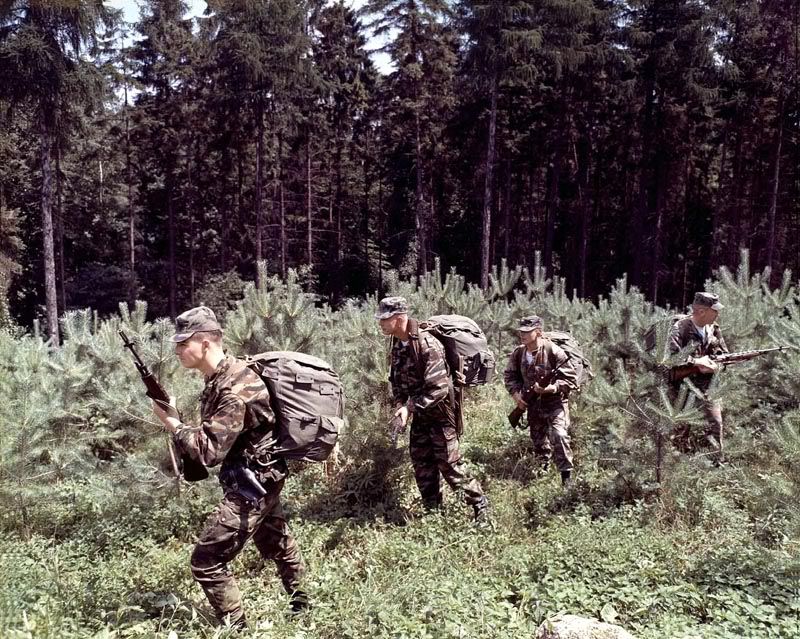 Man i love those left handed M-14's in the first photo. Bet they only made four of them ????????????
Looks like French Lizard pattern paratrooper clothing to me. The backpack on the bottom left guy is a WWII mountain rucksack. I think the others are a variation of it?
http://olive-drab.com/od_soldiers_gear_mountain_rucksack.php
check this link out there is a pic of JFK shaking the hand od a soldier dressed as in your pics above.
http://www.usmilitariaforum.com/forums/lofiversion/index.php/t117942.html
The M1952 (used in Korea & Vietnam) was an improved version of the M1941.
I have a camo jacket like that. Always thought it was Austrian. Had it for years. Wondering if it still fits. Never got the greatest of reviews from my peers. Was a pretty good blend in the VA autumn.
No, but that solves it. I really like the BGS stuff FWIW. Basically the one pattern is the same as German WWII 'tan-water' pattern. It works really well in the Mogollon Rim country I call home. Also not a bad urban camo believe it or not.

ETA: Doesn't look like a comfortable wa to carry a rope does it? (2nd guy in line.)
I like the self camo-ed caps, that is a cool touch.
here is a pic from that militaria forum's thread:
Stars and Stripes Article:
http://www.stripes.com/news/robert-kennedy-starts-3-day-germany-tour-1.10447
more info:
http://www.usarmygermany.com/Units/Corps/USAREUR_VCorps.htm#LRRP
also some cool VII Corps stuff:
http://www.usarmygermany.com/Units/Corps/USAREUR_VIICorps.htm#LRRP
And elsewhere there is a cool story about the VII Corps LRRP guys getting issued V42 daggers: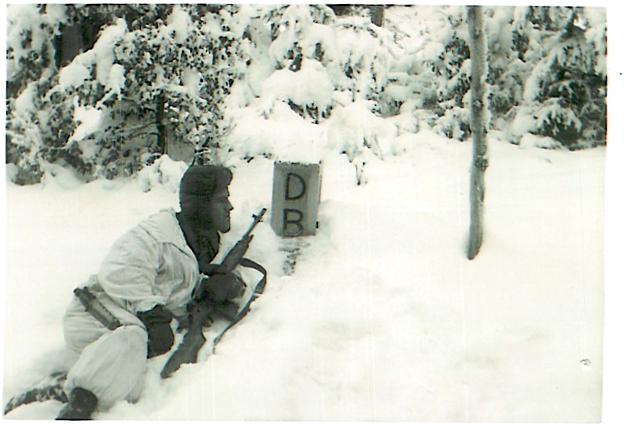 The Border
For those of you who remember we wrote an article for Knife World back in October 2002 about the then unknown to the collecting world continued service of the Case V-42. We have continued correspondence with one of the veterans of that group, the VII Corps LRRP Co. (ABN), Theo Knaak. Theo has been kind enough to forward to us memories and stories of the V-42 and itís use in 1962 along the East German border when ever the topic is spoken of by the group. The following is one of the stories forwarded to us recently along with a photo of the V-42 in service along the border with fellow LRRP Patty Smith. What great guys!

I copied E-mail from Bob Murphy a little while back about pulling time on the border.
I went up to the boarder two times. The first time was on the East German border I think.
My team was assigned a watchtower to observe the bad guys that were out there somewhere. Boring. I canít remember anything that is harder on ones morale then to keep him caged up in a 12x12 foot room with little more to stimulate his medieval mind then watching snow fall off branches.
This could only go on for so long until one of us said, Saddle up.
I donít know if it was my idea or my partner in crime, the one and only Joe Chetwyndís idea. Anyway we decided it was time for a small recon patrol, after all that is what we do, isnít it?
We put on our whites; V-42ís M-14 loaded, and a few cans of c rats and down a well-used trail we went. It only took us about a half an hour of good walking when we heard the first sound that seemed out of place. We did like we were taught in grade school. You remember, Drop and Cover. After listening for about 10 minutes we still could not determine what the sound was so we decided to investigate just a little. We knew we were within meters of the border but didnít know on which side we were as the trail has moved around quite a bit. As we approached the sound. It sounded like people were being hurt; We could here someone yelling as loud as he could; Then the yell was followed by loud cracking sounds; We finally arrived on the scene of an old man with a stubborn horse trying to pull a log back to his house. Not being detected we retraced our steps back to the trail that we were calling the autobahn by this time.
After having a good belly laugh, we continued on down the trail Joe in the lead. Joe was first to see a patrol of two East German soldiers with one of the biggest German Shepardís and two of the biggest SKS rifles I have ever seen. We came to a screeching halt. Now we were really concerned about our location. We were still undetected and we had to choose what we wanted to do. Fish or cut bait. Setting in the snow for a few minutes Joe asks me, do you think they would have a light? I said Joe, I didnít think this was a good time for a cigarette. He says and why not; Jumps up and starts strolling to the German Patrol saying Haven Zie Fire Bitte? Now the dog is mad and jumping at his chain The German wont give Joe a light and they are speaking to each other really fast. Joe is calling them bad names because they wonít give him a light. At this time they didnít know that I was around. I didnít like the way they were talking to themselves. I really didnít want to see anyone get hurt so I stood up and yelled at Joe.
Hey Joe maybe I should Kill his F... Dog. At the sound of my voice the dog went crazy the Germans changed their attitude and started on down the trail in front of us. I caught up with Joe.
What should we do now Joe? There was still daylight and we didnít want to go back to the little tower yet. So we got off the trail, ate a can of ham and lima beans, cold of course. Then we went back to the dam tower and suffered all night. I think it was from the lima beans.
http://www.usmilitaryknives.com/knife_knotes_10.htm