AR15 Pistol Holster Prototypes Finished
Here are two styles of kydex holsters for AR15 pistols. One is for the Safariland leg panel and the other is for the Blackhawk leg panel. Both were designed to house the largest diameter rail HG (w/o rail covers) I could find, the Oly Arms railed HGs. The holsters will fit smaller HGs but there is some play inside the holster. This is countered by the retention strap and holds fine.
There are too many options for pistol HGs and sights so I made the holsters for pistols with an optic sans mechanical sights. The Blackhawk holster in the pictures is drilled to work on both the BH and Safariland platforms. Not sure I like the extra holes so I might eliminate them and make the holster platform specific. I can do black for now with CB as an option. I can not find kydex that matches the Safariland platform color exactly so it's either a little lighter or darker.
These holsters have a cutout for optics but I also have a style w/o the cutout so the end user can cut it to fit their setup.
I will not advertise pricing as I don't want this thread blocked for unpaid advertising. Contact me at tangochaser@ar15.com for more information.
Edited to add, the holsters are ambidextrous. Swap the retention bolts from right to left and you have a lefty holster.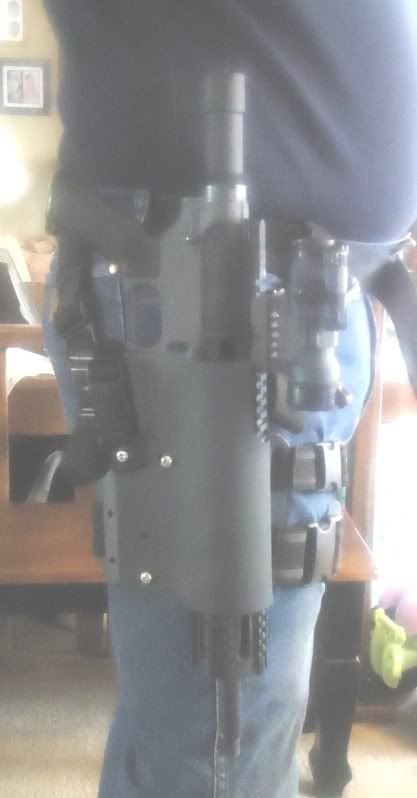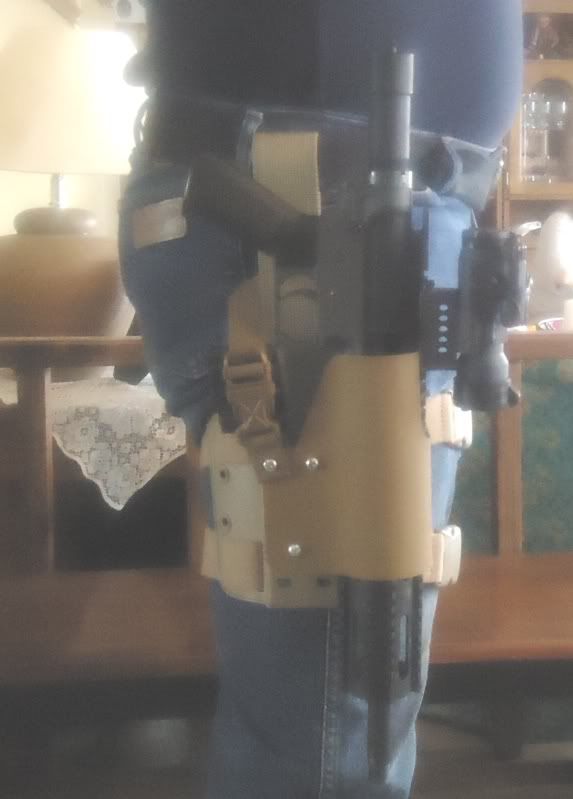 Got a better picture?
Front views.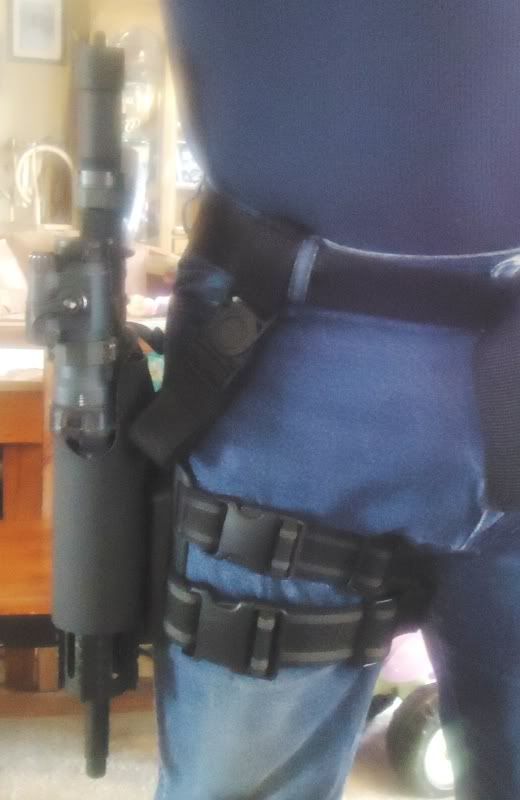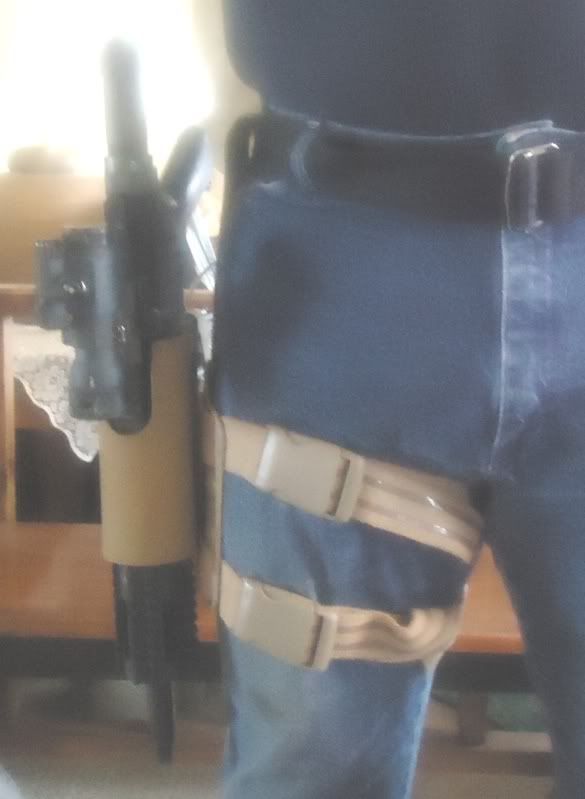 Holster views.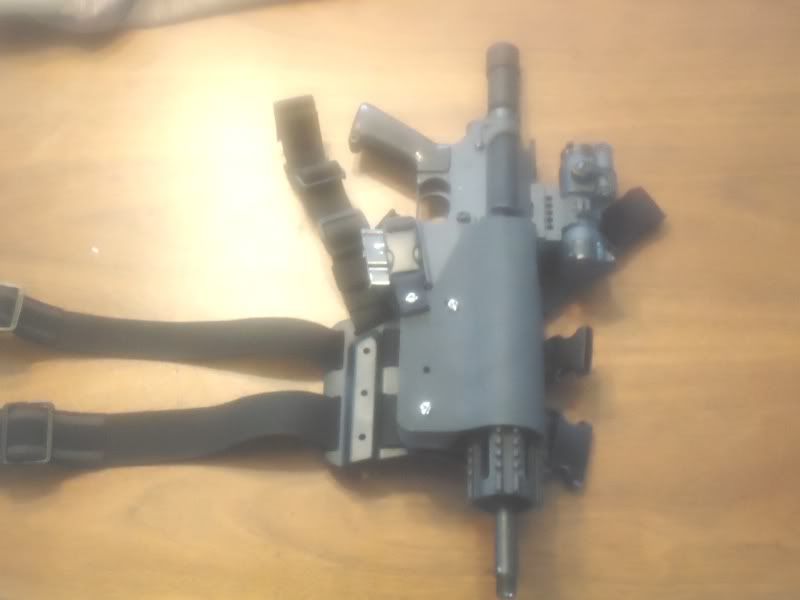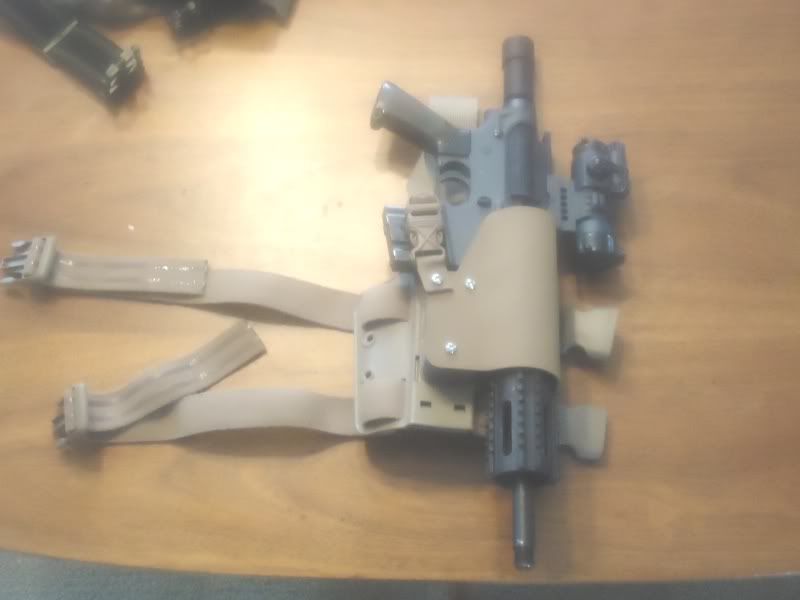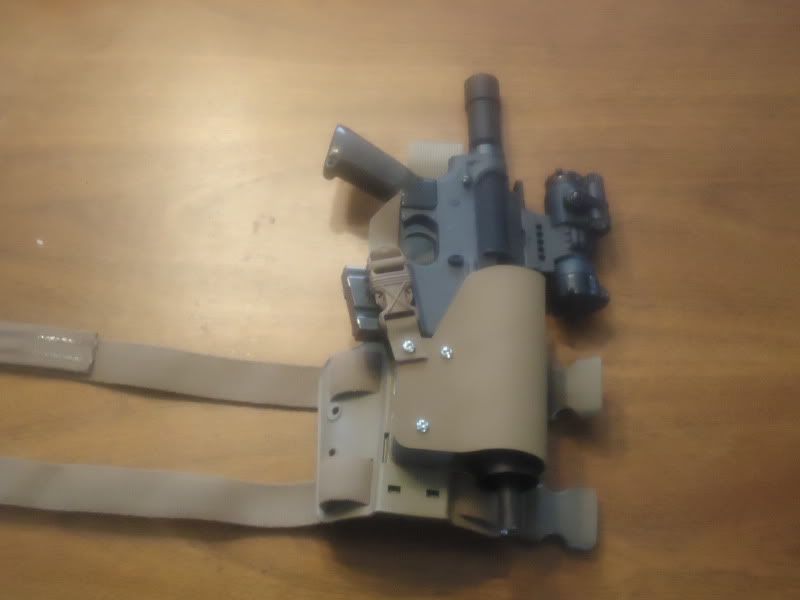 Looks nice. Although, I'd probably want something over the trigger, as a just in case.
Dude that is simply bad ass.

I may have to go and build a little brother to my ARP 6.8.
SHWEET!
Posted by N)zzle;
Looks nice. Although, I'd probably want something over the trigger, as a just in case.
I looked at that but the holster would have been unduly long. I use a Delrin spacer and it adds a little weight as it is. I tried to keep the holster to the smallest size the mounting screw location would allow yet still have some retention ability. A large HG will keep the gun secure without the strap but a narrower HG requires the retention strap for security. I looked at an insert for smaller HGs but haven't come up with an acceptable solution other than making a holster body specifically for the smaller HGs.
But then again, there are a number of different diameters out there for the smaller HGs. I am looking at making a channel in the holster body for a fold down front sight, but with so many designs and sizes on the market, it's tough to narrow down a universal channel size.
The Safariland holster is shorter due to the mounting screws being closer together top to bottom than the Blackhawk mounting screws.
Interesting project. You know the Olympic Arms OA-93 pistol might be better for that holster, since it's a more compact AR-15 pistol.
Posted by Gundisaster;
You know the Olympic Arms OA-93 pistol might be better for that holster, since it's a more compact AR-15 pistol.
It's no different than any other AR pistol where it makes contact with this holster.
Nice, would you think that a shoulder rig is possible to do?
A shoulder rig is possiblle. Just need to settle on a design and do the R&D.
Interested in selling these?

Edit- sent you a mail...
I have a couple of early pototypes without the cut out I don't need and can make the ones pictured in quantity. The parts are cut with a waterjet for uniformity and consistancy. The patterns are saved on a waterjet computer. I have an early prototype that comes up higher on the sides of the gun with no cut out and the version pictured here.

I added the cutout to make the holsters more compatable with optics but I can leave it blank for the customer to cutout themselves.
If Bruce Campbell was forced into another Evil Dead sequel, I'd recommend he take this setup to compliment his chainsaw forearm!
I'm guessing this isn't your Summertime Concealed Carry setup......
Just bustin your balls. Cool idea.
Video of the draw?
No video yet but it is not a fast draw self defense set up. The large railed HGs fit snug and slow the draw but increase retention. The smaller diameter FF tubes are loose in the holster and draw fairly fast. The holster is really a carry rig not a CQB rig, but anythings possible.
TTT for sheer badassery
I like it, but I sure wouldn't want to have to run with it...
Not sure of the utility though, if an AR pistol is your sidearm, what is your primary?
If it's your primary, why not just use a good sling?
In full disclosure, I had thought about something similar a while back for my bufferless pistol
I've got a HSGI AR scabbard that will mount on a pack or panel.
I like the idea, but what if you have iron sights? Doesn't look like it would be front sight friendly.
Nevermind....I used my ability to read more of your original post.
The front site is an issue. I might try making a channer for a folding front site but they come in quite a few different sizes. Tough to make a one size fits all.
Please read the CoC.