I have an SBR 9mm thatI have been having some issues with. First, here are the specs involved:
Spikes Billet upper
Adco ramped bolt
Spikes adjustable mag block
5" TROS barrel
Spike's ST-9BS & ST-T2 Combo
The issue is mainly failure to eject spent cases, around 2-3 instances per mag. I have tried 5-6 different c-products, as well as a metalform magazine. I have used 5-6 different types of ammo, including WWB, 158grFiocchi, winchester super-X, american eagle 147gr, and federal. I mainly run the gun with a gemtech suppressor, causing the gun to get VERY dirty fast, exponentially worsening the problem.
The BHO does not work., making me think the magblock is not in the correct place. I initially had it too low, then moved it flush at the top. I noticed the bolt was riding the ejector a little so I moved it a hair lower.
Occasionally the bolt will not make it all the way forward on cycling, and I have to drop the mag and close it. This is generally after I have run about 4-5 mags through and its really dirty. Another thought I had was that the bolt was somehow being slowed down too much to successfully eject the cartridges and at times, not go back into battery. If I manually cycle rounds through they all eject just fine from the magazine.
Any thoughts?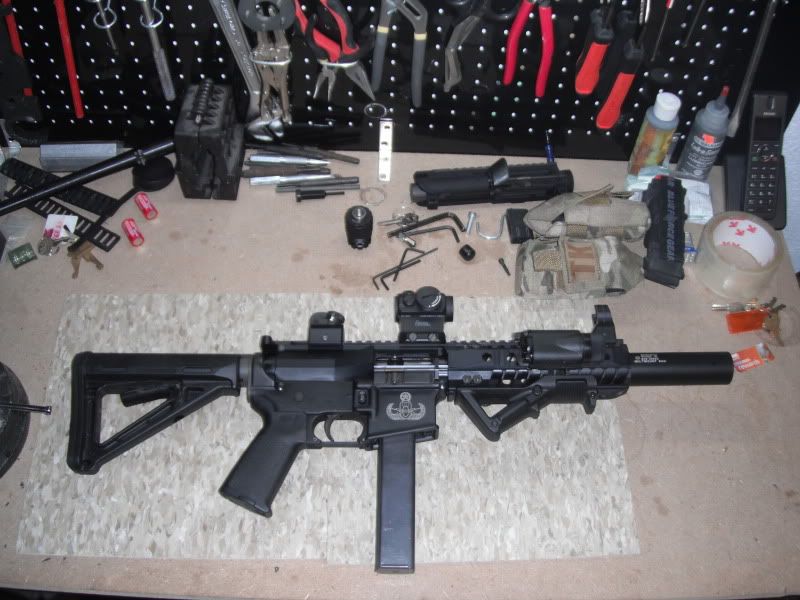 the bolt hold open doesn't work to well any any 9mm AR with any magazine. The engagement is not as great as with a regular 5.56 AR. The club I work at has about 10 guys all with different variations,
and setups. The bolt hold open will work but will disengage at the slightest touch. I would recommend only using metalform mags with the metal follower.
My 9mm is a dedicated lower, so the BHO works fine, all the time. ANY and ALL feed/eject issues I've ever had have been magazine related. Stow the CProducts mags until you're sure the gun runs. Metalform mags with the metal followers are the only way to test a 9mm AR for "other" issues, and even those need a bit of work.
I take all my Metalform mags apart as soon as I get them. I hose them down with brake cleaner, then hose them down with CLP, scrub them inside and out with an old toothbrush, more brake cleaner, then soak them in a good gun oil (I mean WET). Once they've sat for a day covered in oil I wipe the excess off and then reassemble them. Once they're back together I use a piece of dowel rod to push the follower all the way down a few dozen times to make sure it doesn't hang-up anywhere.
I started doing that after I left one of my "good" Metalform mags loaded for a while, and when I went to unload it, after the first few rounds were out the rest just fell out because the follower was stuck at the bottom of the magazine. I had to slam it on the floor to knock it loose.
I guess the moral of this post is this: When troubleshooting a 9mm, use a KNOWN good magazine. But, don't assume ANY magazine is a good magazine. Metalform mags are a much better place to start, though.
ETA:
If you're running a 9mm (heavy) buffer, try a regular (lighter) carbine buffer until you get it broken in.
how much play does the mag block have (l/r, forward/back, up/down). when i had a spikes mag block, there was quite a bit of movement and the gun did not run right unless i held the mag with sligh back pressure. i was having the same issue (FTE). i tride shimming the block in place but eventually bought a CMMG 9mm lower.

my $.0002,
fatkid
I tightened the magwell and ejector as much as they would go, I get no play from them.