Got my franken-308 stuck together! 16" Carbine
It actually turned out pretty cool! Started collecting parts about 3 months ago and just got the last few today...less the Vltor charging handle that should be here tomorrow or Friday from Rainier Arms.
Anyway here's the spec:
CMMG Lower
DPMS LPK
DPMS Lightweight Upper
Bushmaster 16" Midlength CL Barrel
Troy TRX Extreme
Magpul STR
DPMS Chrome BCG
MOE Grip
It's really nice to be able to build a "smaller" size .308. I had a 6.5 Grendel that didn't weight much less than this that was 16", but I can buy ammo at Wal-Mart now!! Also with the CL barrel I won't mind shooting junk either.
What do you think? You don't even have to be nice, lol! Change anything about it? Any ideas on a lighter type of scope that would be nice on it?
Kyle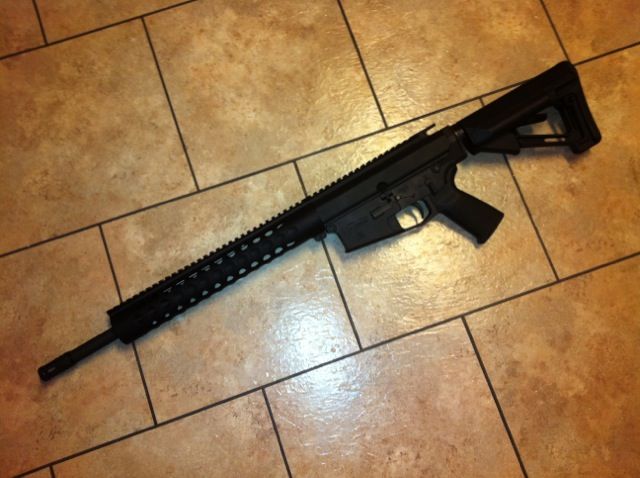 Nice choice going with trx battlerail and magpul ACS.... Great minds
Think alike on .308 builds
Very interesting build... what does it weigh? and range report.
Thanks fellas.
The stock is actually an STR. It's a CTR with the storage of the ACS. Like a shortened ACS kind of.
It weighs 8.4lbs like is sits in the tops pics. With the scope in these pics it's at 10.6lbs. Probably to much scope, but should be nice to see how it'll shoot. I'll try to post a range report after I shoot it.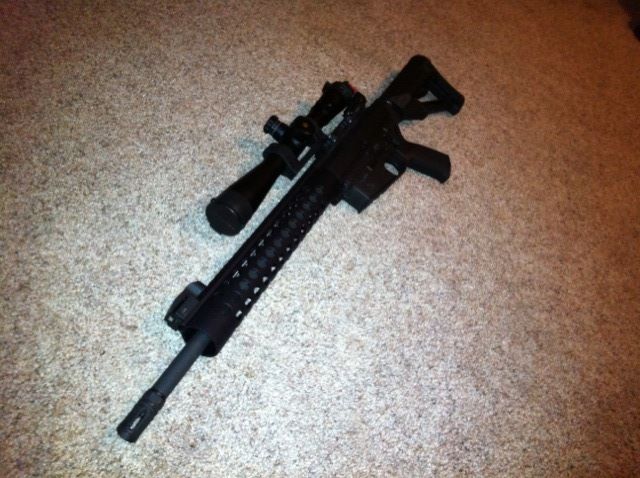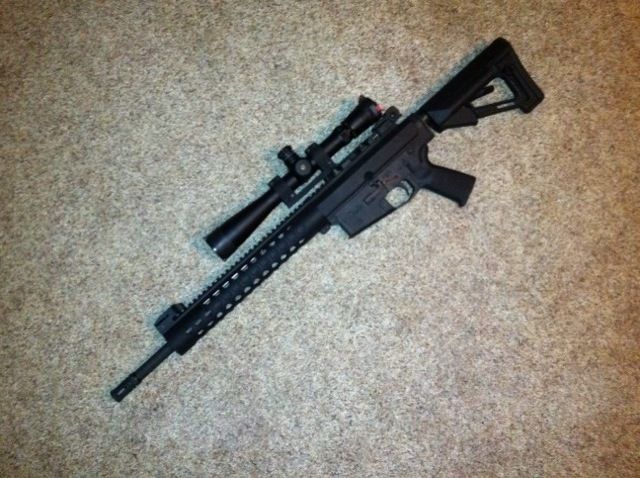 As light as that is, the new SS 1-6x24 would be a great scope. It's about to be $200 off too.
Oh I'd love to have that, but don't really have the money right now. I may just keep what I've got for awhile, but it kinda looks big for the rifle...

Any other suggestions for a lightweight 1-6 ish scope pretty budget?
The SS 1-6x24 is on sale for $799

The Weaver Tactical 1-5x24 runs about $650 I think.

The Leupold VX-R Patrol 1.25-4x24 is $550ish

There is the Burris MTAC that is a 1-4x20 scope with decent reviews for cheaper, but it's only a 4x like the Leupold. To get that magnification range it costs a lot. The SS is a smoking deal at $800, but I totally understand budgets.
You could think about one of these scopes.
refurbished Nikon
They are out of stock now, they usually sell out pretty quick.
You could get on the "notify" list, and pick one up when the next batch arrives.
I think they are a good value.
nice rifle im putting one together with the same parts, i wish the troys came in a mid lenght ff.
I have the Bushnell 6500 Elite 1.25-8x. It's no NF, but it's compact & i like it for a little over $500.