DPMS 6.8 spc... what do you guys think
i know all the hype about the ko-tonics barrels, and i know ther really good barrels. but i am purchasing a dpms 6.8 upper, 16" and wanted to know what you guys think of them???

i know they have the 1/10 twist, and are non-chrome lined, no specII chamber, but are they still accurate??? i know that it is ill advised to shoot SSA combat loads out of a 1/10 twist, but i see others are doing it with no sings of pressure?!?

anyone reloading for the dpms barrel, or other equivalint barrel? (with same specs) what kinda accuracy and velocitys are you getting form them?? how much slower are they from the SSA comabat loads? do you really gain much with the SSA in terms of accuracy and power?

i am thinking if the dpms is not a good barrel, replcaing it with a ko-tonics barrel with all the bells and whistles, but i want to know if the purchase of the more expensive barrel is worth the outcome. i will mainly be using the 6.8 spc for target practice, and coyote shooting. i cant really do any hunting as i live in illinois.

thanks guys for your opinions and help. brian
Brian , I have a DPMS rifle in 6.8 spc with a 20 inch barrel. My rifle is very accurate with my handloads . I have taken several deer with remington coreloks factory and barnes 110 bullets handloads from 150 yds to 275 yds. I had problems with SSA factory rounds getting stucked in my chamber. I called DPMS and they advised me to only use hornady and remington factory loads.I'm impressed with the accuracy with my handloads at 100 yds , less than inch groups. I use H332 powder with remington brass. I would say my 110 grain bullet velocity is around 2600 fps + . So I can shoot at a deer max range is around 300 yds and have the power to take it. Good luck and good hunting!
Lets review this topic regarding DPMS and SSA ammo. First off SAAMI spec's has an errorr, whereas the cartridge can be to spec and also the chamber but the weapon will not close.

DPMS makes there chambers to low end of the spec even below as some customers noticed when testing the chamber with go - no go gages. NO OTHER gun company has this problem, we supply ammo to nearly all the gun companies to test their weapons with.

We now produce all our ammo to the very low end of the spec with the final test being "placing rounds into a DPMS". Because if it fits a DPMS it will fit anything.

SAAMI spec chambers and rifling will not handle our comabt loads, the chamber and rifling will drive up pressures and can blow primers. Spec 2 chambers with a 1-10 twist can handle the combat loads but it is on the edge, you will see primer flattening and some swipes at the ejector. We do not recommand using combat loads in these weapons

Spec 2 chambers and 1-11 twist with four grooves preforms the best. Lower pressures and higher velocity with excellent accuracy.

Go to our web site to read comments from our customers, by the way the Caribou on our web site were taken with a DPMS so our rounds chambered in their weapon, HMMMMM.


Art - SSA
Also to add to that your comment of "people are shooting there 1:10 twists without any signs of pressure" is not precise enough. The ONLY ones that are doing that are SOME of the 1:10 that have the SPCII chamber. NONE of the SAAMI 1:10 shoot the combat loads without one or more of the following: swipes, stuck cases, severely flattened or blown primer etc.. There is also no stead fast rule of which SPCII 1:10 will shoot them without swipes etc.. Some do and some don't. DPMS has one of the tightest chambers of any of the production guns in 6.8. They do seem to be learning thou as there 20" has an 1:11 twist which will then allow the use of the combat rounds as long as the chamber isn't cut to tight.

Tim
felt like adding some pics.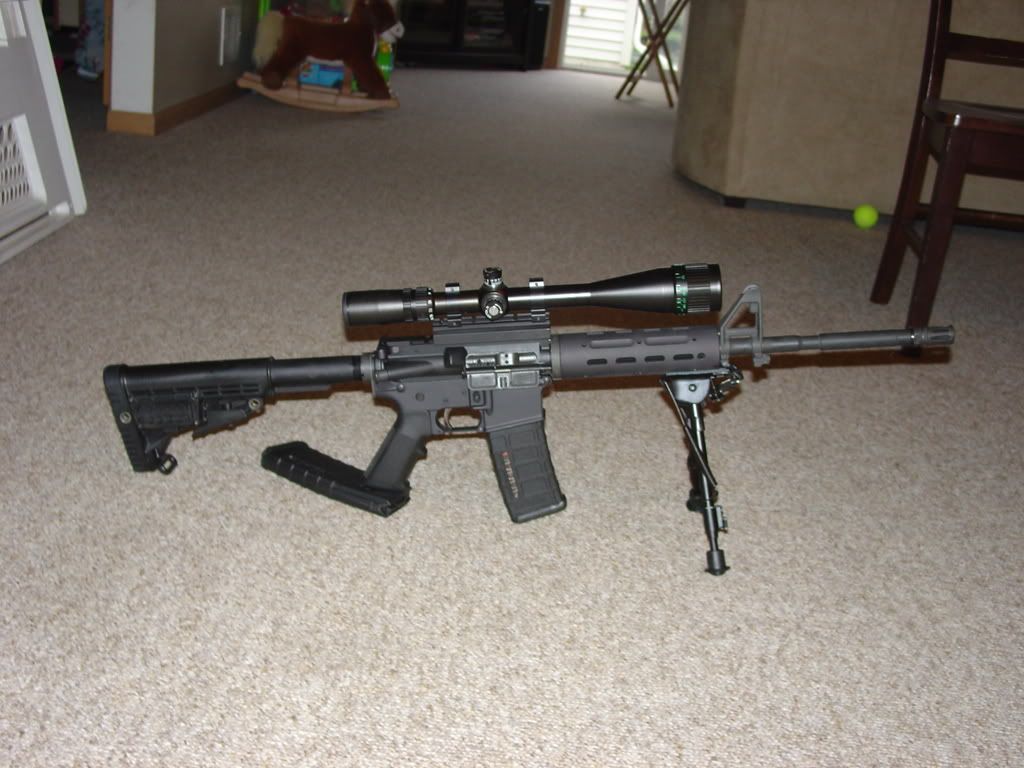 have a good one guys. brian
Nice looking rifle, but why are you trying to cram 6.8 rounds into PMAGs? Get yourself some PRI or CProducts mags designed for the 6.8.
cause i havent been able to get a true 6.8 mag yet
i plan on getting one, its just not on the top of my list as of right now. but soon...
I have a DPMS 16" that I have used for over a year without a problem. However I will be replacing it with something like an 20" Ko-tonics upper as I prefer a more length, free float and flutes. The DPMS is accurate, works with all my loads. If I need more punch than a 6.8 SPC CQB rifle rather than try to blow the rifle up with excess loads I will pull out a battle rifle in 308 WIN and get to work.
I built my first 6.8 on the M4 profile DPMS barrel. I could not get the rifle to operate, short stroking, until I opened up the gas port .006 inch. I have not heard of anyone else having this problem. I got a barrel VERY early on, even before DPMS started building rifles in the caliber so I suspect they has the issue ironed out now. It runs fine now but I still don't like the threaded muzzle being 1/2 28. It is accurate enough and now that it is running perfectly the only compliant is the threading which leaves the metal mighty thin. Thick enough for sure but still thinner than suits me. Accuracy is good, but not what I would call great. So far it has only been shot with Remington loads so I am quite sure accuracy will improve once I start hand loading for it.
I am doing a second build now and it is using the Ko-Tronics barrel but since my stripped upper has been on BO for months, it has been sort of hard to finish assembly.