Hey Guys. I am looking into purchasing a new rail for my AR. It is a RRA Varmint upper. I think (think is the keyword) that the Troy 15" Allpha would look good on it. I like the looks of longer rails/handguards with not much barrel sticking out. My questions is 1. are there any pics out there of this set up? 2. Would I just need to purchase a low pro gas block and put the rail on?
Thanks for any help you can provide or pics. Here it is currently and I have different glass on it now.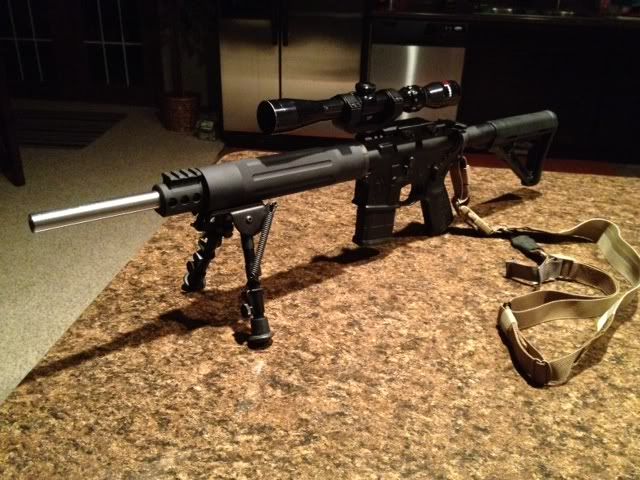 I don't have any pics of the 15" Alpha but I do know you will need a low pro gas block to make it fit...

You also may need a stock barrel nut if your current tube doesn't use one.

The Troy Alpha is a great piece BTW...

Also how is your cheek weld with that set-up? Looks like you'd barely be able to get your face down on the stock and still see through the scope.
Any thoughts on going to a shorter, non-bull barrel? It will help with getting a low pro gas block that will fit and you can get the look you want without sacrificing a ton of accuracy.
This is actually the Predator Pursuit upper so its a smaller diameter barrel than the Varmint upper which has the larger/bull barrel. Still think I would have trouble with a low pro gas block? How could I find out?
Scope does look like it sets too high but it is actually very comfortable fit for my big noggin.
How much you think I could get for the upper? Around 70 rounds through it. Hopefully I can fit the Troy rail over it. Thanks