Denny's GUNS/ GLOBAL TACTICAL PICTURE THREAD Part 2
Denny's GUNS (GTS) PICTURE THREAD Part 2


Let's see your Recon, Operator, Noveske barrels, uppers and GT lowers and other brands or any builds from Denny's Guns/ Global Tactical Supply.
Include a brief description of your mods at the bottom of your pic.
Please keep it a picture thread and not a discussion thread.
IM, e-mail or start another separate thread for any questions you might have or at least post a pic with your question for everyone.
SHOW 'EM OFF!
Thanks in advance.
Reference Archive Link to Denny's Pic Thread Part 1
Denny's Operator Barrel Thread link
My Colt AR6721 AR-15A3 Tactical Carbine with:
Operator 16" mid length gas system, medium contour, chrome lined barrel with M4 barrel extension
LaRue 9.0 FF rails
TD VFG & panels
Wolff extractor spring
Magpul MIAD grip, trigger guard (alum) and ladder rail protectors
Norgon ambi mag catch
Stag Arms ambi selector
Vltor club foot and buffer tube assy group
Blue Force Gear IDF style two point sling
KAC rail and modstock QR sling swivels
Aimpoint M2 with KAC P/N 98073 high straight mount
Surefire M961C tac light
D&H teflon finish mags with Magpul grey gen 2 followers, Wolff extra power springs & Magpul Dark Earth Ranger plates
All Magpul components and new Troy FDE BUIS from Denny
Ref: Mag carrier chest rig is SKD Tactical-Eagle Industries Universal/ MOLLE SKD version ACU US Army camo
Detail of Troy FDE BUIS and Eagle-SKD chest rig
ETA
Originally posted by Denny - OPERATOR BARREL STRIPPED, WEIGHT 2 LBS 3 OZ.
Originally posted by Denny - OPERATOR BARREL WITH FRONT SIGHT IN PLACE, WEIGHT 2 LBS 5 OZ.
Originally posted by Denny - FRONT SIGHT 'F' MARKING
Originally posted by Denny - FACTORY M4 RAMPS, THEY MATCH UP PERFECT WITH CMT AND LARUE STEALTH BILLET UPPERS


The OPERATOR is a Denny's Guns/ GTS exclusive


16" Mid Length gas system


Blanks are Rock Creek Barrel (Mike Rock). The barrel steel is ChromeMoly Vanadium, full auto rated


Barrels are fully chrome lined, bore and chamber by US Chrome, who does Colt and most other top line tier one manufacturers barrels


1:7 twist


MP (magnetic particle) tested


Proprietary profile, mid weight with a slight taper from chamber to the gas block by Compass Lake Engineering (CLE)


Weight: 2 lbs 5 oz. as shipped with FS, front sight and barrel nut


M4 barrel extensions


F front sight taper pinned


5.56 NATO chamber by CLE


Barrels parked under the front sight base


Threaded 1/2X28 (standard M16 thread) A2 flash hider included


Standard barrel nut installed


Delta assembly will not be included they are available as an option, same with the Middy gas tube, as many of you will be using rail systems and he don't want to add $$$ for parts you might not use.

All other optional barrel assy parts, FS, FF rails, CMT uppers, upper parts, CMT BCG, CH, BUIS, GTS-Stag Arms lowers, grips and stocks are available from Denny.


OPERATOR BARRELS ARE NOW IN STOCK, MIKE ROCK BLANKS, CHROME LINED 4150 CMV MIDDY at New AR Products thread link
Noveske 16" medium contour recon barrel from Denny's.
Range report and additional pics can be viewed
here.
Saving a spot for when I get a good pic.
-X
Bushmaster upper and lower
Larue 13.2
Denny's Recon barrel
TA31-F
M4-2000
Jesus!
Between the Mk12 Mod 0, and this......
I'm not liking you much michaelj
Originally Posted By 762hurts:






Jesus!

Between the Mk12 Mod 0, and this......

I'm not liking you much michaelj
Denny's Recon barrel and various other parts I got from him and around being put to work at the Tactical Response Alumni match/shoot last weekend in TN.
heres my pics of my 6.8 recon. sense the pics ive bead blasted the flutes in the barrel to match the rest of the barrel, troy buis, new vltor gas block, and i have a magpul prs stock on the way and maybe a new scope in a larue mount. heres the pics!
nothin' special...
Great looking ARs guys.
Keep 'em coming.
Hey that gun's lacking a serial number! Such forced modesty...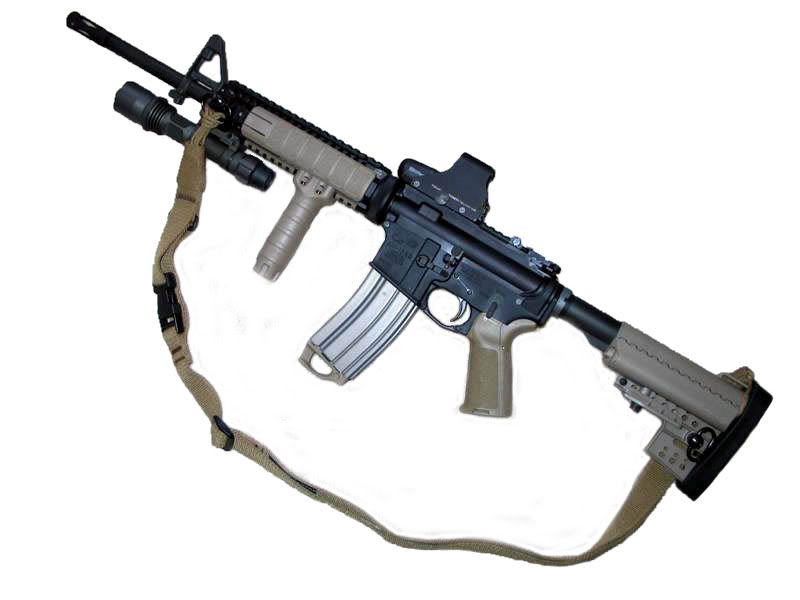 My Operator middy with EOTech 551 and KAC 300m BUIS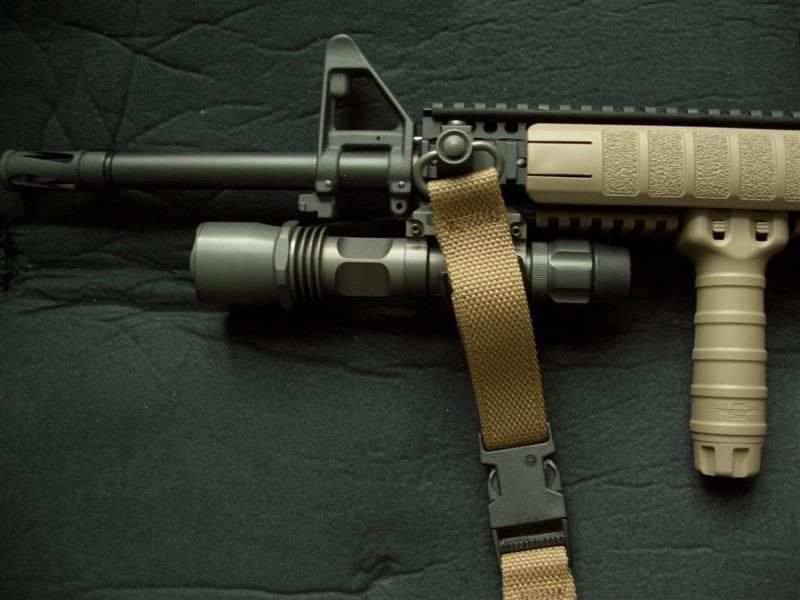 Any more pics?
Denny's 16" Recon:
Global Tactical lower and 14.5" LMT with Troy pinned flash suppressor all purchased from Denny.
Thanks Denny for all of your help!
Let's see some groups too!
That's a great serial number!
Here's two of my AR's...my GT carbine and a built GT lower.
The M4gery is getting a new EOTech 551, KAC rail, MIAD, and its barrel cut and pinned at 14.7" when I get my back paycheck!
The lower half is a build for my son. Thinking of going with a lightweight midlength and A3 upper receiver for it. I guess I have some time...he's not even two yet.
Keep in mind I am in no way a photographer.
Great builds guys.
I've seen some new finished GTS lowers builds around, let's see 'em.
Dang I just shorted out my keyboard from the drool.
I ordered my custom build Sept 28th and I was all jazzed early last week when Denny said it would be done by Friday. Well Friday came and went so I called again today and now it won't be till next week….sob sob. I so much wanted to play during Thanksgiving….sob sob.
This is what he is building for me…
Denny's Recon Barrel w/ Black Duracoat
Daniel Defense 12.0 Rail
Magpul Winter Trigger Guard
Ambi-Catch Mag Catch
Magpul M93B Stock w/ HK sling mount
Global Tactical Lower Receiver
CMT M4 cut Upper receiver"Assy
CMT Charging Handle w/ Bager 2 latch
Smith G6 Vortex Hider
LMT 2 Stage Trigger w/ KNS Pins
Ambi Safety Selector
PRI Rail Mounted Flip Up Front Sight
Larue Low Profile Gas Block
Suregrip Ergo Ambi Grip - Black
I have the following ready to mount on this jewel once it arrives
Trijicon ACOG TA01NSN
A.R.M.S. #19 ACOG QD Mount
Blackhawk Dieter CQD Sling W/ HK connectors
GG&G Quick Clip Sling Thing For Dovetails
A.R.M.S. #40L SP Rear Sight
GG&G 1218 Bipod w/ Swivel
A.R.M.S. #23QD Forward Grip Mount
You will see lots of photos when this baby shows up. Here is one of the barrel
60 days and counting….the good things in life are worth waiting for……My AR15 build page
Clay's AR15 Build
Cissell,
Your custom build sounds good to me.
Waiting for components is a drag when building a custom rig, I know how it feels.
It took me a total of 9 months of getting all my parts before I finished mine.
Most of my orders only took about a week or less to get to me, except for the lower receiver half, Aimpoint, KAC Aimpoint mount, Operator barrel and the LaRue rails which took a lot longer, but it was worth the wait.
Hang in there and we'll se yours when you get it back.
Just got my toy today from Denny. I can hardly wait to take it out this weekend.
Here are a few quick photos I took.
I've got a couple of these
A4
A2
M4
Stripped lower, not sure what to make next.
Heres My Dennys 6.8 Recon After I Change A Few Things, My First Config. Is On Page 1, I Gotta Tell You... I Love This Thing And Denny Is Kick Ass.
Whatcha mean nothing special, I like it alot....... You have a nice not over populated AR there.
WOA 16" Recon, YHM FF, CMT M4 upper, Bushie lower, tac latch, trigger guard, tuned RRA 2-stage, blahblahblah. Fits me perfect.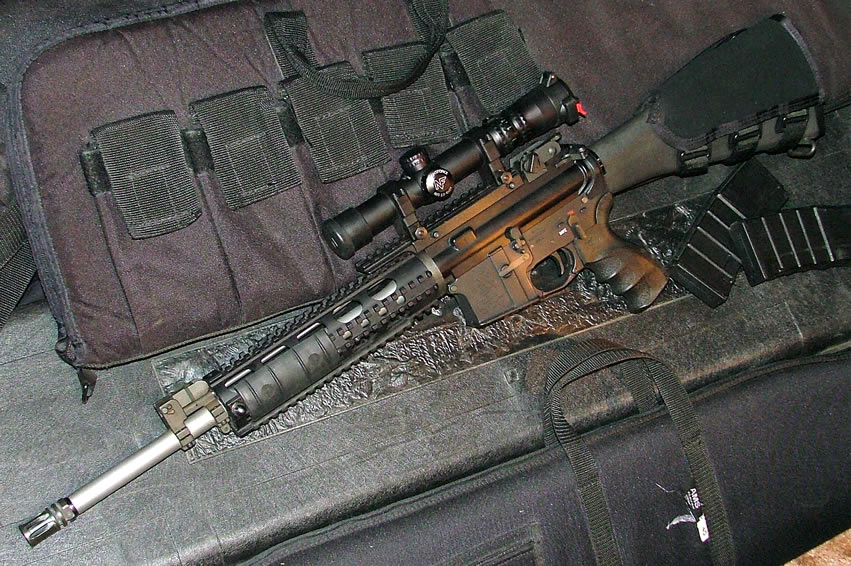 Originally Posted By UnusSupra1:
I've got a couple of these
A4
A2
M4
Stripped lower, not sure what to make next.


A middy, of course!
Originally Posted By Ellery_Holt:






A middy, of course!
+1
Take your pick from Denny's 16" mid length gas system barrels:
Denny's Operator medium contour chrome lined


Denny's Recon stainless steel


Noveske Recon medium contour with Noveske pinned gas block


Noveske Recon medium contour stainless steel and chrome lined
Wow you guys take this AR15 stuff fairly seriously.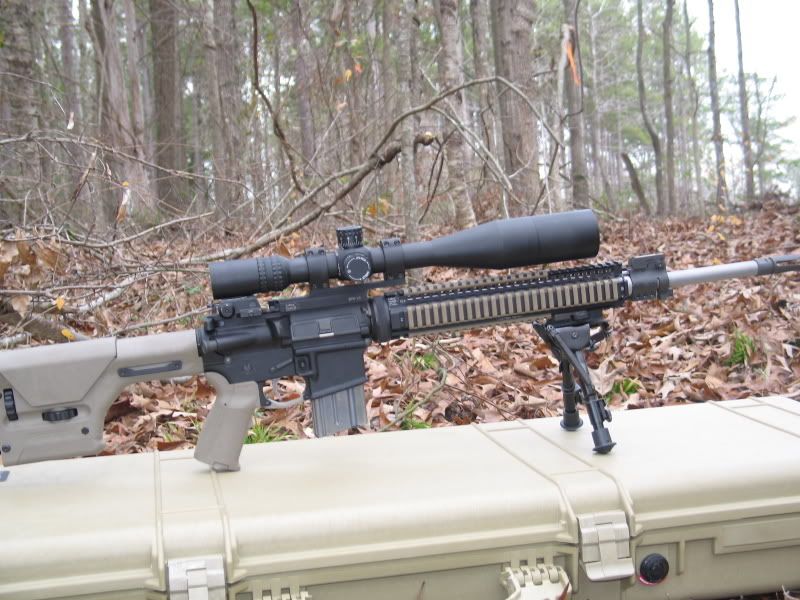 Larue Stealth Upper
RRA lower
Jewell two stage Trigger
Magpul PRS stock
Magpul Miad grip
Matech BUIS
Larue SPR 1.5 scope mount
Nightforce 5.5x22x50 NXS scope
Krieger 20" barrel from Compass Lake with bolt
GG&G front sight
Vortex flash suppressor
Larue 12.0 FF handguards
Larue Bipod adapter
Most of the parts originated from Denny. He is a great fellow to deal with and is awesome about getting your parts to you in a hurry. Thanks Denny. GS
Another Operator is born!
Thanks Denny!
How are you guys getting in touch with Denny's guns? I've written a couple of e-mails with no response.
Order by his website and call if you have any technical questions. I haven't tried email, sure he stays pretty swamped most of the time. GS
Originally Posted By Ellery_Holt:






A middy, of course!
Or a shorty!
Operator Upper on a Global Tactical lower.
GTS Lower, GTS Operator Middy barrel, LaRue 9.0, Vltor Clubfoot ModStock, Troy BUIS, EOTech 512 on LaRue mount, YHM 5C2 Phantom FS, KNS old style pins, MIAD grip, Stag LPK, BCG and M4 upper.
GTS Lower, Colt M4A1 SOCOM barrel, LaRue 7.0, Vltor Clubfoot ModStock, Troy BUIS, Aimpint COMP ML2 in LaRue mount, YHM 5C2 Phantom FS, KNS old style pins, MIAD grip, Stag LPK, BCG and M4 upper.
<-My first post as a team member, figured it was time to pay for all the help.
I just finished it last night. Here's what I got from Denny:
GTS lower
Denny's Recon barrel
JP adjustable trigger & speed hammer
ErgoGrip
Magpul enhanced trigger guard
LMT SOPMOD with tube, buffer & spring
CMT upper with PRI Big Latch
LaRue gas block
LaRue 12" rail
Vortex
Troy BUIS
TD rail covers
Thanks for the help Denny!
saveing a spot

not a GTS but most of the parts were purchased there
Global Tactical Lower, Stag LPK, Stag M4 stock
CMMG 16" 1/7 Govt Midlength A3 upper, EOTech 512, Troy SKD BUIS
Now has a 3 point home made tac-sling on it.
My Recon

Global Tactical Lower Receiver
Larue Tactical Stealth Upper
Larue Tactical 13.2 Rail
Denny's LRSPR 18"Barrel with matched bolt
Young National Match Carrier
CMT charging handle
CMT lower parts kit
Troy Front and Rear sights
Ergo Grip
Phantom Flash Hider (308)
All parts from Denny (except for the Phantom) but including the Timney trigger which is on a different GT Lower awaiting the Sopmod stock from Denny.
And of course my Operator
I also have Denny's 16" 6.8, and another operator that I just built in a KISS type build. I'll be doing a recon when the barrels come back in. Denny sells some Great Barrels!!
My new LaRue model LT-110 EOTech QD Mount from Denny on my LMT M4gery with KAC 300m BUIS (lower 1/3 co-witness)
Thanks Denny for a very fast shipping, it only took 3 workdays to get it after I ordered it.
Very nice builds guys, any more out there?
More Operator AR p0rn :-) (Clicking a picture will take you to the bigger copy.)
LMT lower w/SOPMOD stock
CMT upper
Operator Barrel
AK Concepts DNTC Compensator
Denny's super duty M16 BCG
Troy MRF-M
Bushmaster carry handle
Daniel Defense rail sling mount
Tango Down rail covers
Solid aluminum VFG from Bravo
Blueforcegear Vickers Tactical sling
From Denny's:
Denny's 16" operator barrel with phantom
CMT upper with Super Duty BCG
DD 9" Rail
Magpul CTR complete kit
Other parts:
Mega Gator Lower
Stag LPK with ambi selector
GG&G MAD Buis
TD VFG
Badger Tac Latch charging handle
Denny's responsible for the LMT on the left and the custom 6.8 on the right.
The one on the right with the tan theme is Denny's 18" LRSPR 6.8 barrel, larue 12, larue gas block, CMT M4 upper, vortex, and everything else bought from dennyexcept for the lower but all the parts, stocks, grips. etc were got from him. The 6.8 upper was put together by him.