I'm steppin back, thinking about just carring a side arm a 45 acp super anyone? Holster-pics
I've been carring my ar-10 out on hunts and its getting to be a pain in the butt as when the shooting starts I just watch for runners swinging wide, so people don't get run over.

Does anybody use or know about the 45 acp loaded up in the starline 45 super brass and shot in a wheel gun ? Got 4 lbs of AA # 7 on hand ! ! !

I put a M325 45 acp thunder ranch on layaway yesterday...its light and seems to be enough (close to the 44 mag)

I found some load data for a 185 GR. and it hit 1,200 to 1,300 FPS.

Been wanting a TR for a long time, can go out the door for 974 with this one.
I'm in for the pics I hope you post when you get it.
Originally Posted By krpind:
I'm in for the pics I hope you post when you get it.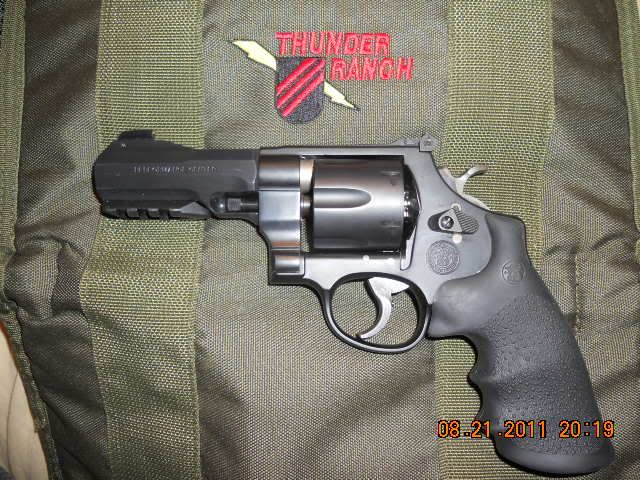 Heck I went and got it a little after I posted, couldn't find any starline 45 super brass had to order 45 acp +p for now.
Going to take several days for the rest of the needed stuff to come in.
Edit; Does anybody know where there is some 45 super brass in stock????????
That should do you real well, I have taken a number of hogs with my Thompson Center Contender with a 10' barrel in .44MAG using 240 grain hollow points with one shot, however those Barnes Buster .44 MAG 300 grain copper slugs will penetrate anything in North America through and through.

I've even shot a couple of hogs with my SIG P-229 in .357 SIG with 147 grain slugs and all those were one shot kills too....so you should have a field day with that wheel gun!
That looks awesome. You can probably shoot some really hot loads through that revolver. I might bring a 357 sig next time I go out. Be sure to report back when you shoot of of them with it.


You have been buying a lot of equipment lately. You get whip lash or something? lol
Joe that is a nice looking weapon, but all you need is a 9 with the right ammo! just kidding, that should make your day, Punk!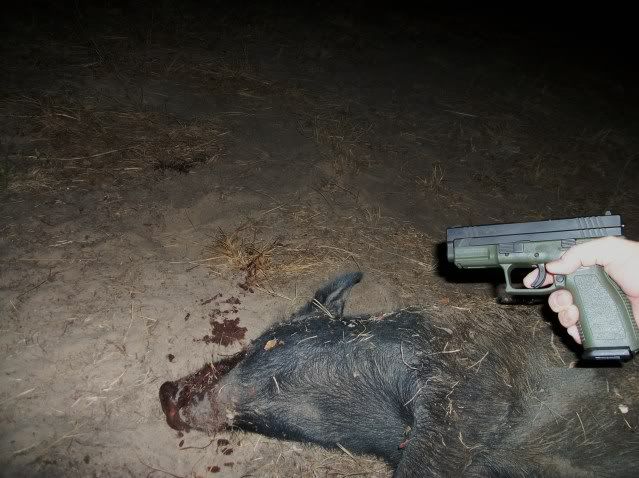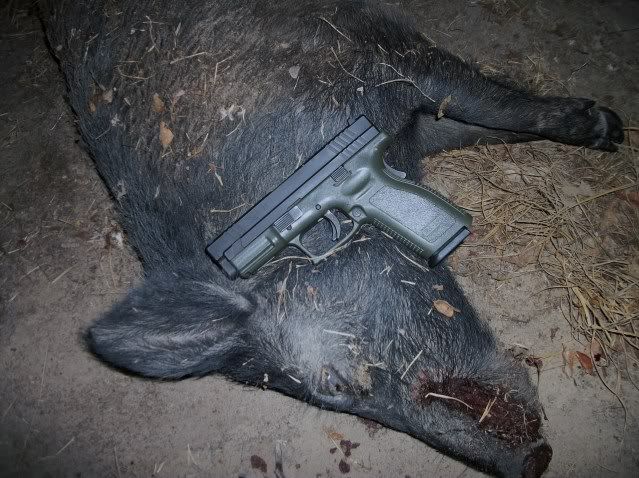 Skypup there is no way I can make hand loads near the TC, they are cool guns...Kat still has her encore in 308/costom muxxle brake. I picked up a 12 guage turky barrel.
No Corn I didn't get a win fall, like always..just putting back in to it what it makes !
Lmc, whats up brother...ol'clint..thats funny. where you been ?
Well I'll show y'all the holster my thrifty ass made. Wentt to hobby lobby picked up 1/8 inch 8 x 12 leather, needles, wax thread, die (deasert tan...right) 1/8 inch drill bit for thread holes.
Was looking for a snap and Kat found a knife case, I could put the face on the front and use the flap for the cover. A 42 inch by 1 1/4 belt for the shoulder.
Well I duct taped a pencil between the sites and a ink pen on each side so the light would come out also. wet the leather streched around pistol, drilled stich holes then stiched, let dri.
After it dries cut stiched and drill sling and storage pocket then re-stich holster back together.
.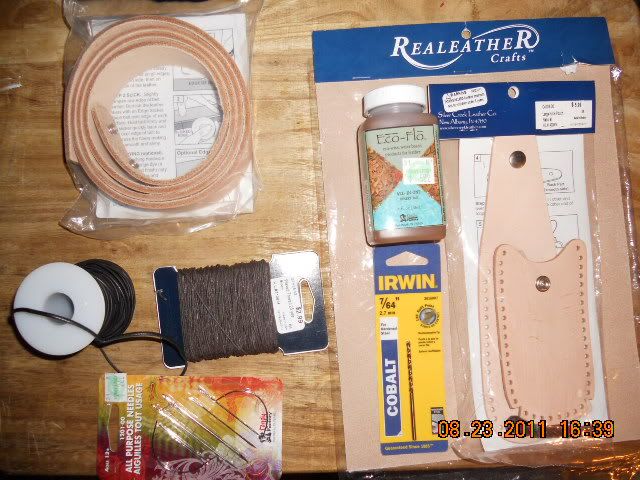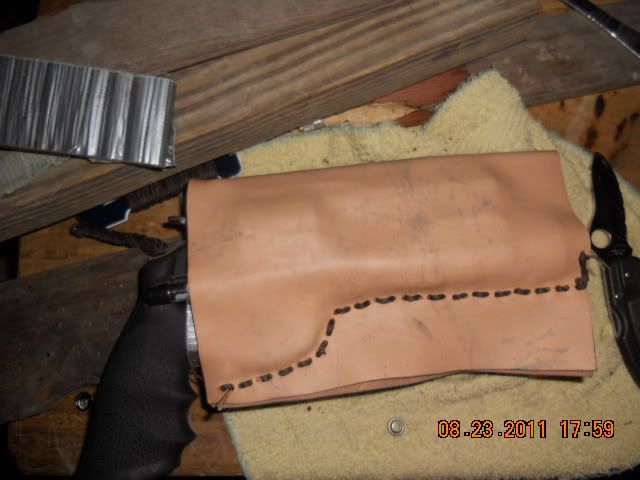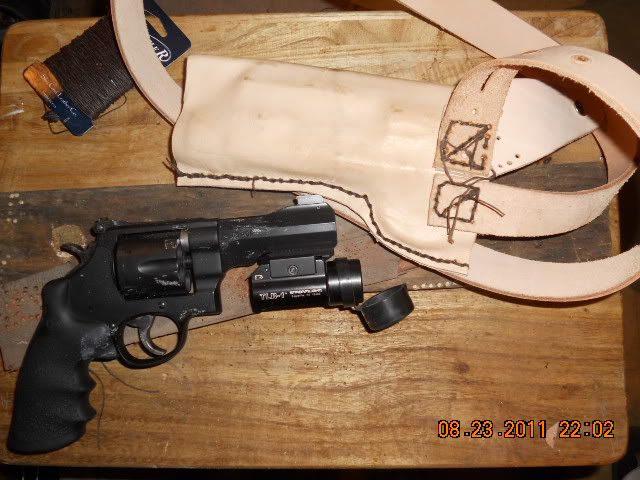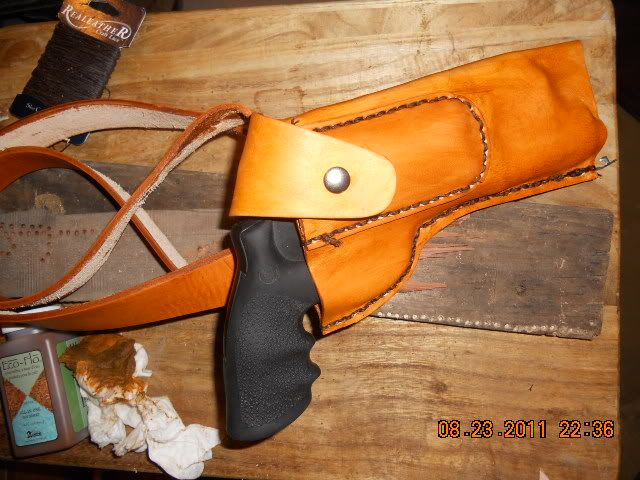 Wow, that is simply outstanding leather work, congrats on a nice custom holster for that pug-nosed wheel gun!!!
I don't know about leather work, in my case more like ADHD work.
Lmc, whats up brother...ol'clint..thats funny. where you been ?
working alot in the metroplex. hogs slowed down around my place with the heat. moved to Bedford this past weekend, but keeping my place in Mineola.
tips hat on the holster