Black bear hunting with a longbow?
First of all, I'd like to state that I've never been accused of being practical. I also have never hunted in my life. Given the combination, I understand the impending dismissive attitude of experienced hunters. However, I'm the type of person who hopes to God that when it's my time to go, it's due to a bear mauling, a lightning strike or some other random act of nature or hair-brained adventure of my own choosing. I'd rather be a fool following his folly than a wise man succumbing to wisdom, for what is death, but a story for someone else to tell? Might as well make it entertaining, right?

With that being said, I have an overwhelming urge to craft my own longbow and hunt Black bear. This is all dependent on many factors, not the least of which is finances. Whether this dream will ever come to fruition is anyone's guess. Poverty is probably the only mitigating factor keeping me from my own demise. However, in the interim, I would be much obliged to hear the triumphant tales of experienced hunters who have brought down Black bears using longbows.

I do have some experience with Black bears while thru-hiking the Appalachian Trail. However, given the flow of human traffic in this corridor, my perception of Black bears may be skewed (they are wusses). I would love to hear general opinions and experiences with black bears in less-trafficked areas, as these would probably be my primary hunting grounds.
The Longbow has been in existence way longer than bows with training wheels!!! In the right hands and with the right arrow/broadhead, it can be quite deadly. Check out tradgang dot com, and the powwow forum......Lots of guys killing stuff over there with trad gear!!!
I did it last fall with my recurve!!!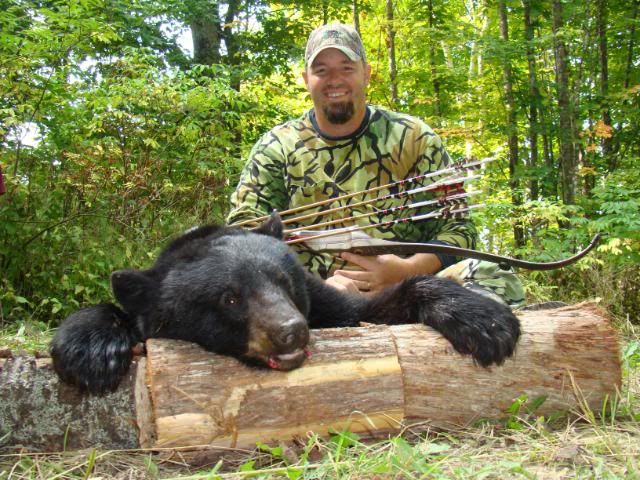 Building your own bow is alot of work, but also a labor of love! I built a 3 pc takedown longbow a few yrs ago. I bought a kit from Bingham
http://www.binghamprojects.com/binghambowpictures.php?cat=4
Call and visit with them... You'll need to build presses first, and they have blueprints for those as well!! I suggest starting out with a lighter draw weight if you don't presently shoot trad. Somewhere around 40-50#!!
Mine is Bubinga, with a splash of hickory and walnut in the riser...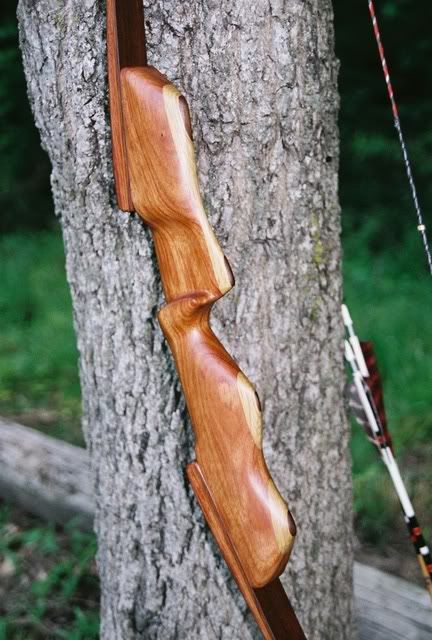 Or you can go even more primitive, and build a Selfbow.... Which is a bow whittled from one piece of wood, without any laminations!! Mine is from Hickory!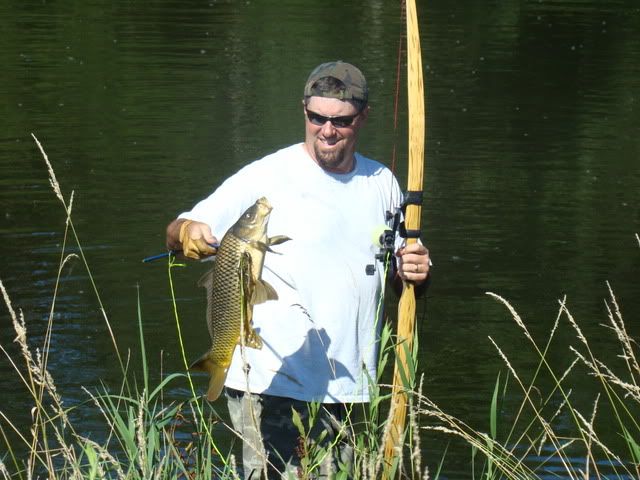 One of the guys I served with in the Army had pictures of him with Bear, deer, turkey, coyote, fox, you name it he killed it with a long bow. His bow had a 100# draw weight to it so I know it would be more than enough.
I do have to disagree with you on thinking that being mauled by a bear would be a way to go. I wouldn't want to be mauled by any animal period. I have seen what a mauling from a Mt Lion looked like and if I had to choose between old age and that, I would take old age any day of the week and twice on sunday.
100# is way above the norm! Most folks are killing the same critters with half that!!!
FiremanBrad: That is a sweet looking bow and kill. Thanks for the postings/pics. I definitely am thinking along the lines of a self-bow. Labor of love is EXACTLY what I am looking for. My whole point is that I am going to take whatever time and labor is necessary to craft my own "perfect" piece, practice, practice, and more practice shooting it and then I am going to hunt on my own accord.

Palladin8: I definitely hear you, but I can't relate. I'd rather die by some extraordinary means than old age. Nothing wrong with either scenario, we're all gonna take it some way, but I'm ready to go whenever the good Lord decides. The only method of death that frightens me is some long, drawn out process involving extreme pain. But then again, unless one were a sadist, I think we can all agree against that method. ;)
Come to Mo the 3rd weekend in July to MoJam, a Selfbow Jambowree! Inside of two days, you'll be shooting your own bow!!! Check out tradgang among other places!!!! Anything I can do just yell!!!