I had the opportunity to hunt South Africa with
Infinito Safaris
this past July, and i wanted to post a short review and some photos.
I got a call from an acquaintance of mine, Lewis, in late April, and he invited me to join him on a Safari in South Africa in July. I have been saving for a trip to Africa for about 15 years, but thought it would be another 10 before I had the chance to go. I went home, ran the numbers, and after consultation with my wife, decided to join him on the trip. I wired my deposit and booked my plane ticket. I read as much as I could find about the outfitter and checked their references, but still felt I was taking a risk. You never know about someone you hunt with until you are there with them, but the price was right, and I was feeling lucky.
I had a Remington m700 ADL in .300in pieces at home at this time, with a semi-inlet stock and the bottom metal to convert it to a BDL. I got busy and glass bedded it, finished the laminated wood stock, and worked up a good load with the 180 grain Nosler Partition over a maximum charge of H1000.
We landed in Johannesburg on July 12th. Frederik Cocquyt met us right outside of baggage claim and helped us through the firearm importation line, then we were off to the camp. We arrived in camp about 10 pm, were fed a great meal and the off to sleep.
My first three days were spent hunting my main goal: Nyala. I hunted with Charl van Rooyen, and we spent those three days stalking and climbing hills chasing a nice bull. We finally caught up with him in some heavy brush, and my first bullet was deflected by a branch, wounding the Nyala. After a difficult tracking job and another stalk, we caught up with the Nyala and were able to finish him off. I was devastated when the bull ran off after my first shot, but once we found proof that the bullet had been deflected (a wound that was a bullet in profile), I was able to settle down and shoot with confidence the rest of the trip. (Nothing to blow your confidence like a bad first shot!)
Nyala: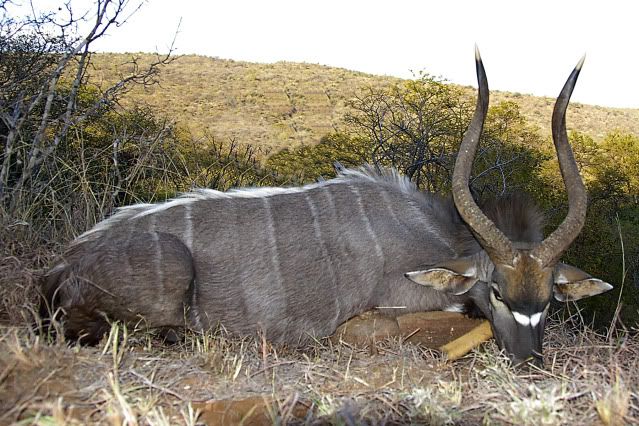 The next day we hunted near the river, hoping to run across a warthog or a bushbuck, and found a small herd of Mountain Reedbuck. It was this guy and his harem of 9 females: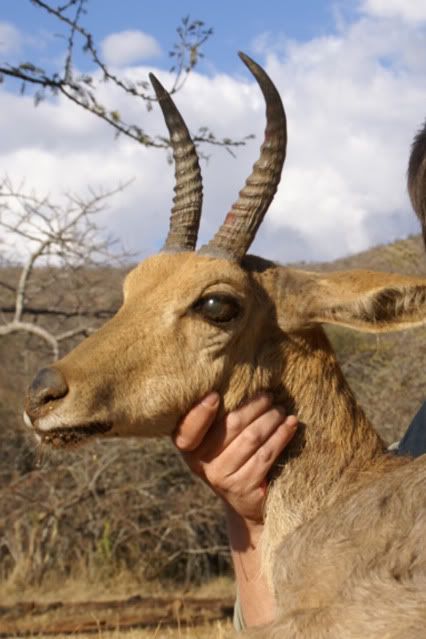 We also saw a 58" kudu in a bachelor group with a 54" and a 50" bull, I was sorely tempted at a shot, but had not budgeted for him so I passed. After this day, I switched PH"s and hunted with Frederik the rest of the trip. Lewis was not having much luck, and it was suggested that a change of PH's would help. I got along great with both, so it was not a problem for me.
Hunting the next day we found a nice warthog (sorry, I don't have a good picture), then the next day another, bigger, uglier warthog: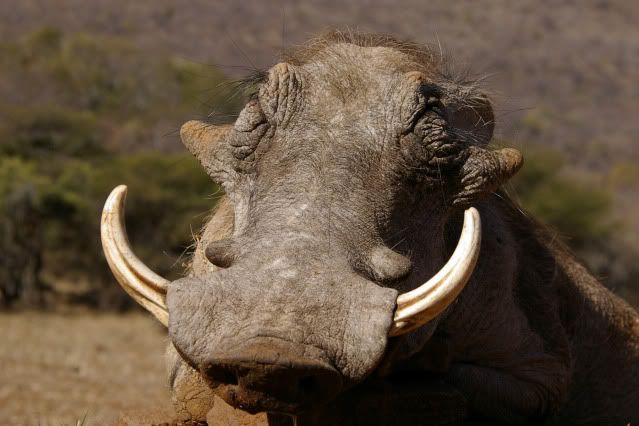 Frederik found a nice herd of Impala the day after the second warthog for us to stalk. I seemed to be snakebit on Impala, I made about 10 unsuccessful stalks trying to take one. This, however was a great little stalk. We were able to get within 30 yards of the small herd of 7 impala, 5 ewes and two rams, and I took the older ram. I saw bigger, but this was a great hunt:
We spent the next day near the river again, spotting, stalking, glassing , and hunting from a hide. We cooked warthog sausages on an open fire, and in the afternoon, we watched a parade of impala ewes and female mountain reedbuck. Suddenly, a female bushbuck ran through the clearing we were watching, soon followed by a nice male. The body language was that of a whitetail buck chasing a doe: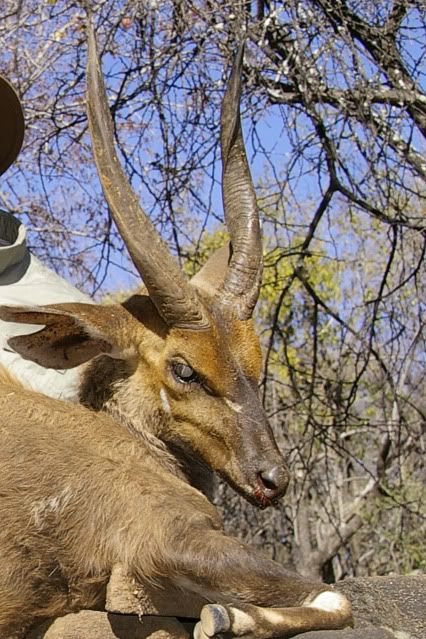 The last day of hunting was spent in the highveld on a different property. It was a completly different style than the rest of the trip, as we were hunting open grassland instead of the brushy bushveld we had been hunting. We went as a group, with Lewis, both PH's, and two government game scouts. I took a nice blesbok, Lewis got a black wildebeest and was a second too slow on an eland.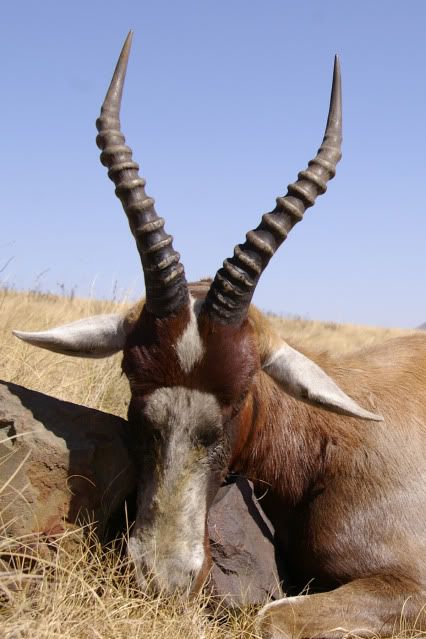 I had a great hunt. Charl and Frederik busted their asses to make sure we got our trophies, the food was great, and the accommodations were comfortable. I'm already saving to go back, and plan to hunt with Infinito again. It was a good gamble to say the least. The hunting was challenging, as these were animals that had been hunted and knew the score. I had a great time, and I suggest to anyone that wants to go to go ASAP!