This was one of the best weeks of duck hunting I can remember in the last 10 years. I spent a week of hunting with my best friend, and we had one hell of a time. thought I would share it with the forum. I shoot a Benelli SBE and we were using Kent 3" mag, #3's, 1 & 3/8 ozs. I shoot skeet #2, aka "light modified" choke. I like Hevi-shot better, but when they are decoyed, it works fine.
Some of these pics are taken in the bays just abut a mile from my house. The others are taken at the ranch, with birds shot on a DU Prairie Wetlands Project site. We have had NO rain for 2 years, so the project water was pumped in.
Total tally after 7 hunts, two guys = 59 ducks
.
Day 1
: full limit shoot. Pintails, Teal, and Redheads. We hunt in the grass, no blind. This was a nasty day, mist, drizzle, and we were loving it. Nothing, and I mean nothing is dry. We sit in the water, but you have to go where they are, and we literally picked out birds hanging over the decoys. No passing shots necessary. Good times. ETA: yes, the yellow, shooting glasses make me look like an idiot....they work.
Day 5
: this hunt took place on the ranch, and we limited, but this time, it was Gadwalls, Pintails and Teal. Amber, the Lab, is presiding over her handiwork.
Day 6
: One bird short of a limit, but not because the birds weren't there. My hunting buddy actually missed a few shots. We let them come in, and I mean all the way in... almost every bird was decoyed,....back flapping. There were a very few passing shots, and a few clean ups, including a few of the famous "elevator" shots. This spot is "the bunker." Much easier hunting than in the grass.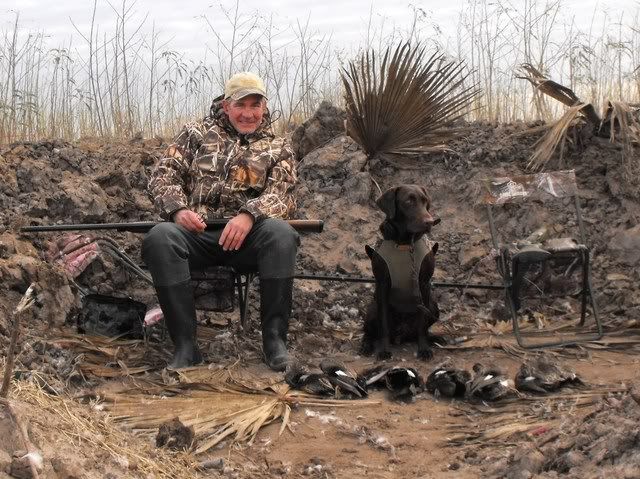 After a few corrections on the first two hunts, Amber was perfect. No breaking, handled to blind retrieves, just an amazing performance.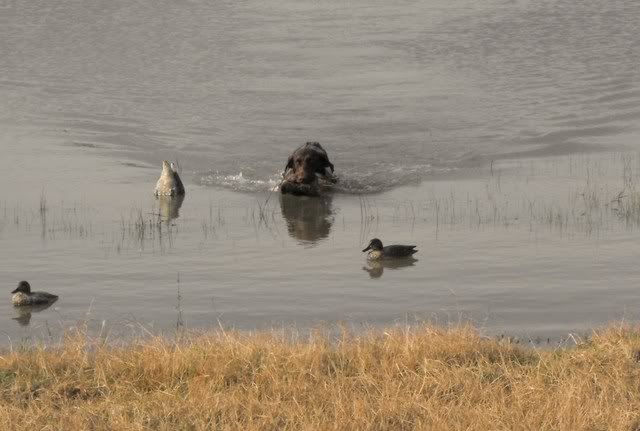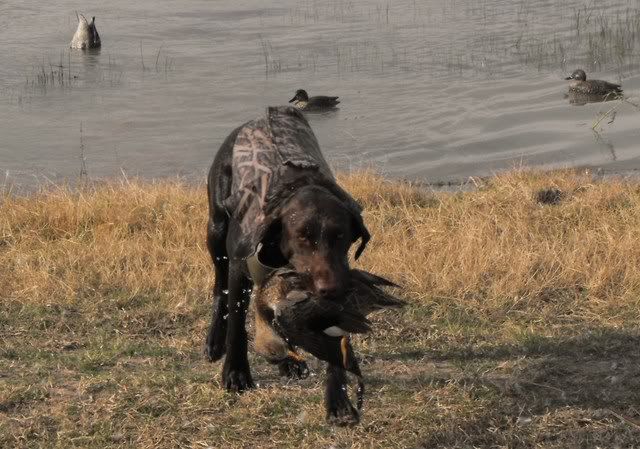 Good Luck. It looks like 2011-2012 is going to be a memorable duck / goose season.