i built a floating bus stop... waddau think?
...that could double as a duck blind in a pinch, just needs paint.
The barrels are recycled from the food industry, held stuff like vinegar and cooking wine; all washed out... I have no idea how she'll draft or how stable it'll be. I can add a third row of barrels in the middle if needed. The plan is to tether it to a couple trees via eye-bolts on the ends/sides. This way we can untie it and just float it to the "late season" spot when the time comes.
About 80% or so of the materials came from my father in law's burn and scrap piles; he's a commercial contractor... The only stuff I had to go buy were screws, nails, and the sticks of lumber that look "new". Not too bad for scrap wood and metal, eh.
If we add a motor to one end it could just sail around
green chicken wire just added for grassing it up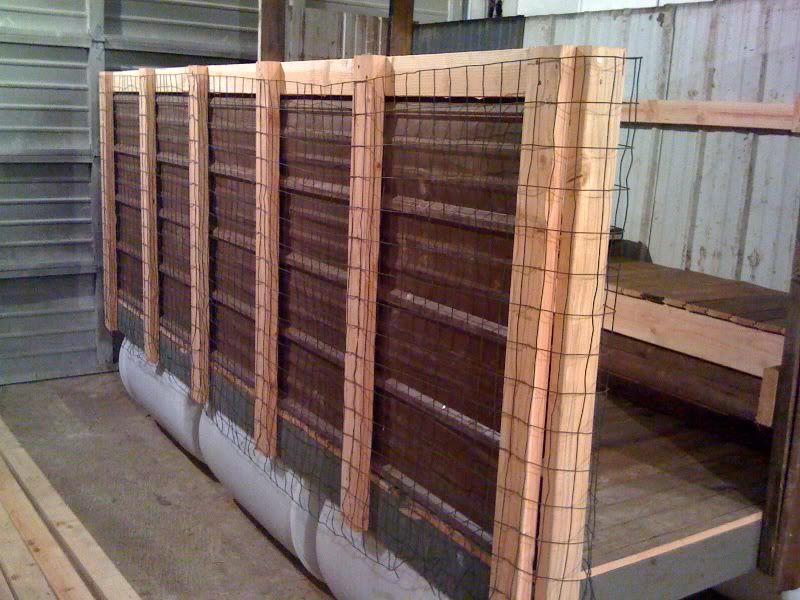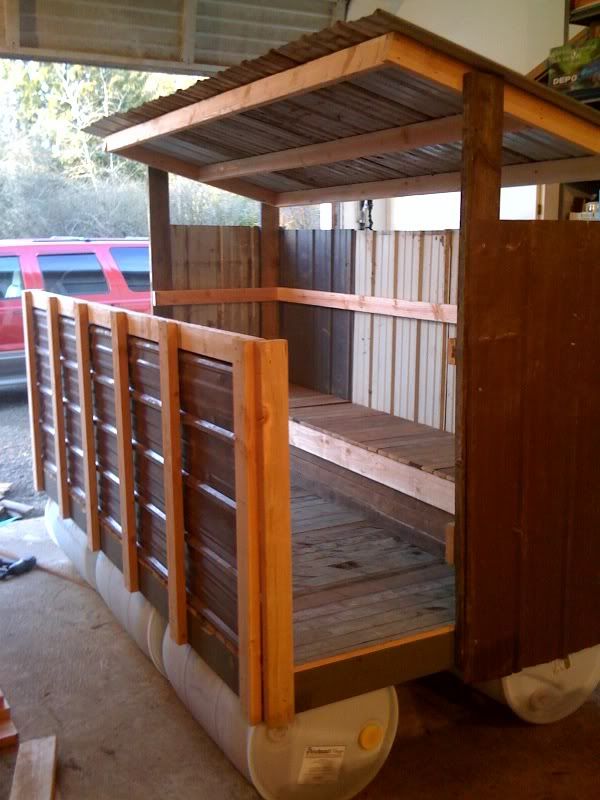 three section flip up bench seat with semi-dry storage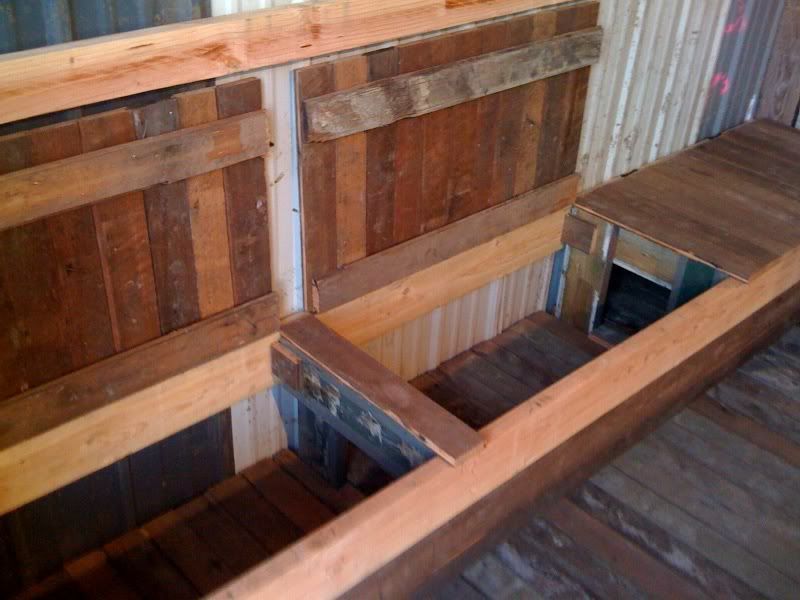 gonna add a propane bottle to the back and run a hose in for the stove... and maybe a heater.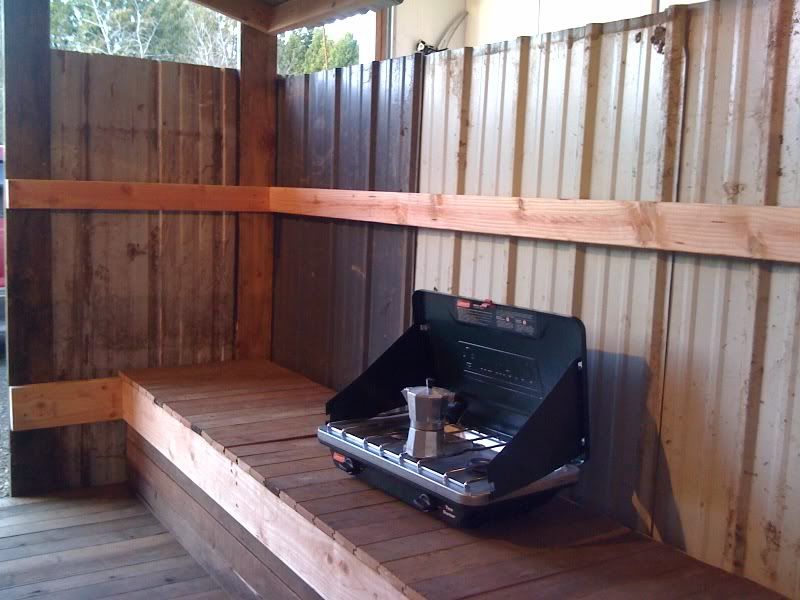 as a fellow duck hunter for only the past 20 years ...that is definately kick ass
Cool, but try not to drown yourselves. That thing tips over wrong and you'll have to swim down to get out of it.
I know it's always possible, the drowning, but the water we hunt there is never more than waist deep, a little deeper in some spots, but not really where this'll be. We wade in; never had a boat in there. Heck, it'll probly end up kind of just sitting on the ground with water right up to the top of the barrels. And there's no current, it'll just be tied to a couple trees so it doesn't blow or float away.


I had thought about maybe needing some kind of outriggers though to keep her steady in the wind... have to keep thinking on that one.

cheers, Benji
Looks awesome
Looks like alot of weight in the back. It may need 'out rigger' floats in the back to keep it from flipping backwards.
yah, we'll see if she lists once in the water. I figured if anything it would tip to the rear. I think I will pre cut some sticks of lumber to add the third row of barrels off the rear. If I do that I'll probly just cover it with some cheap plywood so I can set stuff back there if needed, like a propane bottle...
cool
give us an update from the water
Looks pretty sweet.
is that a cuban coffee maker?

that is some stout stuff.

nice bus stop. now all you have to do is get the birds to ignore the flashing red lights
If that doesn't tip over, it is awesome. I am going to get started on something similar.
Wear ear plugs... shooting under that metal roof is gonna sting a bit.

Have you thought about adding a texture to the wooden floor? I assume it is going to get wet and slippery?

TRG
I moved it outside a few days ago to sit and wait until the ground dries out at the hunting pond. It'll sit right inside/ at the edge of some really thick trees that border the seasonal pond. Once I get it painted and grassed up, I think she'll blend in nicely. I've got a couple tricks for camo imma try out. My father-in-law collects logs/trees to mill down into boards on his home sawmill. I've got a few of the boards he could't use. They look like the silhouette of a tree if that makes sense. They have the trunk and the beginning of the big branches which begin where the trunk splits but they're only 1" thick. I was gonna screw a couple of those on the front and see what it looks like. Seems like it could break up the outline nicely, eh.

I'm pretty sure I'm gonna have to add a third row of barrels behind the deck on an "outrigger" to keep it from tilting backwards. The rear is pretty heavy with the bench there.

Yup, that "campfire coffee" maker is basically a Cuban. And yes, that is some thick stuff... I've got a buddy who doesn't hunt but when he saw the blind and the stove and cuban pot he said he'd come out and cook us eggs and coffee all morning... I was thinking of just having a pot to boil water and then use a french press maybe since the cuban is kinda small. I've got chickens at home, so i'll probly end up taking eggs out there and a cheap old fry pan to make breakfast sometime, should be fun.
FRIKIN SWEET!!! 10/10!!!
Where's the stripper pole? It's gotta have a stripper pole, you promised!
I moved her outside and threw a little green paint on the front since it's raining... She'll get a full paint treatment after I pressure wash and clean her off real nice.
nice execution. I wanted to do this exact same thing for last season.
After reading about a previous poster mentioning the blind might tip over I'd like to give you an idea that we use for floating docks where the water frequently goes up and down. Get 4 steel plates and through bolt them to where the 4x4's stick out at the corners of your blind. Next get 4 small pieces, 3-4" long, of schedule 40 steel pipe like 2.5" or 2" pipe and weld one to each of the 4 plates. Once you get the blind into position take 4 pieces of 1" or 1.5" schedule 40 steel pipe and cut them to a length where you can drive them into the mud a couple of feet but not so long where they will interfere with your shooting. Place them through the smaller pieces of larger diameter pipe fastened to the sides of the blind. By doing this it will prevent your blind from going anywhere or tipping over but will allow it to move up and down with the tides and if you want to move the blind elsewhere all you have to do is pull the poles out and she's free.
Yah, that's not a bad idea. I've been tossing around ideas about how to stabilize it better. I think what I'll end up doing is just basically building a "deck off the rear in order to utilize the flotation of a row of three more plastic barrels just aft of the back wall. That should add plenty of stabilization and keep her draft a bit higher in case she gets a bit overloaded... I still might try something like your pole idea though, good idea, thanks.

For now I'm patiently waiting for the rain to stop and the field to dry out so I can transport her out to the field and get her into place.


cheers, Benji
I'm thinking it gonna be a little tough to get a skier up with out couple of 450 HPs on it.
Yah, a little motor on one end would be pretty cool, eh. Much agree!
looks nice! bet that roof is a blessing when those late season rain squalls pass through