I want to try turkey hunting...where do I learn? I'm in Florida, FYI.
I've been reading as much as I Can about turkey hunting and I know that it is very challenging. How can I learn about it effectively? I don't know any hunters to teach me, so that's not an option.
worth a look.
www.wildturkeyzone.com/index.htm
Just one of many different resources.
Good Luck
Best way is to get out there and DO IT!

I decided, one day many moons ago, that i was going to start turkey hunting. Got some extra camo and headed out.

Three years later I got my first bird.

Get a tape or two of LIVE WILD turkey calls, and PRACTICE.

There's little that gets my blood pumping by hearing ol' Tom on the roost, watching him fly down, and strut over to my decoys.
FL has some good public options for turkeys. The quota system and special opp hunts are fantastic. I was lucky enough to get a special opp hunt and shot my first (and only) Osceola.

Put your name in the drawings and you never know what may happen.

First off there are no set rules when it comes to turkeys, what works on one hunt or with one turkey may or may not work the next time you use that tactic. I'd suggest watching some turkey hunting videos. Some offer good advise as far as setting up, calling, using decoys or not, and you'll get to see and hear turkey vocalizations etc. Just remember that a lot of the videos are trying to sell certain calls or decoys and they sometimes make it look really easy and a sure thing.
When I first started I read some books trying to learn all I could and it helped. Check your local library, used book store or look at amazon.
Florida is some tough hunting for turkeys too. My experience has been opening weekend on the WMA's are packed, but during the week you can find some areas by yourself to work. Check out the quota hunts like has been mentioned. Good Luck
Turkey hunting is addictive, at least it was for me.
I hunted turkey last fall season and used the ambush method. I have some property that is loaded with turkeys and has good feed (acorns, blueberry and huckleberry patches all spring and summer, plenty of other seed plants). I was back cutting wood several times and always spooked turkeys. I set out game cameras for a couple of months to see what kind of deer were going through the property and noticed that the turkeys came through a certain area like clockwork twice a day,

We were able to fill 3 tags in 4 half days of hunting. Missed one turkey.

This spring I'll be setting out game cameras to see if they come through the area in the spring. I didn't bother getting the 1 week tags for the early seasons but purchased a tag for the month of May. I've got a few calls so I will see how it goes.

During the fall season I was out for deer with a crossbow and the turkeys would come in under my treestand and feed all around me for a half hour, I could have easily taken one with the bow. This spring I plan on planting a food plot on my property to keep them healthy and fat for the fall season.
I tried that, but wild turkeys won't roam on my zero lot line homestead! :) I'm jealous!!!
What part of Florida do you live in. I dont know much about Oceola turkeys but northern Florida is wrapped up with Easterns. There is a lot of timber company land in Florida you might want to check to see if any around you is open to public or if you could join a club in your area.
Well, If you have a good place to hunt then you invite me down to help you!!!!!! lol I also taught myself. Grab a Primos or HS strut video or two so you can get the idea. I really like Primo's instructional CD, I had a hard time getting a few of the calls down until I listend to that cd. Then just keep trying. Nothing brings highs and lows like spring turkey hunting. Super adrenaline filled moment, immediately followed by major disapointment when that bird decides to stop just out of range or gets spooky. There really is nothing like it, except I have heard calling in elk for bowhunting is almost the same experience. Last spring I called in a jake for my 6 year old son to shoot, It was the greatest thing ever!!!!
I have been trying unsuccessfully to get a turkey for two years now, so I can't offer too much help. However, my first try at turkeys was in the Ocala National Forest(central Florida) and all the birds we found were roosted very near or over water (pond, swamp, etc). Not much help, but something to tuck in the back of your mind.
Good luck.
We just tried again today. We tried last weekend as well. There are definately turkeys in the area but we didn't manage to call one. It's harder sitting on the ground calling turkeys than deerhunting I think.
To bad there isn't a season on woodpeckers and cardinals, they were all over the place!
After seeing the replies in this thread I don't feel as bad as I did earlier.
last fall on my property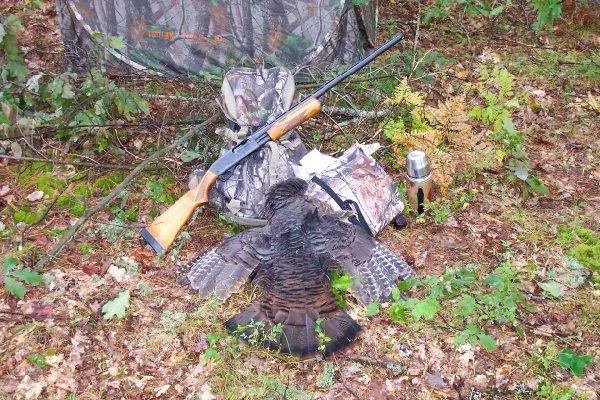 Too bad you don't live near me. I got my limit on opening weekend this year. It's easy once you get the hang of it.
I usually drive around listening the week before season opens, listening for gobbles in creek bottoms. When the wind is right, you can hear them for nearly a mile out. Listen in the morning right at daybreak and at dusk.
Once you've located them, go there early on opening day with a decoy and wait for the gobbles. Get up to around 200 yards or so without being seen and locate a fallen tree or thick brush to hide in and set your decoy out 15 yards out in front of you and to one side of being between you and the turkeys.
Hit a couple of strokes on the box call and if they gobble back, get your shotgun up and into position...you don't want to be moving around when they get into range and you need to be well camouflaged...in the shadows and concealed well.
I recommend 12 gauge with extra full turkey choke. I can take them to nearly 50 yards with it if I have to. I usually shoot them at 25 or so.
Wait until their heads are poking up with the neck extended. Do not shoot the body of the turkey, you will push feathers into the breast meat. I did this on my first one.
Shot it from 12 feet away. I was lying on my belly beside a logging road when it ran by rushing to my decoy.
I would love to take an Osceola. Saw a bunch in the Tosahatchee when I was stationed in Orlando.
I usually take 2 year olds as I hunt early and they are grouped together without hens. These will usually have 9" or so beards with 1/2" to 1" spurs.
The dominant toms will usually be with a group of hens...just one tom. He will sometimes gobble back to you, but the dominant hen will lead him promptly away from you, leaving you frustrated. These dominant toms are more vulnerable in the late morning when the hens have gone off to nest, leaving him lonely. 10 AM or so is best for these guys. They don't gobble as much, so be careful. They will usually gobble once, then come running. I have met them coming over a hill at a run to find me.
Once you yelp, the turkeys usually have your location down even from a long distance away. It is uncanny.
Good luck and enjoy your time in the Spring woods!!