Game cam got video of my dual kill ! (video inside)
So after a day of stalking on foot with no results, the guys and I got lazy and just set up lawn chairs at over 200 yards away from my corn. Just as it was getting dark, two deer came in. Mark couldent see them because he was on the left side, so me and Chris took the shots.
"I'll take the right one, you take the left one. 3... 2... 1... BOOM" a single gunshot sound. We were in perfect sync, We hit both deer in the neck right through the spine (as planned) and both deer fell and never took another step. They were so far away we couldent see any antlers and actually thought they were does, But they were spike bucks and could use to be thinned out of the herd anyways.
Later when we were back at the campsite cleaning them and processing the meat, I said "Hey Chris, how long was it from when we saw the deer, until when we fired?" Chris "Uh, maybe like 20 seconds" Me "then we probablly got the dual kill on video, it records 30 seconds worth :)". I went and checked the game camera, and sure enough, it captured the whole thing on video.
You have to click on the picture to play the video. I couldent figure out how to imbed it.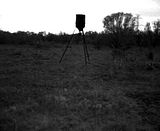 awesome...
great syn on the countdown to shoot!
Just like synchronized swimming.
Congratulations!
COOL!! Congrats on the great timing.
I love it!! I wish I would not go to jail here
That was pretty cool!
Thats great shooting. Good Job
That's awesome. I shot at two like that once with a 300 Win Mag. I'm certain it went through both, except the second was likely gut shot and ran to the road, where a truck proceeded to stop and pick her up I think, so I have no proof other than my suspicion.

Awesome that you got it on video.
haha nice, my buddy and I always joke about the 3...2...1...
Good work but, in the future, you might be a little more sure of the sex of the animal you are shooting at
That was pretty cool.
Awesome video !!!!
I showed my kids and pointed out the death throws with the kicking and the rappid tail movement.
Because of your vid... they were able to see what I've described to them in the past.
A few years ago, I got a pass through with my bow on a quartering away doe. She bolted back the way she came from, and started to head down hill. I was able to watch as she went into some thicker stuff and didn't come out the other side. I had told my kids that I saw some really rappid tail movement in there and knew that she was completely expired from that one little tell 'tail' sign.
Again. Excellent!
Nice shooting Q. You can def see the shock from that .300 hitting your deer.

Posted Via AR15.Com Mobile
That was cool.
Awesome video.

That. Was. Pretty sweet!
Fantastic!
Very cool video. Thanks for tossing it up for us.
That was really cool man. Not often you get a shot like that on video.