Made a bad shot this morning.
Not sure what happened. It was a standard 20 yard treestand shot, I've made a thousand times. He took a step as I released, but I shot too low as well. The arrow passed thru the lower belly behind the rib cage. He was quartering away, so most likely got a piece of the liver too. Blood trail was almost nill. Couple drops here and there. Arrow of course was a passthru and had the telltale gut shot smell, so I did get into the body cavity. White belly hair on the ground. Followed the blood trail for about a hundred yards and then it just stopped. Last 2 drops were tiny. I put a call into a recovery service that uses tracking dogs. They said that we would need to wait 8-12 hours before tracking and that they would call me later. Anyone ever used any of these with any luck? I hate to lose a deer. Havn't had it happen in a long time, but it sucks, and I hate the feeling. It's a nice 8-point and I really want to recover it instead of leaving it to the coyotes, vultures, etc. I can pretty much guess where he will bed down. We have a swamp and real thick brush weedy area. I started to look around the fringes, but didn't want to risk kicking him up if he was bedded already. This stuff is over my head and thick as hell. I don't know if I could see him without actually stepping on him. If nothing else, I have tomorrow off and I will go to that area and take a machete with me and wack my way thru that place in crisscrosss looking for him. That's if the trackers don't come thru.
I'd guess your holes were temporarily plugged by stomach tissue/intestines/etc and that's why the blood stopped quickly. Sounds like you're doing the right thing by calling in the dogs to help.
Whenever I am helping track one that didn't DRT, I have always found them very close to a water source.
Usually within 15 yards of a pond or spring.

I agree that stomach tissue, intestines, etc.... plugged up the hole. I have found deer that "seemed to of rolled in grass" to help plug hole.

I would say after 4-6 hours after shooting, go back and do a slow track from last sign.
If you have one of those "Bicycle Flags", take with and stick in ground as reference point. Start criss-crossing from last sign.
Get down about 18 inches off ground and look for "Path". Back checking with the flag. Look for blood on back side of trees, limbs, grass, turned leaves.

I know this is basic tracking information, but I cannot tell you how many times it has allowed us to recover a deer.

As for the tracking dogs, I have only seen them used 2 times, and they were unable to recover the trail/animal.
1 simply lost the trail. The other went onto a large tract of property (anti hunting). (We kept watching over on the property the next couple of days, and lots of coyote activity, and Buzzard activity. So I believe that is where it died.

If I may ask?.......................... what Broadheads??????
If it was gutshot, it is dead by now. The tracking service was correct in requesting that you wait at least 8 hours. With a good dog, (and if you resisted the urge to go back and track before the 8 hours was up), you'll most likely recover that buck.
Good luck; sounds like you might haved peeked - it's not hard to do.
no luck finding him. no signs of bloody bedding areas, no gut piles like someone else came across him. nothing. dogs did circles for a few hours. i got exceited, because they started off great. scented off the arrow from the passthru and off they went following along the same trail i had maked out with trail makers when i was following the blood trail. they went right where i thought they would, into the swamp. from there the "trail" meandered around and around then the deer apparently(according to the dogs) left my property, onto the neighbors 100 plus acre tract, so we searched that for a while . never saw any more blood. was even looking for vultures circling. nothing. damned if I know???
I hate to hear that you lost him. Unfortunately, it is part of hunting and it sounds like you put in maximum effort to find him.

Posted Via AR15.Com Mobile
Well after sulking (my wifes words), for 2 days, I decided it was time to get back on the horse and get back in my stand. At 3:30 today it paid off. I saw this buck on the tail of 2 does this AM, so this afternoon I changed tactics a bit. Instead of being still and quiet, I decided to rattle and do agressive grunt calls. This boy came in looking for a fight. He was stomping so loud I heard him for like 5 minutes. He was snorting and the whole bit. He walked up from behind me right up to the tree I was in and stopped underneath the ladder! He smelled me and backed up and did a small swing around me of less than 10 yards???? He was so engrossed with looking for an ass to kick, I guess he didn't care. I couldn't miss or resist. Double lung, heart and broke his opposite front leg on the exit. He ran about 30 yards and crashed hard and never moved again. He is an 8 point, with 3 of them broken on his right side. His face and head had some old and newer scars, so he was a fighter. Dressed out at 140. Not my nicest buck or the prettiest, but I needed a confidence booster and he fit the bill.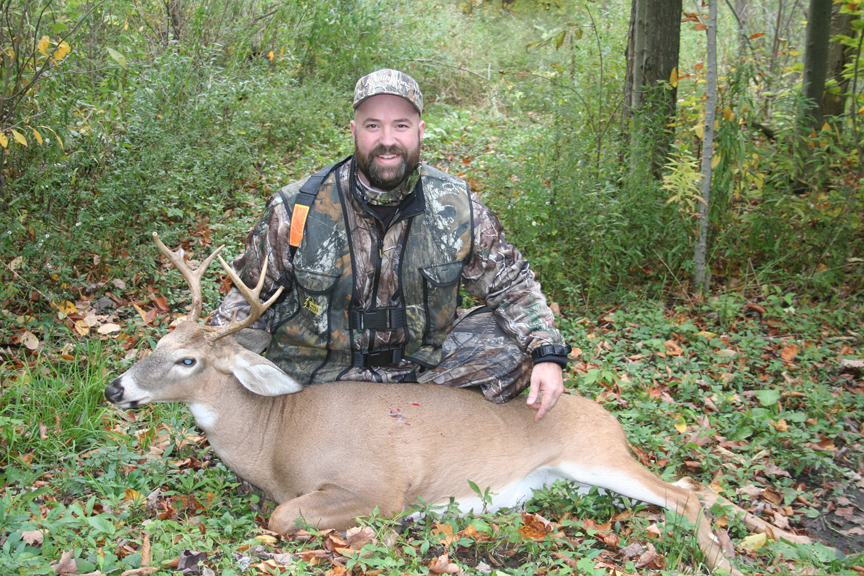 Looks like a good shot too - good for you!
I wouldn't beat yourself up over it. Shit happens.
RolandDeschain, when I first saw the update, I thought that you'd found the original buck.
You're right –– making a good shot after a marginal one sure boosts your confidence. Congratulations on a fine buck.
Great shot.....congrats!

Posted Via AR15.Com Mobile
Happend to me last year, its the worst feeling.. Odd part about it, I shot a buck 2 days ago, same stand, same range, same bow and he ran the EXACT same path, and left 1/4 the blood tail as the one last year, so I assummed the worst, found him less then 30 yards away,.. Sometimes you win, some times you dont... congrats on the other kill