Deer hunt this fall in SE Alaska, what .45-70 load?
I know the .45-70 isn't what people think of when they think of a deer rifle, but I'm going hunting in SE AK this fall, and hunting there is fairly unique. I've talked about deer hunting with my FIL at length (he's 76 and has hunted the area since he was a boy), and in his experience, most shots at the deer around there are within 50', and are usually through brush. The terrain is hilly and densely forested. He's taken most of his deer with open sights and most have been 'surprise' shots, and not after tracking for a while.

So, I think my Marlin 1895G would be a good choice. It has XS sights (peep rear, blade front) so it's very quick to target and I can hit a paper plate at 100 yds pretty reliably. It's fairly short and easy to pack around, plus I can load it any number of ways.

I have a variety of loads (405gr LRN, 350gr JHP, Hornady 325gr LEVERevolution), and I could make up something a little less cannon-like if needed. Would any of these be appropriate for deer, or should I work up a lighter/faster bullet combo? I can get bullets as light as 250gr, which seems a bit more appropriate for deer.

What say the hive?
Punch them with what you are used to shooting. What happens when you encounter a bear the load needs to be geared for that the deer will go down just fine with any of the loads you suggested however the leverrevolution is designed to fly better at longer distance. Good luck you should be fine.
I agree, shoot what you are used to shooting. whatever it is, it's enough for deer.

my favorite marlin 45-70 load is rem 405 gr sp over enough 3031 for 1800 fps. low pressure, good ballistics.
I'd load it with a hard cast semi wadcutter on the off chance you have a bear problem.
I guess I should stick with what works and not over think it. Based on what I have on hand, I'll go with a hard cast 405gr LRN bullet.
I went float plane fishing for salmon out of Juneau a few years ago. My guide was also a deer hunter.
I asked what caliber he used and he replied 300 win. magnum. I laughed and said why the hell
would you need a cannon like that. He said it wasnt for the deer, per se, but the brown bears that
come running to areas where shots were fired. He said the bears (at a minimum) are going to
get the gut pile, and if they get there fast enough they may get the whole carcass.

He wasnt joking either.
I'd use a .375 Holland with a 250gr Bear Claw. If I did use a 45/70 it would have a 400 gr or heavier bullet of stout construction.
The 45-70 is a very adequate deer rifle. I have a Marlin 1895 guide gun, and have used it on deer hunting trips, hog hunting trips, and to track wounded bear.

I prefer to use the 405gr. So far, those rounds have done everything I have needed them to do.

My 45-70 is my "DRT Gun"–––– Dead Right There.

First time I ever shot a deer with it. I was watching a field, and some deer started across the field (about 15). There were 2 bucks small 6pt, and small 8pt in the group, so I let them pass. But I wanted some meat to take home, and since it was my last day, I decided to take a big doe.
I sight in on her, at about 35 yards. They were running and I pulled the trigger. She flipped sideways. I don't butt over head, I mean she totally rolled sideways/flipped. DRT. When opened her up, broke the shoulder, disintegrated the heart, collapsed the lung, and broke the leg exiting. Meat damage was very minimal, if any really.

ETA:
There are some postings on teh 45-70 within this forum, do a search for them.
Hi everyone,
Just sharing some info !
There are better options , with " New Bullets " on the market !!
" North Fork: Cup Point Solid ".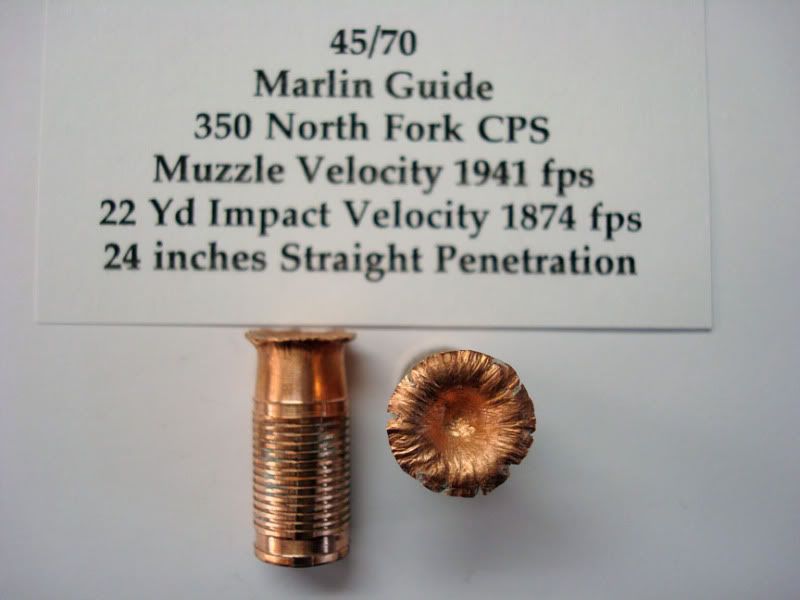 The test results were a consistent
straight penetration
, and it does expand a bit, just like a hollow point.
Another " New and Improved Bullet Design " in the works.
Solid & Hollow Ponts
CEB Solid ; 43-44 inches of
straight penetration
The " Cutting Edge Hollow Point Bullets " , were designed to expand .., shed its petal (blades/shear), & then acting as a " Solid " ( Rear Shank ) continue penetrating straight, without deforming..!
Example: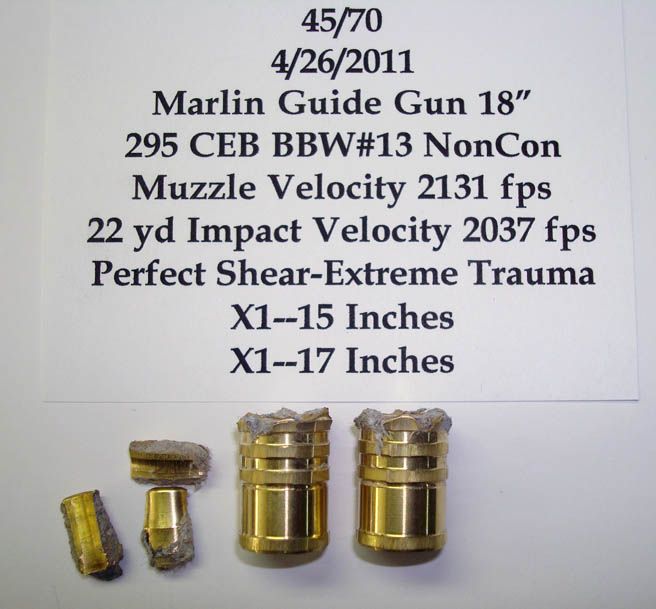 " Our little 295 CEB BBW#13 NonCon HP is able to churn a bit more velocity as you can see, in the Marlin, but because of it's weight the shear is at 1700 fps impacts.
Again, about 100 yards is as far as you can expect the blades to shear
. This bullet at 22 yards caused massive trauma to the witness card!
Close range under 50 yds, this is devastating, all the while giving excellent penetration!... Michael "
The " 295 grn & 370 grn #13 Hollowpoints " are not listed on their website.
http://site.cuttingedgebullets.com/show_weights?caliber=.458&category_id=7
They might be still working on the pre-production " Marlin Guide Gun ; R&D Testing Phase " ..?
Details on " CEB HP Bullet Design "
http://site.cuttingedgebullets.com/bullet_detail?id=67
Complete Details on the " Independent Testing " : 175 + pages of information
Accurate Reloading
http://forums.accuratereloading.com/eve/forums/a/tpc/f/4711043/m/2861098911/p/154
After reading all of the posted information, . I wouldn't consider using any " Lead Bullets " anymore, for " Big Game Hunting " , when there's a much "
Better Bullet (s)
" to use..
PAPI