bicycle mobile?
Anyone here ever done bicycle mobile? If so, show me your nerd bike!
Are you going to run your FT-817 bicycle mobile?
Yeah I'm thinking about it. I definitely want to get a Yaesu FTM-10 and mount the head on the handlebars. I first want to change out the drop bars on my trucker to a flat bar.

Some day I want to do HF bicycle mobile on the Katy Trail here in Missouri. Yes I'm a nerd.

When I was a kid-nerd I'd do bicycle mobile on 2 meters. I duct taped my 2m HT to the handlebars, put a mag mount on the rack, a 6V lantern battery on the frame, and used a mic headset. Used to get weird looks on the bike trail
I've done a lot of APRS motorcycle mobile.
2/440 on the handlebar. N9TAX antenna on the flag. APRS in the box with the 1/2 wave larsen. IC703+ and buddistick and LiFePO4 battery in the backpack. (hiking stick for mounting the buddistick) Camping gear in the Bob bag. Does this make me a nerd? Solar panel and controller to charge batteries not shown in this picture.
I will have one similar to this at Dayton for the BMHA forum and ride.
If I get the separation cable for the 703 I will have HF available while riding too.
Anyone have a 706/703 separation cable they want to get rid of?

I'd like to get one of the new Elecraft KX3.....not that I would try it bicycle mobile though.
Or I may just have to look for a used FT-817, as it seems everyone is dumping them for the new Elecraft. Maybe I can steal one cheap.
Here is my new 29er. Right now its just a Wouxon mounted to the handle bars with the tag bracket that came with the rack system. I would like to run some wires to the rack for an external battery and mount an antenna on the rack as well.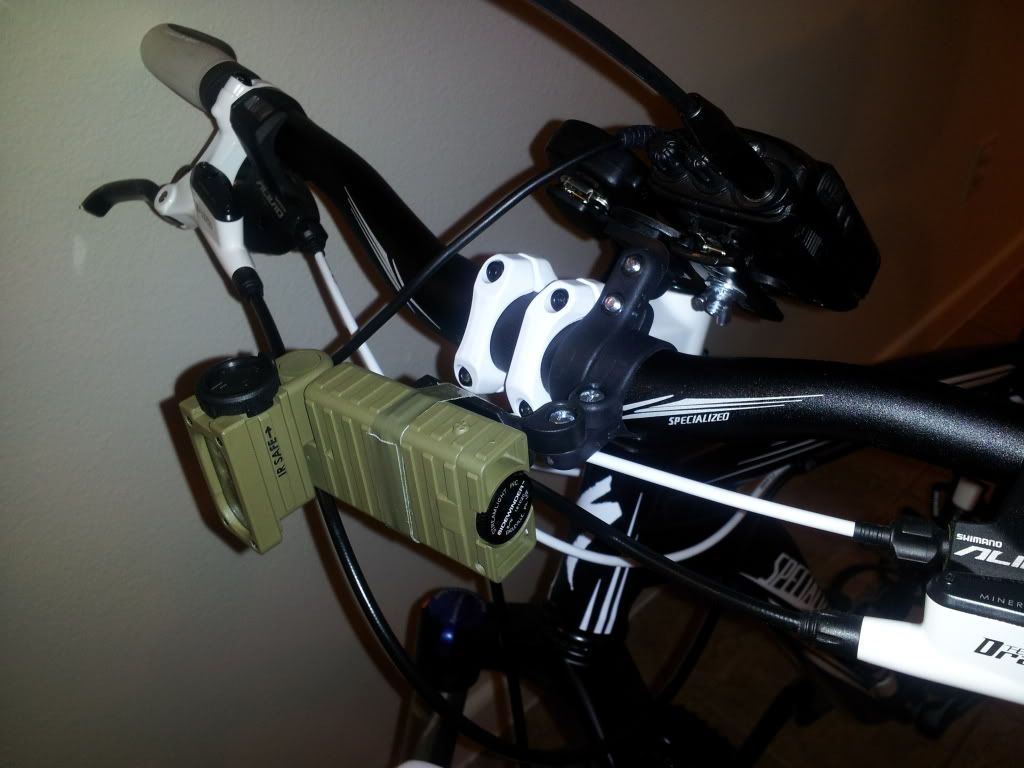 I have thought about mounting my outbacker on my bike and running my 7000 in a backpack with the faceplate on the handle bars. wouldn't be great, but it would be less work to set up and tear down.
This is how my bike looked when I got home from my 101.4 mile trip yesterday. Only radio on this trip was 2 meter HT mounted behind the seat next to the right pannier.
Thread about the ride is in GD.