what am I missing? First Big game hunt
I've posted a couple threads with questions regarding my first elk hunt: Colorado, 2nd rifle season, unit 591.
I need just a little more help. I am getting all of my gear together and I don't want to forget anything.
Here is what I've got so far.
Moisture wicking base layer top
Polypro bottoms (not pictured)
Rocky Timberline 800g boots
Timberland chocorua gortex boots for my finace who will be our dedicated camera woman.
smartwool socks for both of us
earth scent stuff to throw in the tupperware once everything has been washed
compass
hand warmer pouch
elbow length gloves for skinning (I've never cleaned an animal before, cut me some slack)
beanie
game bags
RAT RC4 knife for skinning. I also have a gerber 3.5" fixed blade with a small gut hook (not pictured)
surefire G2, coleman LED. Is a headlamp worth having?
Rocky fleece 2nd layer. sleeves can be unzipped to form a vest
hot shots mitten that fold down to reveal half gloves with exposed finger tips
dream season scent elimination body wash, shampoo, clothing spray, and deodorant
scentlok pants
scentlok pants for my fiance
Not pictured is her jacket, a waterproof field and stream camo jacket and my issued gortex BDU jacket which I will use instead of dropping another $100. I've also gotta find my binos, I have a pair of 16x bushnells, I was hoping to pick up a smaller, better pair of 8 or 10x leupys. It would have also been nice to afford a rangefinder. My hunting partner is a retired Army sniper so I'll let him eyeball it as neither of us a taking mildot scopes. I know I need a bone saw, I could use a recommendation on a decent one.
I have yet to pick up any blaze orange, vest or beanie.My fiance has also yet to find a pair of gloves or mittens she likes and can use while taking photos on her new canon T1i
I was told to pick up a hip pack or small backpack since we will not be camping and my hunting buddy has a chevy silverado 1500 and a polaris ranger side by side to help hauling out meat if we are successful.
Browning X-Bolt Stainless walnut .30-06, Talley rings, Zeiss Conquest 3-9x40mm rapid z-600 reticle. Ammo will be 180g Federal Premium nosler partitions.
Low velocity backup gun is a remington 1100 with 2 3/4" Brenneke slugs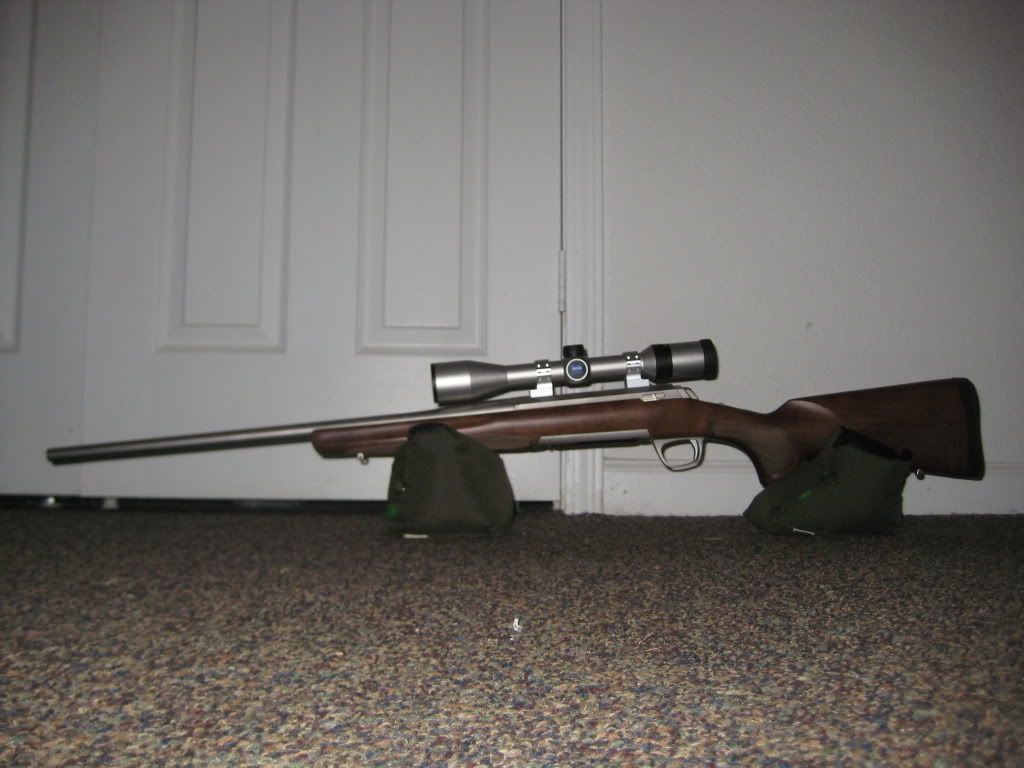 Maybe a GPS and a camelback could come in handy.
A headlamp is great to have.
If you may have to pack out meat you need a frame pack for everyone hauling. I seem to shoot my elk in places I can't take my wheeler to.
For a bone saw I just keep a folding camp saw in my pack like this one
http://www.amazon.com/Coghlans-8400-Sierra-Saw/dp/B000LC2PO6/ref=sr_1_fkmr1_1?ie=UTF8&qid=1287463965&sr=8-1-fkmr1
Backpacks with a hydration bladder are a must have for me.
A set of clothes for when it isn't so cold is always a good thing to have around,being the Rockies,you never know what you are going to get for weather. this goes for boots as well. There isn't much more miserable than wearing heavily insulated boots when it is not cold out.
Good luck and have fun!
I have found a folding fillet knife VERY handy when the elk hits the ground. One problem I have with hydration packs is you dont know how much is left till you take the last sip.

Means to start a fire is a must I always carry a very small survival pack cause you never know. We have built fires to warm our hand while boning elk in some nasty cold snow storms.
some things i always take : sewing kit,extra ziplock bags, tape either duct or electrical, some rope, hand sanitizer, those are some of things i didnt see mentioned that are always helpful things to have
I'd opt for real boots vs. hiking shoes. If you get into snow - and you should, you'll be glad you did.
www.danner.com
.30-06 has killed a lot of Elk, but I'd opt for a magnum caliber. It will give you much longer range and better knock-down power.
Have a good hunt.
I'd put a sling on that rifle!!! How far will you be hiking in? Lose the extra weight of the scent away spray or cover scent or whatever that is.....Replace with water bottles!!! You won't make yourself scent free, no way, no how....Hunt the wind, and be glad you have the extra water when ya have to pack one out!!!!
I do have a sling on it, just not in the picture. Fire starting tools is a good call. I wouldn't bring the scent elimination stuff, just use it at the begining of the day.
The rocky's are mine, 800g of thisulate and waterproof should be good. The timberlands are for my fiance. Goretex, waterproof, and great looking soles. We had to find a compromise between fashionable, and useful. She won't always hunt with me and she needs boots that can be for general hiking as well. You can't win em all, I just hope they work for this weekend!
I certainly hope you have hiked miles in those boots and have them broken in. Otherwise neither one of you will be doing much hunting as your feet will be to blistered to walk. Nothing will ruin a hunt faster than sore feet. I learned the hard way at a young age do not use brand new boots and hope you break them in at camp. As long as you are walking the heavy insulated boots are not real necessary. I have a few pair of boots that I take and leave in camp. When out on the hunt I use a pair of well worn goretex hiking boots from Lowa and for around camp I like to wear my insulated boots. My feet sweat to much for insulated boots out hiking in the hills. I also use leg gators in case I am run into deep snow. Lots of water, snack food, toilet paper, matches, communication gear, chap stick, sun glasses, fire starter, map of the area you are hunting, compass or gps with extra batteries. Thats what I can think of off the top of my head.
Sounds like Pallidin's feet and mine have walked in the same boots...so to speak...lol!!!

Put self adhesive Moleskin on your list, just in case!!!
Some survival gear would be great: matches, space blanket, compass, extra knife, disposable camera.
Palladin8 very good point on breaking the boots in
It is sissy pogue gear, but I throw one of those hot-seat cushions in my pack. If you are trying to sit still and glass, I can last a lot longer when not sitting on snow/frozen rock/icy tree stump.

Don't need a magnum for elk.
I don't see a lightweight collapsible bone saw in there.
Headlamp was already mentioned. Get one.
Bring some spare rags to clean up with.

Don't forget the blaze orange.
I would recommend the Wyoming saw as a good all purpose saw. I have the smaller folding saw that collapses and stores into a scabbard. On binos I have found that anything over 10X you need a rest or bipod as the higher magnafication really exagerates the shakes. You can pick up a small pair of the Steiners for pretty cheap. Other good brands that won't set you back to much are Burris and Wind River. Wind River is made by Leupold but over seas. I have one of their spotting scopes and wouldn't hesitate to recommend them. You can find pretty good prices on binos and scopes at bear basin outfitters or SWFA. They are about the lowest I have seen and I have ordered several scopes and other items from both companies and will say they are good to deal with.

As far as my feet are concerned, after serving 6 years in the Army and walking countless miles I am a firm believer in well broken in boots. At least now that I am out of the Army I can buy better quality footwear and my feet don't suffer as much as they did in the general issue boots. I like my Lowas and like my Danners as well. For hiking around though the insulated boots end up causing me to sweat to much and end up with either hot spots or blisters, neither of which are fun.
I'm Army and I invested in quality footwear! oakley assault 8". they feel like wearing tennis shoes all day. I may bring those as a backup pair in case there isnt snow, but they are hot weather boots so my feet may still get cold.
We've both been breaking in our boots the past 2 weeks, mainly around town but 1 hike in the mountains.

The guy who is taking us says we won't be hiking more than 2-3 miles at a time. No elk, drive to a new spot. etc.
I picked up a gerber bone saw and some blaze orange.
Walmart sells 18pks of "kitchen rags" for like $4. I may pick some of those up and bring some for general cleanup.
I may have to get a headlamp. that sounds like a quality investment.

I haven't had the budget for a spotting scope or range finder. That's the reason my fiance isnt hunting either. I want to get her a tikka and I've got the hookup on burris scopes but still, it ended up being too much to swing this season.
Spent yesterday at the range, even though the winds were strong. checked the zero with the nosler partitions. Everything is good to go. I'm super excited.
Based on last week, I wish I had a small pocket sharpener for my knife. It got a bit dull towards the end of gutting and skinning.

Smaller cordage would be good to add. Some people use zip ties to attach the tag to the animal. I like piercing the ear and attaching my tag with some bailing string.
Take a sharpener of some sort, knives get dull. I always take an extra jacket or shirt and stuff it into a small backpack with my other crap. I also take the bare minimum for staying "out" all night because you never know. And you need tp.. Never leave home without it.