Need some help locating where I can procure this item…
About 10 to 15 years ago I came across 2 of these containers that were used to store parachute pop flares. These things are great for storage of small parts and as small survival kits. They also work well for the storage of spare bolt carrier group or storage of .22 ammo for the rodent gun of your choice.
Any way I lost 1 of what I had and I am now down to 1 that I am using for .22 ammo storage fro my camping pack and would like to procure some more.
Do any of you use and or have any Idea were I could obtain some? I've scoured the .net to the best of my ability and could not find any.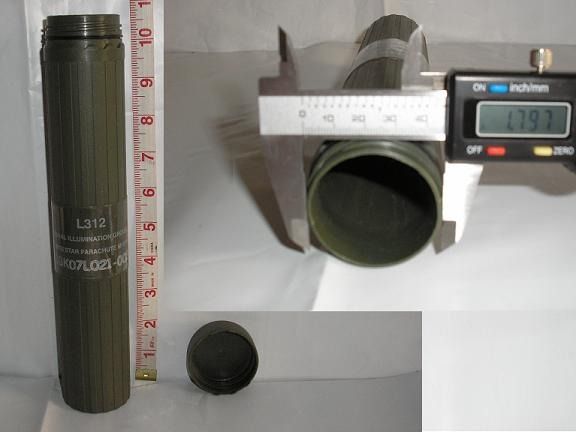 Bblake,
I'm going to tag this. I just might come across some.
If I do, I'll IM you.
/SideSalad
That would be [Eddie from Leave it to Beaver] ]really swell [/Eddie from Leave it to Beaver] if you happen to stumble across some.
As an aside the one I have left, although it works great for 22 ammo storage it will also hold a Glock .22 conversion and about 50 rounds. I just use some duct tape to secure the magazine to the side of the tube.
These things are some useful little bastards
I get them now and then- next time I do I will post them in the EE.
why not just get some 2" PVC an end cap and a screw cap to get to the same end result? thats if you cant find some.
or to your local book/stationary store and buy a similar size pvc poster tube.
I think I've got a crate of them... let me look at my dads place and i'll let you know.
Originally Posted By KrazyL:
I think I've got a crate of them... let me look at my dads place and i'll let you know.
If you find them, I'd pay to get a couple... after the OP gets what they need, of course.
I would like to get 4 or 5 as well. Put me on your list.
These work great for storing .22 conversion kits for your AR.
I'd buy a couple.
I'm in for a couple.
CHeaper than dirt had some green storage tubes for a while. Trying to find it for you now. NVM they are huge and expensive.
What about a marine style dry box?
West marine
Uline might have something you can use