Generator startup vs running watt ratings and circuit wiring question
I have my interlock kit wired with 10ga wire and using a NEMA L14-30 inlet/outlet. I also have a watt meter installed that will go up to 7500 watts.
I'm finding a lot of generators that have a 6800 to 7000 watt running rating but then have an 8250 to 8500 watt startup rating.
Would it be safe to use these if I made sure I didn't exceed the 7500 watt rating of my wiring?
These are two that I am considering as I would like to have a Honda engine or a Yamaha as a second choice:
Honda
Yamaha
If your wire is rated at 7500, a small amount of time (electric motor startup) at 8500 watts won't hurt anything.
10 ga wire would have to stay at 8500 for awhile before its going to even heatup. I would guess at least 15 minutes if not longer.
Don't sweat the generators startup rating, just go by the continuous output for your wiring.
The breaker will trip on the generator if you get things too hot, and that being the case, you need to cut back on the amount of items the generator is running.
That being said, the wiring is going to be OK.
If you look at the pictures below, this is my mom's generator, and it runs on 10 ga wire, look at the continuous rating (7550 watts) and the starting watts is 13500 watts.
It has never even gotten the wires warm on hot days, when the power is out. And she runs everything in the house like the grid is still up, shes rough on that poor generator,
on the amount of power she expects out of it.
10 GA wire and plug
That is good to know as I'd hate to waste 20% of the possible wattage by getting too small of a generator. It looks like the Honda then and maybe convert it to propane some day. Now to find one......Sam's is difficult on that front it seems from calling around. I also only have 3 in my state
One other thing I forgot to comment on.
Yamaha engines are good engines, however Honda engines are tougher and seem to take more abuse.
My advice is if you have a choice go with a Honda engine.
Also you will find more Honda dealers than Yamaha dealers, which means more parts if something were to break.
Thats what I use on my personal backup power.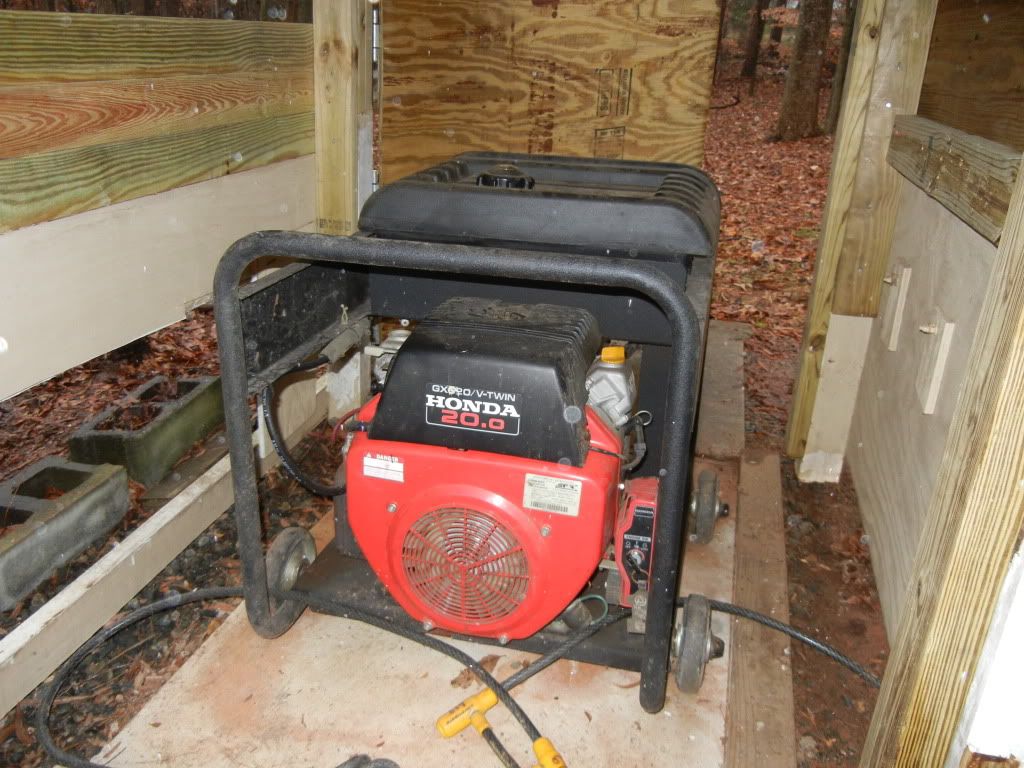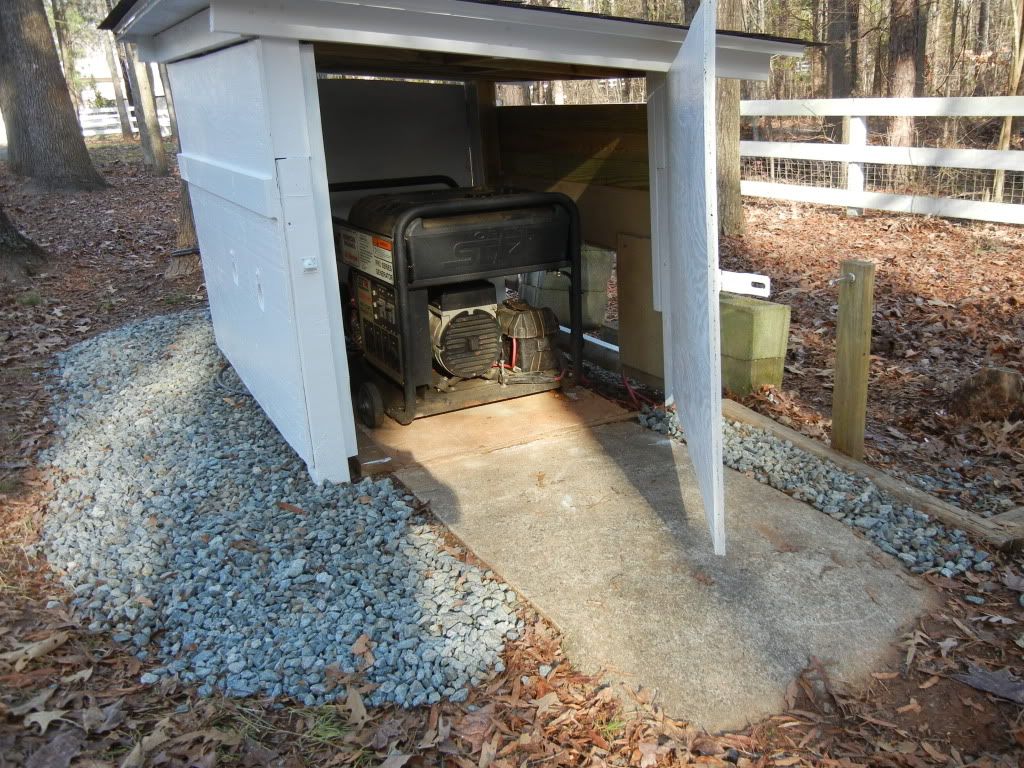 That looks like a great setup. I also need to build a shelter for mine when I get it.

I have heard nothing but good things about Honda engines.
I found out that my local Sam's carries
Generac XG7000E
generators for $899. It looks to be what I am searching for......what does everyone think of it? They don't have it on their website but everywhere else I have found them they are $1150+ it seems.
I think Genrac makes excellent generators now.
I remember whan they first come on the scene big. Even though they been around since 1959, they did'nt make an impact on the market till the late 1980's.
At that time they were junk IMHO. Then in about the late 1990's they started making better and better gens.
I bought one of their gens in about or around 1990 and it was junk, it worked but was a bear to crank.
But all the ones I see they produce now seem to be great gens.
Well, it's mine now.. I talked the wife into it and we ran to Sam's and got it. $961 OTD whereas even Amazon at the cheapest was $1129 shipped.
I couldn't really find anything negative about it. The generator itself is marked "Made in USA" but I haven't looked on the motor yet.
Crappy cell phone picture...
You will be happy.
Congrats.
I am curious if you have to choke the engine everytime you crank the engine weather its warm or cold.
It seems that the better engines will crank without a choke when warm, where as the cheaper engines need to be choked to crank warm or cold.

ETA: All engines of course need to be choked to crank when cold.
Thanks!! I hope it works well.

As for choking in warm weather I can let you know in about 6 months when it's not balls cold here :)
Hope you've got lots of fuel stored for that thirsty beast!!


Originally Posted By ColtRifle:
Hope you've got lots of fuel stored for that thirsty beast!!
Only 35 gallons but I plan on converting it to propane in the next year or two once I figure out what carb to get and want to spend a couple hundred dollars.