Ok, I got the knife... now what.
I went with an Esee 4 and one of their AH-1 arrowheads. I originally bought a Esee 6 but sent it back cause it was just way to big for me to use for any small tasks (ie it was LARGE) so I went with the 4-DT instead. Eventually I am going to buy the Junglas to put on my pack. Anyway, along with those 2 pieces I added my firesteel. I have a couple PJCBs to put in but might find some other tinder instead of that stuff... it's pretty messy. Any ideas on what else will fit in there? Pics would be helpful. How can I protect the edges of the arrowhead? Wax maybe?
Look on Ebay, there is someone that makes kydex sheaths for the arrowhead.
Can anyone explain to me what the arrowheads are used for? (besides making an arrow/spear in a pinch)
Look over at the kydex thread. A little scrap would make a great guard....I'll send you a few scraps if you wan't

Other ideas....

-I would look for a good quality pocket sharpening stone to keep with the knife if possible.
-Polish the inside of the tin for use as a signal mirror.
-You can boil, cook, and melt things in the base of the tin
-Wrap the closed tin with good quality tape around the seam to waterproof it.....and have tape to use.
-Compass
-needles
-small hemostats
-small emt shears
-quickclot pad

Just a few thoughts....nice knife!

Thanks for the tips/ideas.
You should take a tour of their forums. You can find the link on their website. Some of the guys use the AH1 as a strikers to the fire steels. Esee is a great blade and you will enjoy it.
My 'Pop wanted me to show you his kit:
We're building his kit right now.
I have to say this is a nice knife. It feels good to hold. The handles are soft but not. It's just right for my hands. I like what I have read and watched on youtube, and I don't plan on using it in some of the ways others have on youtube... Destruction tests are awesome! That is what helped me decide to get the esee after all.

I just wish Michigan would relax a bit on knives so we could carry a fixed blade... I would carry this with a folder all day long.

I really want to get a few more Esee knives though like the 3-Mil and Junglas!
What are or is there any differences in the Esee and Ontario Rat?
Looks like the same knife with different names on it.
Ontario is a different knife maker and some folks do not care for them much. Seems some of their product is not up to par. I just go with the original and never have problems.
Add some Tinder Quik Fire Tabs in place of the PJCBs.
Originally Posted By 1fromtx:
What are or is there any differences in the Esee and Ontario Rat?
Looks like the same knife with different names on it.
Ontario and the Randall A&T folks (now Esee, and RAT Cutlery before that) had some bad blood a few years ago, and IIRC, the icing on the cake was Ontario outsourcing the RAT folder to Taiwan.
Since both are still making essentially the same knife, I am
guessing
the heart of the problem is Randall A&T didn't read the fine print in their dealings/agreements with Ontario and didn't like the direction Ontario was taking 'their' knives.
http://www.eseeknives.com/history.htm
http://www.ontarioknife.com/catalog/category/16
I have one of the Ontario RAT 3 knives and it is a great all purpose blade around camp and skinning deer.
Originally Posted By Bhart89:
Can anyone explain to me what the arrowheads are used for? (besides making an arrow/spear in a pinch)
I was wondering that as well.
Go to the jungletraining forums theres alot of good stuff on Esse knives.I have a few and their great knives I also have a Junglas and its a beast.The arrow heads can be used for not only making an actual arrow but some use them as a small backup to their primary knife and also as a striker for their fire steel.Again maybe to most its a novelty but out in the woods in a survival situation it may come in handy.
I would just fold a double layer of gorilla duct tape over the arrow head to protect it and you'd have a little extra tape for bandages too. Use spray adheasive to glue a piece of 400 or 600 grit emery cloth to the back of the tin for edge maintenance. As far as to put in the tin remember what will kill you quickest and go for stuff in that order. 1) shelter 2) water 3) signaling. For shelter I put a trash bag or survival blanket and cordage along with fire making. For water I use a couple of gerber breast milk bags and a few water purification tablets. For signaling I use a small mirror and a whistle. Then you can do a few first aid items. Good luck.
look up esee izula. i have one and its one of my faves
poor man's kydex... cut out a piece from a plastic milk jug to fit the arrowhead and wrap many times with duct tape (tape storage).
This is my EDC and use it daily at work
Using a Smiths Pocket Pal to keep it sharp at the moment and it works great.
Great knives, start using it
I've updated my old deployment IFAK and just took some photos last night during a lock-down.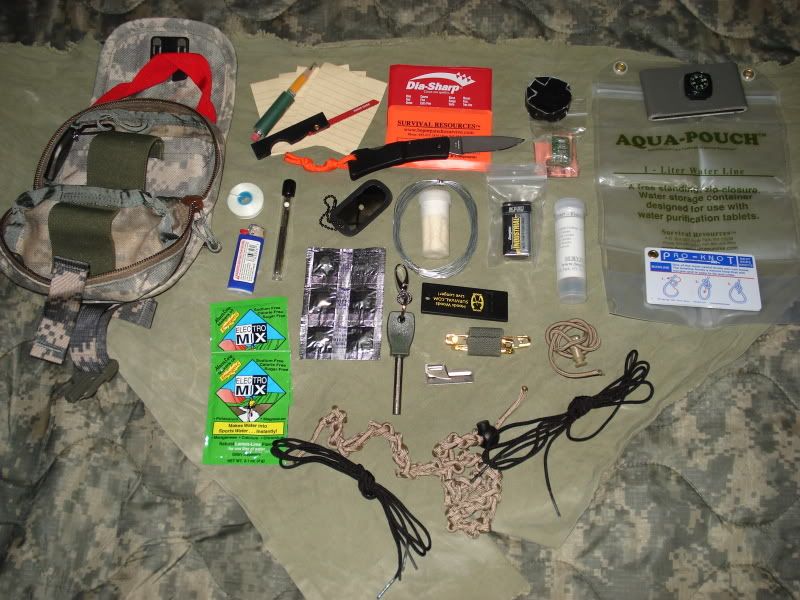 Small tin like that could hold quite a bit of essential kit. I like cottonballs and vaseline, but you need to put them in a small ziplock bag and squeeze all the air out. Another option are those Quik-Tinder bundles (waxed cotton).
Some other recommendations:
Whistle
Needles
Dental Floss
Safety pins
Mircropur tablets
Fresnel Lens
P38
Mini signal mirror (about the size of an ID Tag)
Flat role of 100mph/duct tape
Mini Bic lighter
Small folding saw or folding razor
Small role of snare/utility wire
ROCK6