As Tuesday approached I became more excited. This is because I have not been able to fish a river for about a month. Far too long of a time to go without feeling the tug of a 20" trout on the end of the line. Yes I have been fishing but honestly bass in a pond isn't the same for me.
With the sun rising later I did not have to get up too early to reach my destination. I rolled out of bed at the crack of 0500. After loading the car I headed over to pick up Jeremy. We were both pretty stoked to fish this river now that the water was wadable again.
We reached the river before the sun had made it over the mountains. Once we were geared up we headed down to the first run of the day.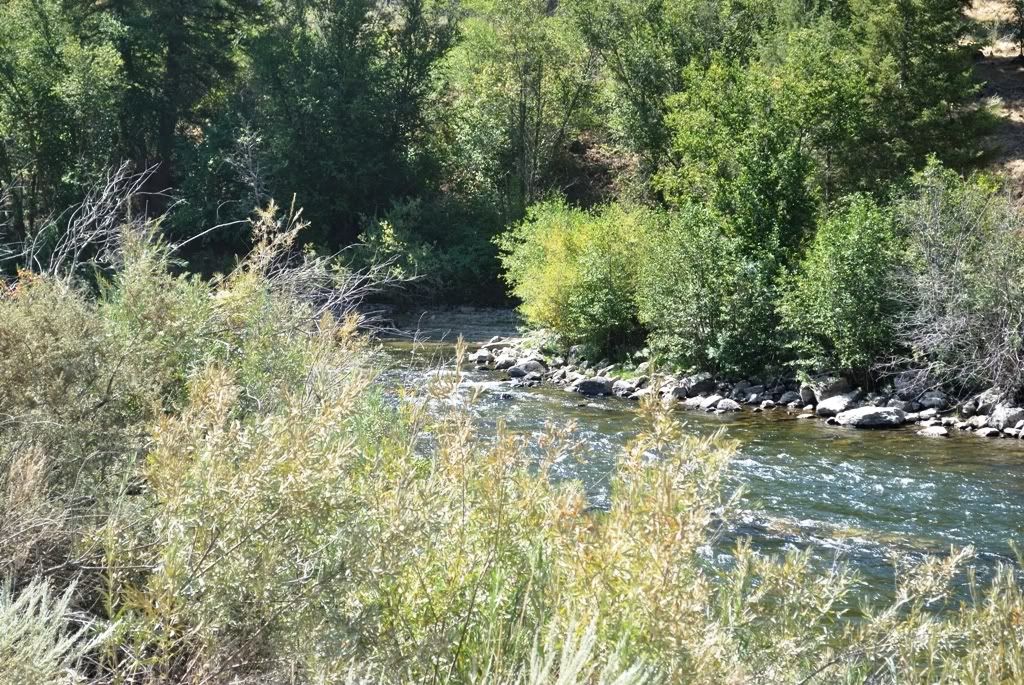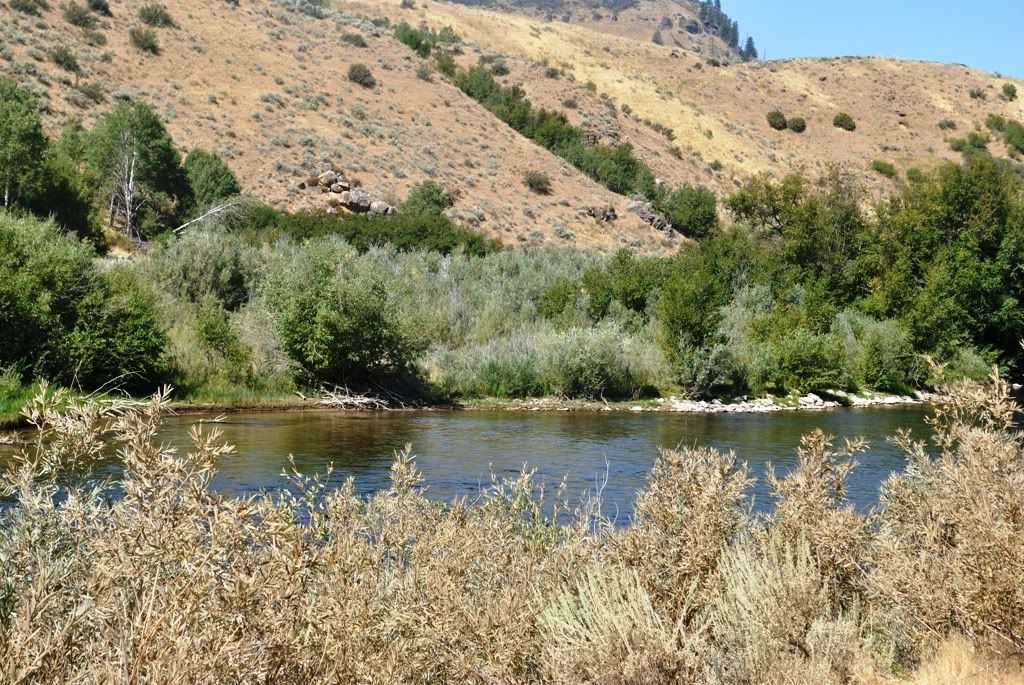 This run is nice and big with plenty of fish. It is the type of place that is perfect for two anglers. Today I decided to leave my trusty 0wt rods at home. I really wanted to throw my bigger rod so I decided to start the day with my 10 footer.
After making a few casts I got my first strike and set the hook. From the way that the fish was head shaking my thought was whitefish. Despite fishing a heavier rod this fish was putting a serious bend in it. The fact that it is sensitive was nice too. The "fish on feel" was excellent. As it got closer it was confirmed as a whitefish. I scooped him up in the net looked at the size (19") and sent him on his way.
Not long after that I hooked up with another whitefish, I landed and released him as well. Then out of the corner of my eye I saw a fish break the surface in the middle of the river out in the main current. Damn I am not set up for dries on this rod and my dry fly rod is back at the car. So I said screw it and cast to the general area where I saw the splashy rise.
After I set the hook this nice sized bow took to the air. I fought him for a little while and started making ground. He decided to run again. I felt a really good tug downward followed by a run. I felt another set of tug and run when my line went limp. WTF just happened I thought to myself. Upon winding in I found out what happened. My 4x snapped; however it didn't snap at the knot.
Hmmmm bad tippet? Maybe. So I decided to say screw it, threw on some 3x and went back to fishing. I decided to check out the middle section of the run and rest the top for a few. After hooking and LDRing another whitefish I went back up top.
Fishing the fast water again proved to be a good call. Not long after I went back up I was able to hook into another fish. From the fight I thought trout but was cautiously optimistic. This guy was fighting quite nicely. In fact he was fighting exactly like the guy that broke me off. This time there was no break off and I landed this nice 4" rainbow.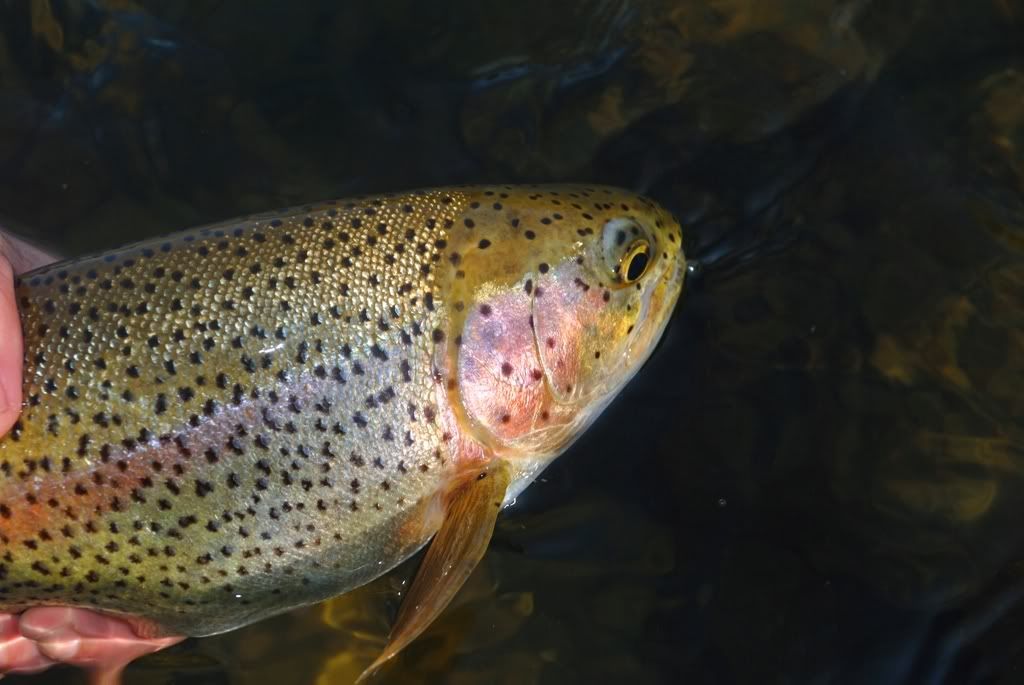 And the release
Not long after that Jeremy was able to hook and land a nice fish on a dry. Unfortunately he was on the other side of the river and I left the other lens back in the case in the car. So no pic of his fish. After a while I decided to check out the other side. Now normally I fish this river when it is in the 300s. Today it was in the 600s so crossing was a bit different than usual.
On the other side the fishing is a bit different as the currents make it hard to get a good drift. I had been fishing the top of the run unsuccessfully when I decided to move back down. This proved to be a good and bad move.
So there I was fishing the lower portion of the middle of the run when I thought I was snagged. I raised the rod and felt what seemed like small head shakes. Oh I must have a little guy I thought so I started to strip in some line. Then What I thought was a tiny fish decided to show his true nature and took off. He not only put a deep bend in my 7wt, he also was peeling line off at a rapid rate. I tightened the drag a bit on my reel and began to fight him. I would make some ground and then he would make some. I did manage to get him close enough to see once and it was a very nice rainbow that was over 24. On what ended up being his second to last run I said wait a minute. I have 3x on and I'm fishing a 7 not a 0wt time to put the wood on him.
So after he was done with that run I started to horse him in. Well he didn't like that at all and ran again; well I decided to keep the pressure on him. Well I ended up feeling the line go limp; after multiple cuss words I reeled in. No the fish did not break me off, nor did he get off the hook because it was barbless. No the fish ended up straightening the hook.
We decided it was time to move on. As I was wading back across I was casting for the hell of it. I ended up hooking and landing a little 15" bow. Sorry no pics as I had my camera tucked deep while I was crossing the river.
The second run was interesting. My first fish was a 6" rainbow and my second was a sucker that was too big to fit in my net. Then I saw something interesting, I saw some nice bright red fish swimming around in the pool I was fishing. I tied on a nice streamer and went to work trying to hook one of these red bastards. Well I didn't hook one before we decided to move on. As we drove back by the first spot we saw a truck in there. Dammit going back there would have been fun as there were still plenty of fish in that run.
The 3rd spot just sucked. Other than a LDR of a dink there was nothing else that happened. We decided to go back to the first spot and see if the people were gone. Well they were gone. Long story short there were a ton of the red bastards there by this time. What was odd is they were rising (never seen them rise before) as there was a nice caddis hatch. Well we both tied on caddis however neither one of us had the exact color pattern of the naturals.
Yes they were rising but I am not totally sure that they were actually eating anything (they don't eat when they move upriver to spawn). Well I became totally fixated with catching one and spent the rest of the day trying; yes I could have "caught" one but I wanted to do it the legit way. As the sun began to go behind the other mountains we decided to call it a day.
Sorry for the lack of pics this time. I pretty much spent half the day fixated, trying to catch those guys. This is the only other pic I took that day.