It was a little different type of day today; you see my four year old son asked me to go fishing. This time I decided to take him creekin for the first time. After breakfast I packed the car, got my son in his booster seat and we were on our way.
The drive was fun as he was very excited to go fishing. He was asking me all kinds of questions; from what things were, to what fish we were going to catch. After a while we turned off on the dirt road and headed towards our destination. He commented that the road was fun (his had nothing at all to do with my driving whatsoever).
We arrived at the parking spot and got out. I grabbed my camera, rod and pack. He needed to use the restroom, good thing there is an outhouse at the trailhead.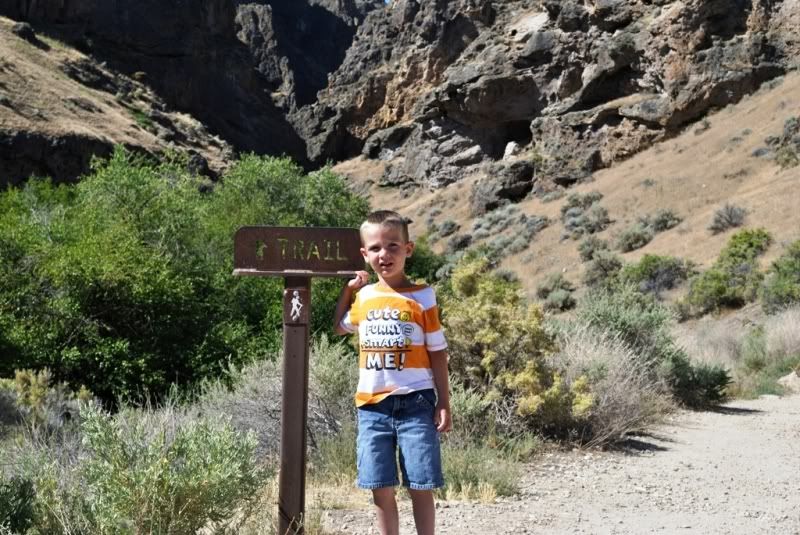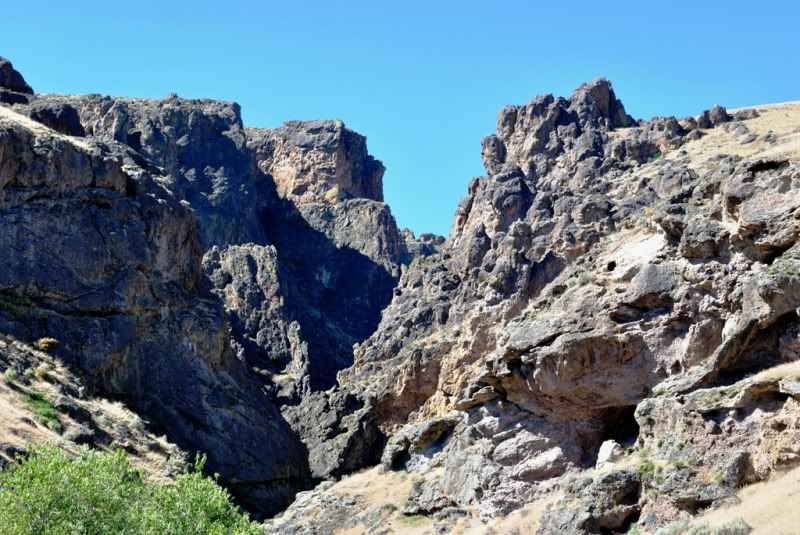 As we hiked back into the spot we were going to fish I could tell he was having fun. He was asking all kinds of questions about bugs, plants and various things. He mentioned that he was having so much fun.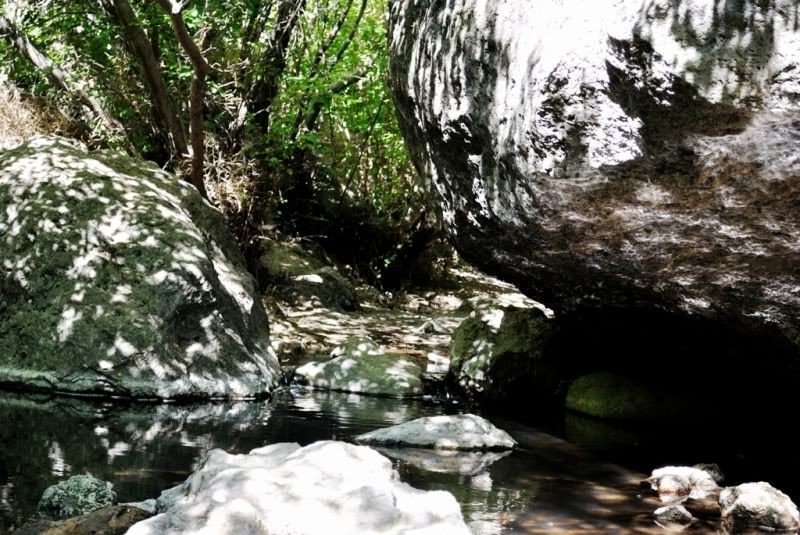 A little while later we arrived at the spot we were going to fish. I took my pack off, got my rod and reel out and began to get geared up. For today I decided to go with the ole trusty stimulator for guaranteed success.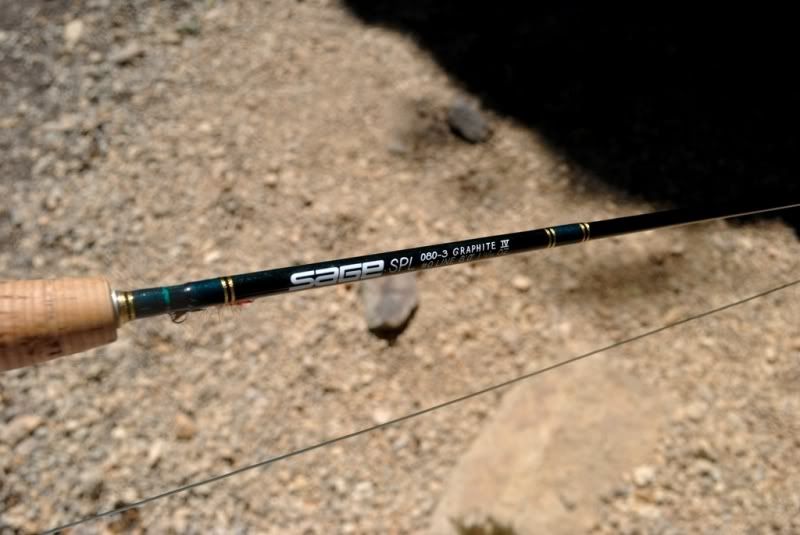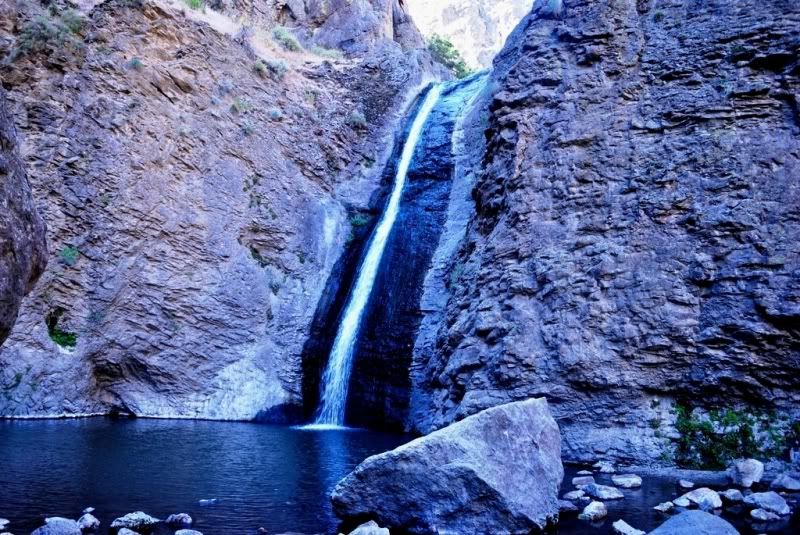 My son said that he was a little hungry and thirsty so I set him up with some snacks and some water. He stayed right next to me as I made the first cast and sent my fly out into the water. The big bushy stimmie drifted and I saw a nice splashy rise. Unfortunately I missed the hook set on this guy. Oh well I thought and went right back at it. The next couple of casts all had the same result as the first.
My son asked me why I had missed the fish. I told my son that sometimes you miss when the fish eats the fly; he replied "its ok dad we will get some". I then sent my stimmie right up against the cliff face and there was a nice splash. I set the hook and it was fish on. When I landed this cool little redband my son said "see I told you dad".
We fished this one spot for a while catching a lot of nice little redbands. However as my son is only four we could only sit in one spot for so long.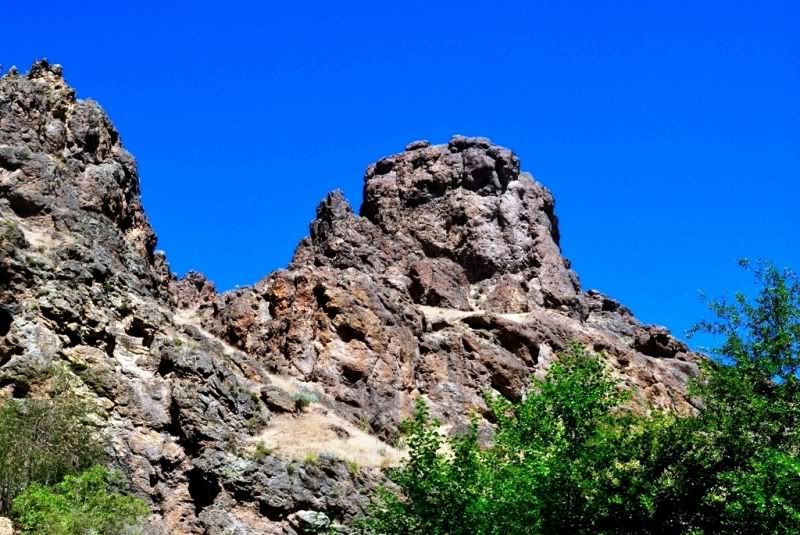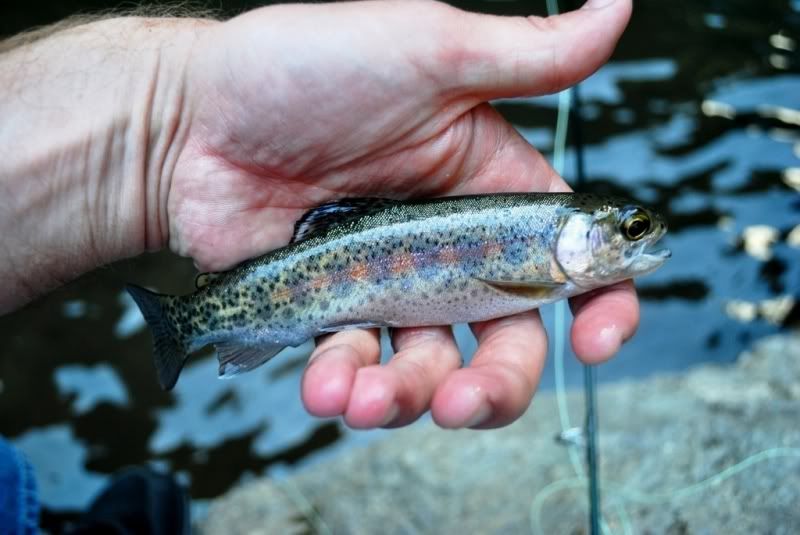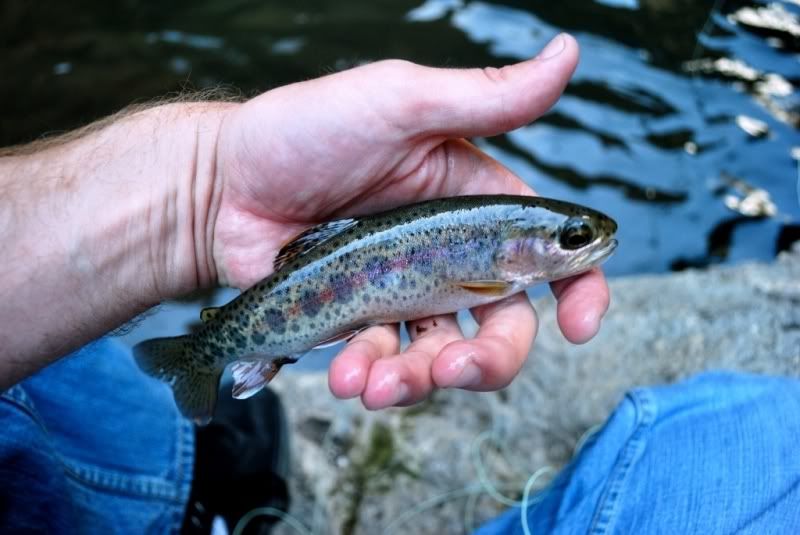 We decided to check out another area. At this point in the day my son was a bit more occupied by throwing rocks and playing. He was having a blast out there. I continued to fish, every time I would hook a fish he would come over and check it out.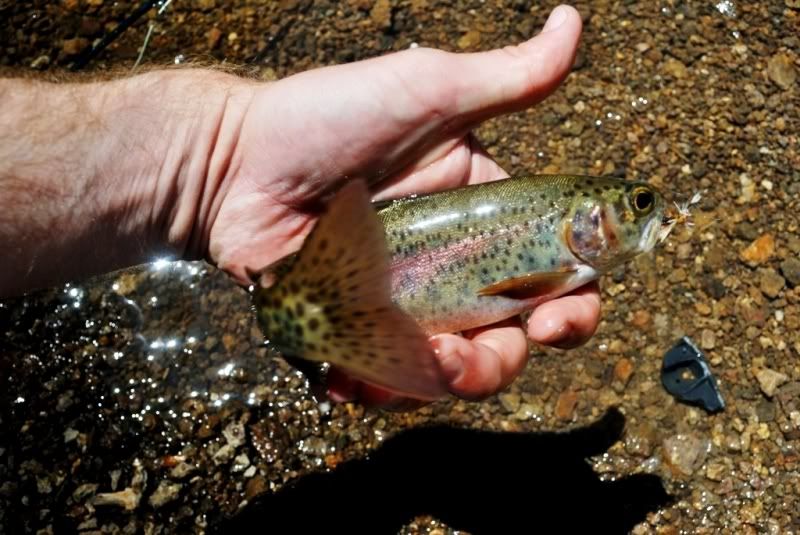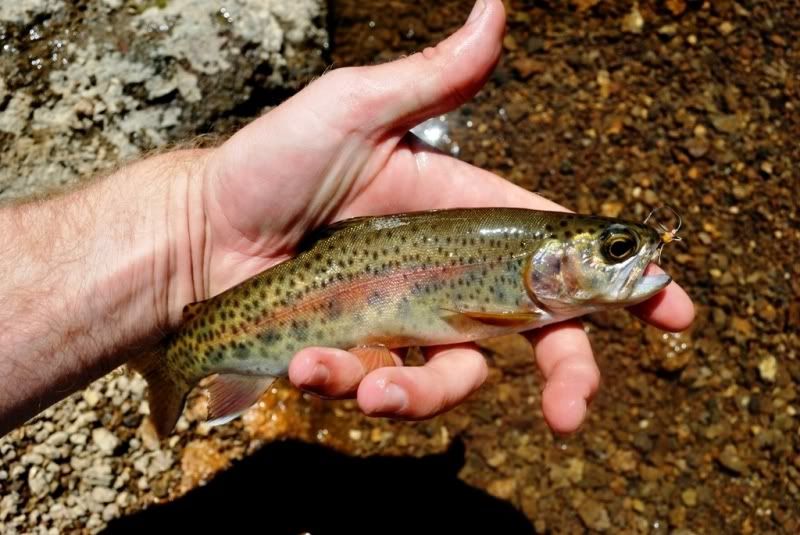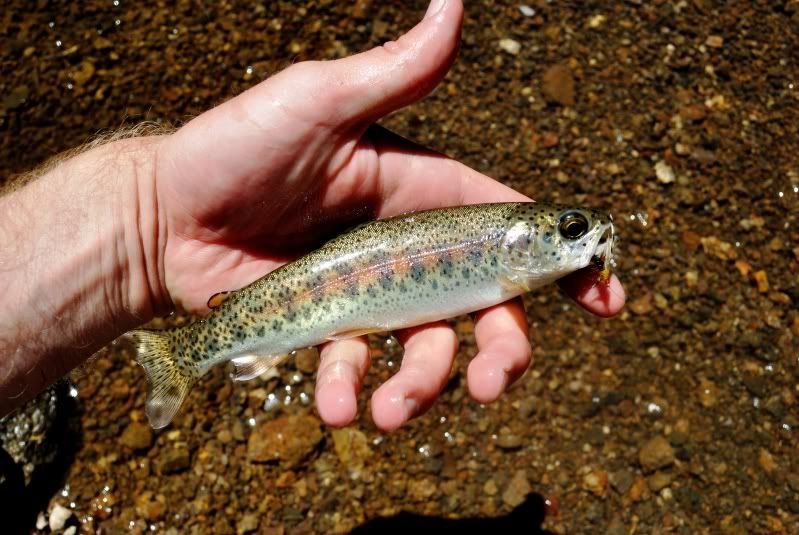 We fished the creek till the early afternoon. When the time came to leave he was pretty sad and said that he wanted to stay. I told him that there would be other times. On the way home he told me how much fun he had. I was happy to hear that he enjoyed getting out into the "wild". Based on how he did on this trip I have a much better understanding of his limits and capabilities.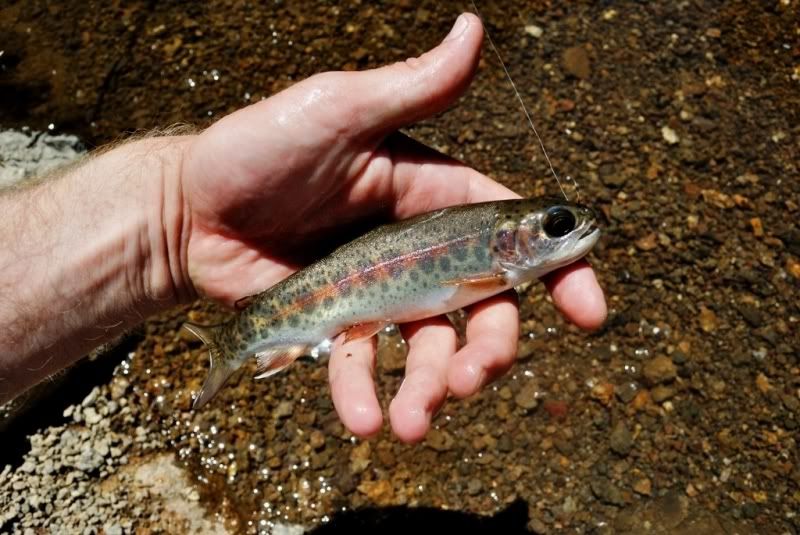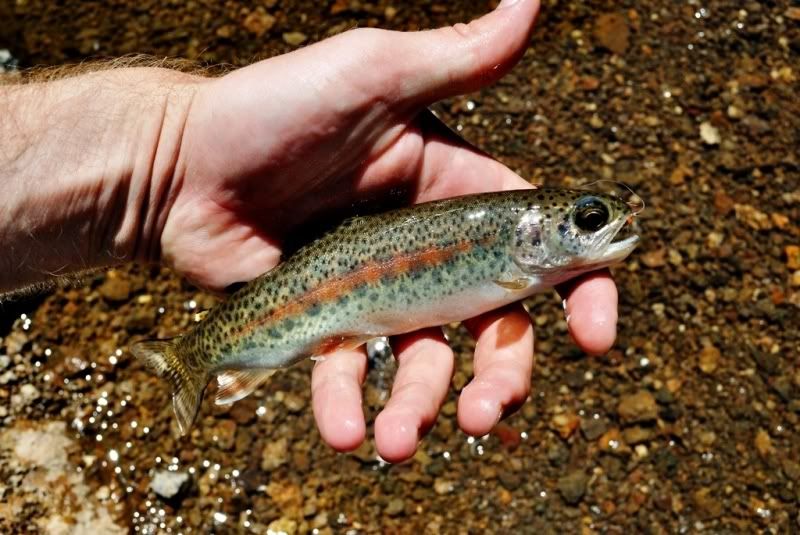 I hope you enjoyed the report.
Cool! Good job, Dad. Memory you will always have.