Update: AAR - Leave for Mounain Warfare School in Two Weeks
ETA: AAR

Okay so here goes.

The purpose was to go and learn basic military mountaineer skills.

I successfully completed the course and learned basic mountaineering skills. We started with 63 and graduated 40. All of those that went home did so on the knot test and the first system test.

Sustains:

I definitely was ahead of the game due to practicing the knots ahead of time and going out with some guys that had graduated and getting some familiarity with the knots and what the practical application was.

At no point was there an item that I wished I had. I did need to resupply on Copenhagen LC as I normal dip a can every two or three days and I was at 1.5 cans a day the whole time I was there. Taxes on tobacco in Vermont are freaking thru the roof.

My feet held up well so wearing my boots everyday certainly helps. There were guys there that hadn't broken their boots in and they suffered for it.

Improves:

1. ME:

I should have practiced the knots a lot more and at least have read through all of the systems. I was under the impression knots was the only test. It turns out there are a total of nine test. If you fail the retest on any one of them you will get sent home. (except land/nav) If you fail land nav or have to retest you get a negative spot report. 4 Negative spot reports you get boarded, five you go home.

1. Knots
2. 3/1 Hauling System
3. Land Nav
4. CASEVAC
5. Climbing
6. Fixed Ropes
7. High Line
8. Written Exam
9. Rappelling

My rucking was not up to par. They ruck your ass every day except two. In 12 days we rucked a total of 60+ miles. Doesn't sound like a lot but when it is in the mud in the mountains it is a lot. You have all your gear plus a 150' rope and your climbing rack, LBV, rubber duck and soaking wet the vast majority of the time. Be ready to ruck at a fast pace up and down hills. The instructor are almost all world class climbers and hikers. They ruck all the time.

Pay attention to the instruction. The school needs to make sure that all of the instructors get on the same page. One instructor show you one way and then another flips his lid when you do it that way. If you are in better shape when you arrive you will be much better off for the course because you won't be smoked all the time.

If anyone has any questions let me know. It is a very good school. By far the hardest I've done. There is a ton of information that they put out in a very short period of time. Combine that with the physical aspects and the constant evaluations and you have Army Mountain Warfare School.

Original Post: I am practicing my knots and looking over the handbook. Anyone been there recently? How physical is it? What gets most people?
Marines or Army? Bridgeport? Have fun. As far as your questions go I could not begin to answer as I was there 20 years ago.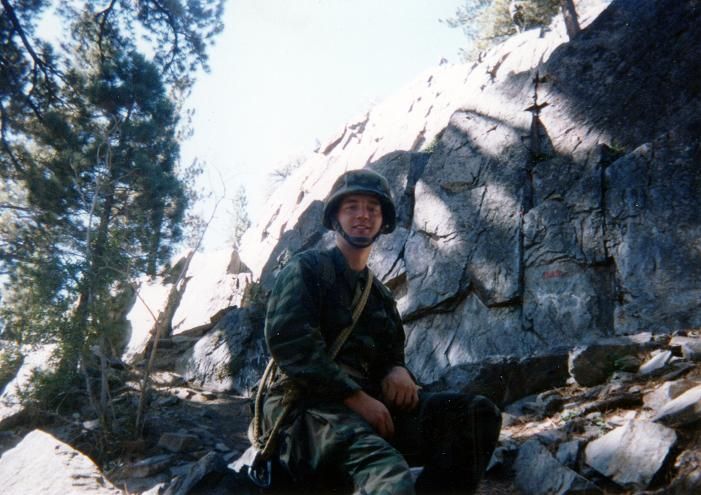 I went to a winter class, you are doing good practicing your knots ahead of time..Also if you have the handbook practice the systems best you can also..they are STICKLERS on the knots and systems they WILL drop you for failing them, to many guys take the knot tying to lightly and get dropped...

Physically..not bad in a winter class, you will ruck up and down a lot of hills and for couch potatoes it smoked them, for most guys in shape they were good to go but it was hard..for the studs it was easier...

Best school I have ever been to in the Army, instructors don't do power point dumps they are pro's in the field and are there to help you succeed..

Since you only got two weeks just do some step ups with a ruck on..or stairs.... enjoy the school and Vermont..it's beautiful..
Knots, systems, and land nav.

Know how to verbalize the checkpoints and purposes on the knots/systems too

Use terrain association on the land nav, and use your altimeter. It might look like you're right on your point on the map, but it might be directly above or below you if you're on a steep slope.

Good luck!
Found out my unit will actually be doing a train up for me and the other guy that are going. One of the past graduates and Ranger extraordinaire will teach us the ins and outs.
When are you going? Another month or so and you'll have a lot of Cadets in your class.

Physically, what little we did with the basic mountaineering class wasn't too bad. I saw one chick quit on a walk up a hill...kinda funny.

I sent one of my SLs to the basic course last August. He lost 15 lbs. Their chow hall sucks, but the weight room is great. Their 1SG is a great dude. The LTC is pretty cool and the CPT we worked with was also awesome.
Did my knots and have most down pretty decent. Did some climbing and rappelling today and feel pretty good about it. I leave Friday and will post an AAR when I get back.
Originally Posted By Tested:
Did my knots and have most down pretty decent. Did some climbing and rappelling today and feel pretty good about it. I leave Friday and will post an AAR when I get back.
When I went to mountain school, I was practicing my knots on the airplane because of lack of time that was given. Good luck, op and I'd like to hear more.
Enjoy Castle Rock and OP Hill :)
Originally Posted By CeeDub:
Enjoy Castle Rock and OP Hill :)
My god I never want to go to OP hill again. That SUMO event kick our collective ass.