Mother of Vinegar and Homemade Vinegar
I have asked before but:
Does anyone have experience with homemade vinegar?
I am really interested in doing this but wanted some recommendations before I made any purchases

Since no one here has experience, I thought I might as well go for it. I read as much as I could find and it seems rather simple.
I have been saving bottles of wine here and there and throwing them in the freezer. After selling some books to Amazon, I had a credit and decided to buy a 2.5 gallon crock with a spigot.
Next I researched what type of mother to get or whether I should create my own. I was talking to a friend about this. He happens to buy a lot of organic and all natural items and said he thought he had one in is cabinet. Sure enough he had some all natural red wine vinegar that had a mother growing.
Here is what the the Mother looked like in the bottom of the bottle after I poured the vinegar off: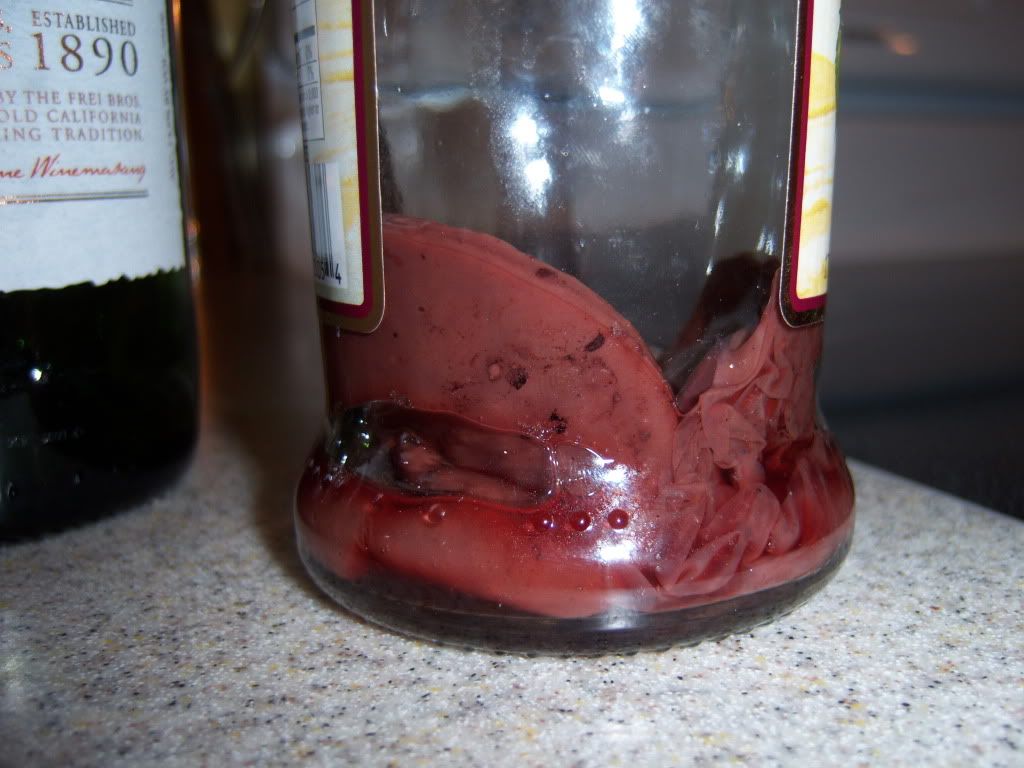 Here is the crock. There is cheese cloth over the top. The bacteria need oxygen to convert the alcohol to acetic acid. I'll move it to an out of the way spot, maybe the basement. The mother does have a bit of a funky smell to it.
I have about a gallon of liquid in the crock with a 2 to 1 wine to water ratio. This process can take a couple months to several months. I will update with results as they happen
Wow! That is one ugly mother. Looks like something I saw on CSI lastnight, hehe. All kidding aside that is pretty cool. Interested to read how this goes. Does freezing the leftover wine prevent oxidation so it is still good to use for vinegar?

bluesticky
Tagged...

Never thought of making my own vinegar

I'll be watching for updates to see how this is going!! I could see making a batch and using for Christmas gifts!


Originally Posted By bluesticky:
Wow! That is one ugly mother. Looks like something I saw on CSI lastnight, hehe. All kidding aside that is pretty cool. Interested to read how this goes.
Does freezing the leftover wine prevent oxidation so it is still good to use for vinegar?
That was my hope. After I unthawed the bottles, I could not detect any abnormalities, souring or "corked" tastes.
The mother is kind of a cross between gelatin and wet leather in texture.
The taste of natural vinegar is far different than industrially made vinegar. No where near the bite and a lot of other flavors.
I made several gallons of apple cider vinegar a couple years ago, more for curiosity than anything since we don't use a lot of vinegar. We were making apple sauce from a few bushels of apples and had a couple buckets full of apple peels and cores left over.
I covered the peels with water and covered the buckets with cheesecloth and let it sit for a month or so at room temperature. After a few days you could hear it bubbling and it smelled like a brewery for a while. After about a month, I lifted the cheesecloth and saw a greyish film on the water surface (mother) and it smelled like mild vinegar.
I poured everything through a big collander first and then a cheesecloth and was left with cloudy watery vinegar. I figured I just added too much water since it wasn't near as strong as store bought so I put a lid on the bucket (after filtering, all the vinegar fit in a single bucket), put it in the garage and forgot about it for about a year.
I stumbled upon the bucket while going through some things and I was afraid that when I opened the lid that it would be a nasty moldy mess, but to my surprise it looked and smelled great! I tasted it and it was considerably stronger than I remembered so I put it in a few gallon-size glass wine bottles and they are still sitting on my shelf today, we use it occasionally for making salad dressing etc but it will last us a really long time.
I thought I took some pictures of the process so I'll have to look for them.
It has been three weeks since I started this and I added half a bottle last weekend. At that time, I noticed a slight scum on top and just the faintest whiffs of vinegar. Today I decided to take a look and a taste test
Here is what it looked like:
It definitely has a thick layer of scum on top now and smells very much like wine vinegar.
I opened the spigot for a few tablespoons and it was clear and not cloudy at all. It tasted very good with not too harsh of a bite. It was sweeter than I thought it would be and I do not think it is anywhere near done. But, since it is moving along I will check in another week or two and give an update then.
Had a batch of homebrew go bad once. I thought I made 5 gallons of vinegar - but it wasnt even worth
putting on salad. Lactobacillus makes wort taste just plain old NASTY. Good luck with the vinegar though.
I bottled (in clean, sanitized beer bottles) about 3/4s of it and I am using the last fourth as a starter for the next batch. I told my friends to save their wine for me and I ended up getting about 4 bottles worth. You use a two to one wine to water ratio, So I definitely have another good batch going.
Below I have a picture of the raft the bacteria create. It is much more tough and leathery than I ever thought it would be. I am just throwing it on to the flower bed to decompose.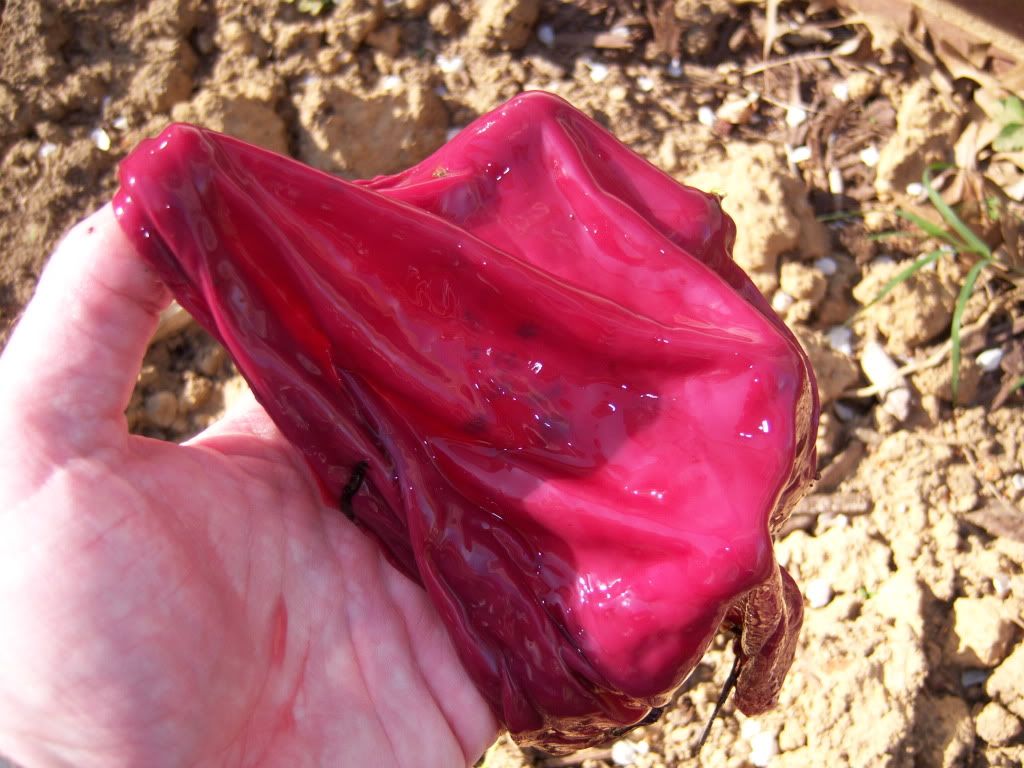 And below is a pic of how clear it came out after running through a coffee filter. Some say to pasteurize if you are going to keep it for awhile on the shelf. but I will be giving these away and putting the rest in the fridge to use on spring and summer salads.
What I learned:
This was super easy, way easier than making beer or wine.
The taste is much better than store bought..
Many of the characters of the wine are retained. I used half a bottle of blackberry wine in here and I can just detect it when tasting the vinegar.
It went faster than I thought, My Mother must be good.
I am not so sure I would use a crock with a spigot as it did get clogged up with the Mother but I don't have a better idea at this time