I want to make pulled pork on a smoker..school me!
iv only did ribs.. i really dont even know what cut of meat to get..how long to smoke..and at what temp (assume 225-250 like ribs?)

i want to start small and go bigger so i want a small cut of meat

also.. can i still use a pan of water to help control the heat? i do this with ribs also
What kind of smoker are you running? I use a Bradley and it is very easy to keep temperatures under control. If I want to do a cold smoke, I just use the biscuit burner, that usually keeps it just under 100 degrees. I made up some pulled pork a couple weeks ago that turned out pretty good using pork roasts and smoking them for about 6 hours. I only used smoke the first 2-1/2 hours. Then I tossed it in the crock pot with some Sweet Baby Ray's BBQ chipotle sauce for about 8 hours and it came out real tender and did not get any complaints on the flavor.

It's not the "traditional" way, but it's the way I do it so I'm not spending an entire weekend making one meal.
Char-Griller without a smoker box. i just put meat on the end with the smoke stack and the coals on the other end.. this year i plan to get something better
I typically use a pork shoulder, which is pretty large,but if you pick one up at a meat market or use the meat counter at your grocery store, they'll cut them into more manageable pieces for you. I typically have mine cut in 4, then I smoke 1-2 of them at a time for pulled pork on a WSM.
I have one of the cheap(er) brinkman electric smokers. It runs about 225 to 250 degrees inside depending on the wind, air temp, etc. For what you want, get a "Boston Butt" from the meat counter. It'll be big, but leftovers are good. I get mine from Sams Club, and they come in two packs there, but a local store should have what you want.

Start by brining it overnight. I use Alton Brown's recipe for brine. It has one 8oz jar of molasses, one pound of picking salt (kosher works too) and enough bottled water to cover the shoulder. Mix the molasses, salt and one quart of water together to dossolve the salt. Put the meat in a non metallic container, I use an old twelve pack cooler for each sholder, pour the brine in and add enough water to cover the meat. Preferrably you have a lid on said container and wedge something in there to push the whole shoulder below the water level so it'll brine all the way through.

Soak in the fridge overnight, remove, rinse, dry, add your rub (a lot, I use one bottle of dillo dust plus some other stuff I add, don't skimp here) and throw in the smoker till the probe thermometer in the meat hits 190 degrees. You want 190 degrees because the collagen and connective tissue in the meat will dissolve at this temp. Once it hits 190, remove and put in a big pan (like you cook a turkey in. It'll pretty much come apart with a couple of forks, but I let it cool for about 20 minutes and use my hands to make sure you get it all broken up nice.

In my smoker, it takes about 7 hours till done, not much need ot babysit unless you need ot add more wood chips, which I do. If you get a smaller shoulder or a cut up one, it may take less time, but don't skip the brine and always take shoulder to 190 decrees internal temp to get the tender meat.

ETA: I leave the water pan in mine too. If your feeling like a good ol boy, put a pan of homemade baked beans below the meat when its at about 150 to catch some drippings. Take them out when the meat is done. Best. Beans. Ever.
I too use an electric smoker for pork. Yes, you need to use a water pan.
I put on a thick rub with mustard as the sticker the night before and also
mop it in the process. I take the drippings from the water pan and
boil it down and use that to keep the pork moist during reheating.

Necessary? Probably not, but I like it.

IM me for rub recipe it you want it. Paprika based.
I use a pork butt around 8-10 pounds. I put a rub on the night before and put it on my Big Green Egg at 225-250 degrees for 15-18 hours or so until the internal temp hits 200. Turns out great.
Here is a 9lb butt and a small brisket New Year's Eve: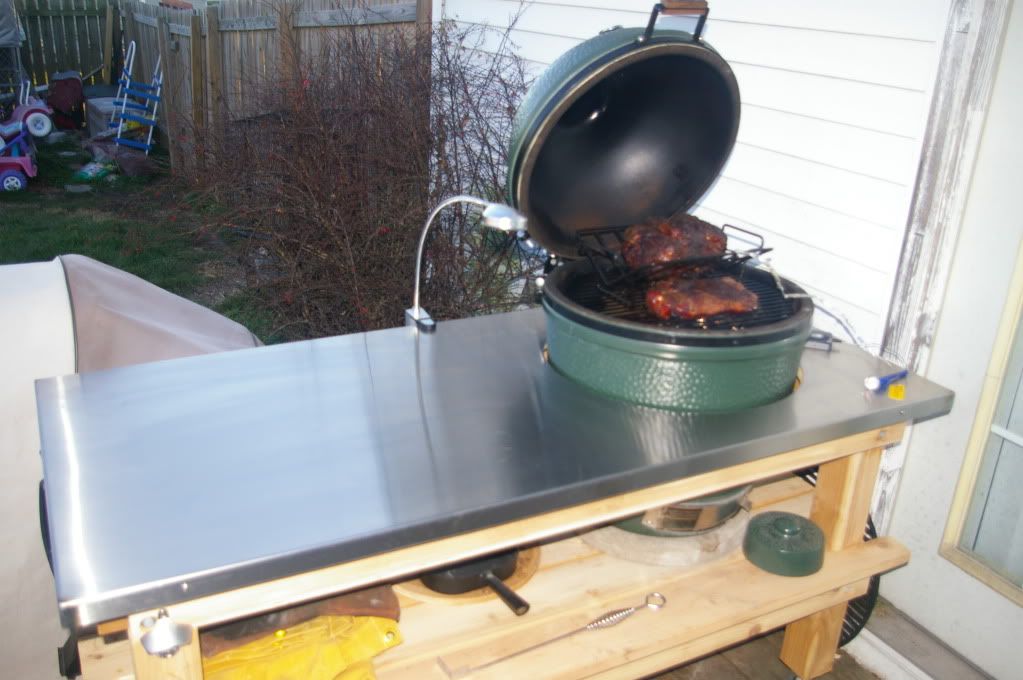 Here's my method, which involves using a smoker (Chargriller smokin pro) with an offset firebox. It's not the be all end all, but is what I do, and I get consistent results.

Pork shoulder. Get the Boston Butt, it is a very forgiving cut, so don't worry about heat spikes, or ruining it as such. It is the perfect thing to smoke for a newbie to try and learn on. I can do it, anyone can.

About an hour before I plan to smoke I take it, it comes out of the fridge then it is slathered with mustard (helps give a nice bark, that will be fought over) and on top of that, whichever dry rub you happen to like.

About a 1/2 hour before smoke time, go light yer coals, usually takes about an 20 mins, but ya want em nice and hot, lump is preferred. Now is a good time to enjoy a beer.

Once glowing, add to your firebox....you may put your wood chunks in prior to doing so...google 'the minion method' It works, and allows you to take a nap. Yer gonna have a full day ahead, so better rest while ya can. You can expect approx 1.5 hours/pound of meat, however, the key here is temperature..not time.

Now, as the smoker is coming up to temp, get yer meat ready...you can put directly on the grids, or put in a pan, fat up or fat down, I go fat down, either way is fine. If ya got thermos, get em in place. Once yer grill level thermo shows a good temp, around 225 or so, relax. Keep the lid shut and do whatever to pass the time. If yer lookin, you ain't cookin. Check the smoke, you don't want it white and billowing, thin blue smoke is ideal, and you don't hafta see the smoke, to be smokin..if ya can smell it, yer good

Heat's up, meat is on, perhaps adjust the damper, and smoke, take a couple hours nap, have a few beers, whichever. I usually crash for a couple hours, as by this time it's bout 1AM or so.

Nap time over, check temps, and firebox. If ya use the minion method, you should have been good for about 3 hours, and get some more coals going.

Now, whether ya want to mop or not, that's up to you. I get a squirt bottle, and mix half and half of rum, and apple juice. Give the meat a few spritzes, just enough to moisten, not wash off the rub. You can do this, about every half hour or so.

Recharge the coals, check temps, get beer, etc. you'll repeat this step several times.

This is important...once yer meat hits about 140, you don't need to keep adding wood, it's already absorbed what smoke it can...just heat is all at this point..and time.

You may notice that somewhere around 150-160 ish that the temp doesn't move for a long while... don't get frustrated, this is normal, and is called a plateau...give it time, and don't crack up the heat, it'll move again, when it's ready.

Now, temp is pushing about 190..perfect. take it out of the smoker, and wrap in foil, and the wrap it in a few towels....now, place inside a small cooler, and let it rest for a few hours..it'll still increase in temp for a bit, and the setup will hold that heat in.

Almost ready to pull. If you want to make a nice finishing sauce, you can do so, PM me for an easy recipe if ya like..

Unwrap yer meat, pull out the bone, and get to pullin...use forks, or what I use, are Bear Paws, makes it a lot easier...pull it apart good.

Add a bit of finishing sauce, or serve as you like it.

Good luck.









I did a very simple method:

Electric smoker
Rub down butt at room temp with your favorite rub.
Put on smoker for 1.5hrs per pound.
Once time's up remove from smoker, wrap in foil, put in a cooler or similar wrapped in a towel.

Donezo.
I'd start with boston butts which are really shoulders. The smaller cuts are less forgiving when it comes to drying out. Smoke fat side up 225ish till you can pull the bone out with a tug. Time means nothing BBQ will tell you when its done 4hrs or 14hrs. A hour per pound is a ok reference. Also its just my opinion but don't be the guy who throws the whole spice rack at there BBQ a simple rub will work best then add after you got the basics all you want. Now I do a small injection of Apple cider and white vinager and two other double top secret items good luck it's not really that hard
Don't use time as a reference of when it is done. Use internal temperature. Most agree 190 to 200 degrees for a fall apart butt. I use 195.